Fill in the blanks to download a complete PDF of the ebook.
Content includes:
How to determine if your PR metrics are helping to meet business goals
The different types of PR metrics and how to use them
Pros and cons of different metrics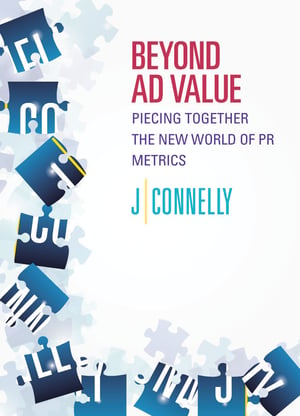 BETTER INSIGHT, BETTER OUTCOMES
How do you measure the value of a news story?
For more than 80 years, PR pros have used advertising value equivalency (AVE) as their yardstick, evaluating the benefits of earned media through the lens of traditional advertising.
But what happens when print media all but disappears and circulation numbers morph into unique visitors? It's a little like evaluating how successful an album is based on vinyl sales (FYI: There were a total of 3.4 million vinyl records sold in the United States in the first half of 2017; The Beatles' Abbey Road sold 4 million records in under 2 months when it was released in 1969).
With the evolution of digital and social media, AVE has officially outlived its usefulness as the standard of effective PR measurement. The good news is there are a host of ways to measure the impact of communications initiatives, all of which can be tailored to reflect a business's unique goals.
But it's a jungle out there. Trying to evaluate an integrated program by cobbling together micro-metrics like cost-per-click and unique visitors only leads to confusion and gives an incomplete picture of how your campaign is progressing. We've assembled this guide to explain what the most common measurement tools do and why each one may be the right (or wrong) metric for you.
In the end, it's up to the entire communications team to select a set of metrics that will address the underlying question: are our PR efforts helping us meet our business goals?
"Managers who don't know how to measure what they want settle for wanting what they can measure."
Russel L. Ackoff
American organizational theorist and pioneer in management science
QUANTITATIVE METRICS
On the surface, quantitative metrics are simple and clear: they assign a number to some aspect of the campaign, which can be useful for an at-a-glance understanding of where you stand against your goals.
While these metrics certainly have their place in any measurement report, they lack the nuance of more qualitative measures. Too often they are used as a stand-in for deeper analysis and understanding of how the campaign stacks up against its objectives.
Advertising Value Equivalency (Ad Value)
"Begin at the beginning."
Before we had tools to measure sentiment and trending themes, we relied on advertising value, which assigns a dollar amount to press coverage based on standard advertising rates. Prior to digital, AVE was traditionally calculated by measuring the column inches (for print) or seconds (for broadcast) and multiplying that by an outlet's ad rate. When digital properties were still in their infancy, they still followed the original print formula, though today the "value" of a digital hit is measured in terms of unique visitors and reach.
There are a couple of problems with this seemingly straightforward formula. Unlike advertising, earned media provides additional credibility, so agencies and media teams typically tack on a multiplier—industry norms can fall anywhere between 3 and 12— to account for the greater legitimacy associated with editorial coverage.
And now, the million dollar question: Is ad value still relevant? No (the PR industry is nearly unanimous on this). And yet, AVE is still one of the most widely used metrics. In May 2017, the Chartered Institute of Public Relations announced plans to ban AVE, calling it "unprofessional." So the tide may (finally) be turning.
Pros
Quick and easy
Widespread throughout the industry and familiar to clients
Helpful for budgeting purposes and calculating dollar-for-dollar return on investment
Cons
Different teams and monitoring systems use different formulas to calculate editorial value, making apples-to-apples comparisons difficult
There's no such thing as a "standard advertising rate." Publications offer discounts to bigger accounts and loyal customers
Digital hits don't measure inches or seconds. There's no distinction between a brand profile story and a trend piece where several competitors are mentioned
Accurate reach is difficult to measure with digital media since focus is on unique visitors
Doesn't distinguish between positive, neutral and negative news
Mentions
Sometimes a PR strategy centers on securing a select number of top-tier features. Other times, it's about sheer volume. By tracking mentions, you see the number of times your brand has been written (or talked) about in the press.
If your brand is launching a new business line or introducing a new product, a strict count of media mentions can be a good indicator of how widely your message is circulating. But circulation doesn't necessarily translate into impact.
Mentions should be used in conjunction with other metrics that provide greater context around quality, resonance and whether you are reaching the right audiences, which we touch on in the next section.
Pros
Simple and straightforward
Provides a bird's-eye view of campaign impact
Cons
Offers no context around type or quality of coverage (name drop vs. profile)
If your campaign isn't broad in nature, mentions won't be relevant to your goals
Doesn't distinguish between positive, neutral and negative coverage
No distinction between secured news (a story that's been pitched and placed in a media outlet) and non-secured exposure from newswires
Doesn't record coverage in publications using a pay wall
Uncovering the Hidden Value
Advanced metrics make it easier to prove PR ROI. However, not every PR win can be measured by a monitoring system.
Here are some other important activities that aren't necessarily captured by a monitoring system (but should be part of your ongoing reports and, ultimately, how you evaluate your team):
Pending Press. There's often a lag between the interview and the article publishing. This is the time when your PR team is working with the media to answer questions, finalize angles and doing everything in their power to ensure the story that runs is the story you want to see.
Awards and rankings. Media-sponsored awards provide limited press reach because publications typically don't cover rival outlets. But awards and honors are valuable in and of themselves, lending serious credibility to a business or brand.
Amplification. Press coverage is only step one. Businesses can leverage and extend these valuable assets as part of their larger marketing and sales efforts, promoting press wins through social media and content marketing programs.
QUALITATIVE MEASURES
Qualitative metrics are like individual pieces of a puzzle. Separately, any one metric tells only a small sliver of the story. But together, qualitative metrics paint a complete portrait that illustrates how a PR strategy is helping a brand achieve its business goals.
Sentiment
Think "all press is good press?" If you find your product at the center of a recall or one of your executives facing criminal charges, you might change your mind. In these types of crisis situations, sentiment is an important metric, one that will help you weigh the tone and tenor of coverage.
Sentiment analyzes media coverage and determines how much of that exposure falls into positive, neutral or negative emotion. Above and beyond crisis situations, brands can use this metric to better understand how they stand relative to competitors. Some brands are media darlings while others are tabloid fodder, and often, how one company is covered can impact the coverage of another in the same industry.
Pros
Effective for analyzing media surrounding crisis or controversial situations
Explains why a competitor may have more press (more negative or neutral articles)
Delivers context into the larger PR strategy (Fewer articles but a higher ratio of positive-to- negative stories)
Cons
Most systems assess the sentiment of an entire article, not a specific mention (For example, the article may focus on a negative topic—like a market downturn—but the specific quote or comment about your brand is positive
To target sentiment to individual quotes or mentions requires manpower (and even then relies on each person's interpretation of what's positive, neutral and negative)
No way to rank or weight positive or negative mentions across a campaign (some negative mentions are worse than others and can damage otherwise positive brand attributes)
Heat Map
Like home buying, media success can be all about location, location, location. Take a company expansion. If a business is preparing to open an office in Boston, for example, a story in the Boston Globe will be more valuable than a piece in another regional or national outlet.
Heat maps provide a visual representation of your reader/viewership. When using this metric, you can see exactly where audiences are originating—down to specific geographical areas. Similar to mentions, heat maps provide a big-picture look at a campaign without the nuance of other qualitative measures.
Pros
Color saturation is easy to understand
Supports location-specific initiatives and goals
Helps identify where a campaign is getting the most traffic (and where it's not)
Contributes to ongoing campaign development, identifying precise areas to target
Cons
Isn't relevant for national or broad-based campaigns
Doesn't distinguish between positive and negative news
Finding the right audience is more effective than reaching the most eyeballs. Heat maps don't provide any insight into the demographics or actions of viewers
Regional media can be harder to secure than national coverage since these outlets have smaller staff and more advertorial content
Timing is Everything
Data is most useful when it's paired with thoughtful analysis. That's why it's important to look beyond a single metric or report to the larger campaign. But how often should you be taking that big-picture view?
Quarterly. It's hard to gain perspective when you're mired in the details of ongoing press opportunities. Quarterly reports provide the perfect opportunity to take a step back and assess where you are on the path towards meeting all your objectives—both short and long term. Review what you've accomplished and what you have lined up for the weeks ahead.
Annual. There's something about the end of the year—fiscal or calendar—that makes us want to reflect and plan for the days ahead. If your PR is going to bolster your business goals, assessing the year's successes in the context of the broader organization is essential. Unlike strategic business planning, however, year-to-year PR comparisons rarely show true growth or progress, as multiple factors can contribute to upticks and downturns in the quality or quantity of press coverage. Instead, look at the goals you set and see how the PR did, or didn't, get you there.
Special Events. Major marketing and business initiatives, like a one-time event or a product launch, can skew overall results. Looking at this coverage as both separate and a part of the larger program can help you determine their true impact (and help you avoid jumping to any misleading conclusions).
Top Sources
Most campaigns target a mix of media: top-tier coverage to provide legitimacy and brand awareness, and more-specialized outlets to reach and directly engage with stakeholders.
The top sources metric is great for campaigns that want to focus on a handful of select media outlets. You can organize your preferred outlets by placing them into tiers (Tier 1 for national press, 2 for business-focused outlets and 3 for specific trade outlets, for example).
Use top sources in conjunction with web analytics program and the mentions metric to gauge PR's impact on lead generation and overall market traction.
Pros
Simple and straightforward
Helpful for pinpointing how distinct target audiences engage with the PR program and your brand
Easy to tie back to stated goals and benchmarks
Can be modified to account only for secured press or both secured and non-secured coverage
Cons
Doesn't capture some media outlets with paywalls (which must be manually added)
Doesn't distinguish between quotes, mentions and features.
Impossible to tell which outlets are contributing to lead generation when used on its own
Trending Themes
PR professionals spend a lot of time shaping their clients' messaging. But how much of that positioning actually translates into media coverage?
Reviewing and analyzing trending themes can help answer that question. The metric generates custom word clouds around the words and phrases most-closely associated with a brand's media exposure.
This tool is helpful for companies aiming to reposition themselves in the marketplace, and is also useful for keyword/SEO strategy and informing content marketing programs. At a minimum, trending themes can help show which companies and spokespeople are dominating different discussions.
Pros
Helps businesses understand how they are perceived in the marketplace
Effective for assessing main competitors driving the conversation around key topics
Contributes to effective keyword and content marketing strategies
Cons
Press releases (from newswires) can skew results
Time-sensitive news and events, like an election, can have outsize influence on a brand's positioning
Results are skewed by trend stories that feature a brand's competitors
Can't control what web crawlers end up tagging, which might provide misleading results
Remember…
No media monitoring system is completely foolproof. Paywalls, ongoing online editing, broken links, mistagging and other factors make it impossible to automatically account for all secured press. So you need human resources to complete the media picture and find the data points that will make up your measurement report.
Here are some important factors to consider when deciding where to use your team for monitoring:
Paywalls and other logins stop web crawlers in their tracks and require human capital to capture and import information around those hits into the broader analytics programs.
News sites' search engines and archives have their own idiosyncrasies and glitches. Just like your first Google search doesn't always turn up what you're looking for, news sites may need to be searched a few times to find recent, and especially older, press hits.
Non-secured press, like press releases that are picked up and rerun in full on a variety of sites, can wreak havoc on press reports if they're not called out. While they may generate hundreds or thousands of media "hits," that doesn't always translate to unique visitors or any measurable audience engagement.
Share of Voice
In competitive industries, owning the media landscape can have a measurable impact on a company's bottom line. Think of the news mentions of Uber versus Lyft, for instance, related to the ride sharing space. The share of voice metric breaks out each company's piece of the media pie.
Share of voice is useful for businesses breaking into a crowded industry and for leader brands faced with growing competition. Use this tool over time to determine whether PR strategies are helping a company get a leg up on its competitors.
Pros
Great for tracking how specific campaigns alter the competitive landscape
Use custom tagging functions to compare brands or other values like spokespeople, coverage tiers, press type, feature or mention, etc.
Keep tabs on competitors over time
Cons
Does not distinguish between negative and positive press (sorry, Uber)
Non-secured press from newswires can skew results
Prioritizes quantity over quality
Web Analytics
For some companies, press is the goal. More often, press coverage is a means to an end: driving business leads, increasing revenue and building brand stature.
How do you connect the two? Web analytics, like Google Analytics™, provide the link between press pieces and prospect touch points, showing how media converts viewers into leads and, ultimately, paying customers or clients.
With web analytics, businesses track important statistics like referral traffic (press attracting visitors to the site), time visitors spent on site and individual pages and to what extent that traffic converts into business.
Pros
Pinpoints journalists, influencers and publications that produce the most web traffic
Identifies particularly powerful and effective mentions that might otherwise get lost in the larger campaign data
Tracks website activity in real time, which is especially helpful for broadcast opportunities
Cons
Effective web analytics must tie into a broader marketing machine. If there isn't a commitment to identify and nurture prospects through digital channels, web analytics won't be very useful
Can be difficult to filter data to ensure accuracy (for instance, scrubbing your own domain hits from your website traffic)
Social media often stands in between the original media article and the person's visit to your website. A commitment to tracking and tagging social effectiveness must be built in to the overall lead nurturing campaign (or you can install tracking parameters on the media side)
Without clear lead-gen goals and a strategy for nurturing leads, web analytics has the potential to produce large amounts of irrelevant data
Putting it All Together
Business executives should work closely with their PR teams to choose a set of metrics based on their unique goals. After all, what's right for one brand might be all wrong for another. Before you start, ask yourself these questions:
What are your goals, both short and long term? It's a given that businesses want to grow. But a campaign that attracts a higher-paying customer will look different than one targeting a brand new market. Keep your goals SMART (Specific, Measurable, Attainable, Realistic and Timely) and work with your team to determine how you will analyze your communications.
What's important to your team? Measuring PR impact is never going to be solely about the numbers. There are human beings, with their own opinions and viewpoints, at every stage from planning a program to retweeting a press link. Who are the decision makers and champions for PR within your group? Think about their past experience and preferences. Some teams just want top-tier press, while others want to get nuanced about audience segmentation across diverse websites. Know your people and customize your reports for them.
What metrics have you used (and found useful) in the past? A certain amount of familiarity baked into your measurement report can help ease disparate teams into a productive conversation. When all the measurements are new and have to be explained, it can create anxiety, confusion and make it difficult to get any measurement initiative off the ground. Start with the familiar and educate the team on alternative ways to slice and dice your media data.
With new measurement tools, PR professionals can dig deeper than ever before, evaluating what matters most to each client and using these insights to help shape future campaigns.
Could your media reports use a fresher, more insightful approach?
Contact Chris Cherry, Executive Director, Client Engagement at ccherry@jconnelly.com or call us at 973-850-7329 to learn more.
Read some of our latest blogs to learn more about PR and Marketing metrics:
Google Analytics For Beginners: Top 4 Metrics to Access Your Website Traffic
Metrics: Bridging the Divide Between Perception and Reality
Three Ways to Take Your Marketing and PR Metrics Beyond the Report
Three Overlooked Marketing Metrics that Prove PR ROI