Fill in the blanks to the right to download the PDF of our top tips, featuring examples from two well-known social media brands.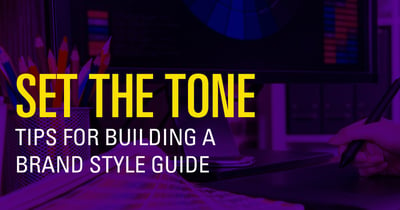 A strong brand identity can help your business stand out in an otherwise crowded marketplace. The key to success: be consistent by setting guidelines to help internal team members, vendors and partners understand how to use brand assets. When your brand has a cohesive look and feel, it can add a sense of professionalism, credibility and perceived value.
Think of the style guide as a manual for your brand. It can be as detailed or basic as deemed necessary, with guidelines for logos, icons, fonts, imagery and colors, and set standards for how to use them. To help avoid errors, include a lot of examples. Not sure where to start? Consider these examples from two well-known social media brands.
Logo
Your logo is a major part of your brand's identity. Ensure that team members don't go rogue with its intended use by outlining the do's and don'ts of how it can be used in different situations like when it's next to other graphics or on top of different backgrounds.
Color Palette
A color palette is a group of colors used to capture the look and feel of your brand. It influences every piece of visual content from your logo and website to presentations and marketing collateral. Colors are typically displayed in tiers: primary, secondary and tertiary. It may be helpful to identify how different colors are used in your logo, fonts and other resources.
Typography
Typography, like the color palette, should be consistent across all visual and written content. Some style guides go so far as to describe which font to use in letterhead, emails, blogs and ads as well as the hierarchy of headings, subheads and hyperlinks.
Graphics
Any component that is essential to the integrity of your brand's image should be included in your guide. If imagery across your website, blogs and other visual content is expected to look a certain way, outline those rules in your guide. For example, Twitter's style guide displays samples of how Tweets should be formatted. Facebook's guidelines include the use of icons.
Mission
Everyone in the company should be familiar with your mission statement because it sets the tone for the overall brand and helps to inform everything from brand messaging to visual style. It's also common practice to include the boiler plate or anything else that is part of the brand's messaging that shouldn't be altered.
Need help designing a style guide or defining your brand standards?
Contact Chris Cherry, Executive Director, Client Engagement at ccherry@jconnelly.com
or call us at 973-850-7329 to see how we can help.