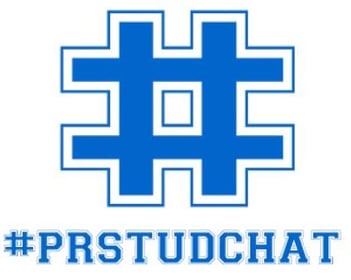 The weekly #PRStudChat brings together PR executives and students to talk about what's happening and emerging in the communications world.
On Tuesday, April 19th, JConnelly (@JConnellyNYC) CEO and founder Jennifer Connelly (@_JennConnelly) joined the #PRStudChat, hosted by communications pros Deirdre Breakenridge (@dbreakenridge) and Valerie Simon (@ValerieSimon).
The weekly chat brings together PR and communications students with leading industry executives who can share their real-world experience in PR (and all the communications channels it entails) with future stars of the field.
The latest conversation focused on the use of social media in the financial industry, with a particular interest in financial technology brands and how they can connect with their community.
Read on for Jenn's responses to the Q&A (and some of our favorite side conversations). Some answers have been edited for clarity in a non-Twitter setting.
Q1. How is social media transforming the financial services industry?
Al: #PRStudChat #socialmedia is providing new ways for financial firms to #engage with their clients
Q2. What opportunities can social media bring to financial services companies?
A2: #PRStudChat it gives a platform for firms to listen to their clients and anticipate their needs
Q3. We've heard of #AdTech and #PRTech ... what is FinTech?
A3: #PRStudChat any company using #technology to solve a #financial problem http://ow.ly/4mPudC #fintech
Q4. What are the top ways for financial companies to engage on social media?
A4: #PRStudChat They can watch & listen to their clients' needs in real-time, and track how the firm's messaging is being received
@ValerieSimon A4 It is about THEM (customers, the marketplace) NOT you (the brand). Engage in a manner that adds value
@SunGroupWP @ValerieSimon Agree! Don't sell, engage and build relationships. Earn trust.
Q5. What about policies and guidelines? Does every company need them?
A5: #PRStudChat Yes, especially to determine #brand voice, consistency within the company and being legally compliant
Q6. Are financial services companies becoming more data driven?
A6: #PRStudChat #data informs everything! Provides insights on their customers, products, investments to achieve success
@dbreakenridge @_JennConnelly It's amazing how much data we have at our fingertips!
@SteveSanduski @_JennConnelly Yes, through segmenting and personalizing the communication among other things.
Q7. What tools can you use to measure social media impact?
A7: #PRStudChat @Hootsuite, various social channel analytics and @Hubspots' inbound marketing tools
Q8. What should financial service companies avoid when it comes to social media?
A8: #PRStudChat if your company is going to be on #social – commit to it, don't drop off
@dbreakenridge @_JennConnelly Falling off is a huge problem. It's better to set a slower pace and then ramp up.
@SunGroupWP Yes, commit to doing it. If you're going to share, be open and let them ask the tough and easy questions.
@Paul_DigitalADV @_JennConnelly that's a fantastic point. A dormant social presence isn't a good look for an active, thriving organization.
Q9. What are the challenges if you're a financial services company using social media?
A9: #PRStudChat working with compliance and devoting the right resources
Q10. What is your advice to marketers and PR professionals about social media and financial services?
A10: #PRStudChat Know that your community wants to hear what you have to say. Don't sell, #engage!
@ValerieSimon You wouldn't ignore a customer in your lobby… don't ignore them in social media
@emily_triplett3 1)love analytics 2)schedule posts 3)management tools are bae 4)evergreen posts 5)put your phone on do not disturb/silent
Don't forget to tune in to the chat every Tuesday at 8:30 p.m. Eastern. Follow @PRStudChat and #PRStudChat for more information.