Steps to turn crisis into opportunity include:
How to develop a crisis plan
Identifying worst case scenerios
Taking control in a crisis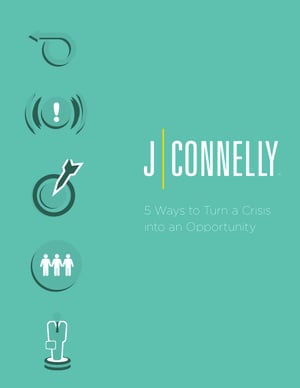 5 Ways to Turn a Crisis into an Opportunity
When it comes to crisis, you need a plan. Luckily you can build one in 5 easy steps.
Redirect to your key messages: Organizations must consider their own key messages—the talking points and overall story they want their public to hear. These core messages must speak to the actualities of the company, of where it is right now and why the organization is trustworthy. It is important to disseminate these messages at every level of the organization so all team members tell one cohesive narrative in every interaction with the public. Having messaging prepared beforehand also ensures that the legal and compliance teams can review and approve before it is needed.
Be prepared for the worst: While the core story will lay the groundwork for building and enforcing a company's reputation before, during and after a crisis, it should not be the only tool a company deploys. Every organization must have messages that respond to a variety of crisis scenarios. A company that waits until a crisis hits to develop these key points is a company that will be responding to the news of the day and won't be able to control the story. Unfortunately, too many companies leave their reputation and brand identity unguarded because they don't want to envision the worst.
Pinpoint possible crisis scenarios: Likely scenarios will vary across industries and organizational types. But there are recurrent themes that are routinely excluded from most crisis plans such as the loss of a key person like the CEO, chairperson or any individual who has come to represent the public face of a company. Other scenarios to consider include the implications of poor performance, a government investigation or an employee's fraudulent activities, as these situations have happened to some of the most established and reputable firms.
Recruit allies: Prior to a crisis, identify, recruit and cultivate independent, third-party allies who you know will be sympathetic to your company. This list of advocates, combined with a commitment to brand building as a matter of course, will give you much-needed peace of mind should crisis strike.
Take command: Whether the crisis is on the scale of global business or of a more personal nature, based on truth or rumor, it hardly matters. Today's uber-connected world necessitates a command of the keys to effective crisis management: These are:
Be forthcoming with the facts.
Admit to what you don't know, and own up to what you do know. Honesty is the best policy.
Be humble. No organization is infallible. Admitting to mistakes and errors can go a long way in restoring trust with the public.
Reassure.
Focus on your stakeholders and address their concerns methodically. The ways in which you have tried to prevent the crisis needs to take a backseat to addressing the public's concerns.
Parse your message.
Take a strategic approach to a crisis' unique components. For example, the interests of your shareholders are different than those of the general public; a legal component means you need to synch with the company's legal objectives, etc.
Resist absolutes.
Avoid using words such as always, never, least, most, etc. Don't let goodwill trump reality: only say publicly what you can defend factually.
Reinforce your brand.
As long as the crisis does not directly counteract your organization's key messages, rely on them to help protect your brand.
As Judy Smith, the real-life inspiration behind Olivia Pope from Scandal advises, "You have to face problems with a positive attitude and there's always an opportunity with crisis." With good planning and preparedness, more companies can be ready to respond to and manage a crisis quickly and efficiently and turn it into an opportunity.
Please contact Chris Cherry, Director of Client Services at:
ccherry@jconnelly.com or call us at 973 850 7329
Click the links for more crisis communications tips:
How to Apologize When Faced with a Crisis
Filing a Lawsuit? Don't Ignore the Court of Public Opinion
Want to Reclaim Your Reputation? Be Ready for the Hard Work
Why Every Wealth Manager Needs a Cyberattack Crisis Plan