Fill in the blanks to the right to download a PDF of the complete ebook.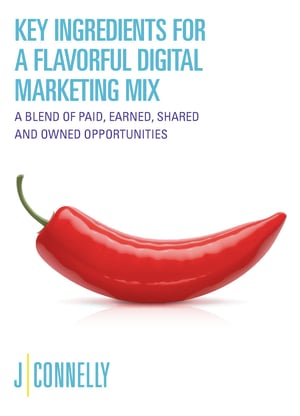 Learn how a blend of paid, earned, shared and owned opportunities can produce an effective digital marketing plan. Content includes:
- The PESO model

- Key marketing and PR tactics for paid, earned, shared and owned opportunities

- Different platforms for implementing various tactics
The Ingredients
Advances in technology give brands more ways than ever to communicate with their audiences. But more isn't always better. Today, brands focus far too much on checking all the boxes instead of creating a holistic strategy that's right for them.
It's understandable. With increasing competition, both online and off, businesses must keep pace. Leave any stone unturned and you run the risk of ceding precious ground to your competitors. But a scattershot approach isn't effective either. Think of it like this: you wouldn't invest in a billboard or a TV commercial simply because everyone else is. Why should digital
marketing be any different?
Before you decide on a strategy, you need to make sense of all the elements that go into a digital marketing program. Digital marketing is essentially anything a brand does online—any initiative designed to promote your brand, sell your product or services and amplify your
message. That covers a lot of territory, everything from social media marketing, to emails, paid search and more.
To simplify and make sense of all these elements, we've arranged this guide in four sections: paid, earned, shared and owned (PESO). The PESO model is now the widely established framework for how brands organize a digital marketing program. Although we segment according to primary function, we think it's important to stress that all digital efforts are
interconnected (i.e. you share your owned media on your social channels).
Like the key ingredient that adds the perfect amount of spice to your favorite dish, this guide is designed to give you a sample of some of the key tactics that fall into each category. For additional advice and information, we invite you to download Time to Get Social, The Lead
Generation Guide and How PR Powers Your Digital Presence, from our library of ebooks at the JConnelly Knowledge Center.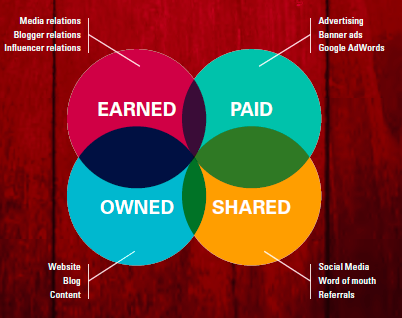 Paid
Is organic dead? Not quite, but it's on life support. The reason? Volume. As more brands turn to content marketing, it becomes tougher to make your message heard. Meanwhile, Facebook and other sites have changed their algorithms to favor posts from friends and family over
brands and publishers. Unless your content generates considerable engagement (through tactics like live video), you can safely assume that almost no one will see your organic posts unless you put some money behind it.
In the world of advertising and paid content, brands have two primary options: search marketing and paid social (native advertising banner ads and sponsored content are also worth considering, but as a follow-on strategy). Deciding how to invest shouldn't be an either/or proposition since search marketing and paid social are each designed with a different goal in mind. Ideally, brands should allocate their resources based on their individual goals. Here are some key points to consider:
Search Marketing (Pay-Per-Click)
alongside organic search results by bidding on keywords and paying the search engine
each time an ad is clicked. Benefits/tips for successful search marketing:
Search is deliberate and therefore leads to high conversion rates. Marketers should target keywords to users who are further along on the buyer's journey.
Choose negative keywords. By filtering out irrelevant search terms, you can focus on the audiences that are right for you, making your budget go even further.
To win the bidding war, you don't necessarily need to have the highest budget. The Google AdWords auction model is based on two factors: maximum bid (the highest amount you
will pay for a click) and quality score (based on factors such as click-throughrate, and landing page quality and relevance). By upping the quality of ads, businesses with lower budgets
can still come out on top of their moreflush competitors.
Buyers can nurture leads and increase conversion rates through retargeting. With retargeting, Google aims at users who have previously visited a website, displaying ads across the Google Display Network, which includes Gmail, YouTube and CNN.com, among others.
Look at your average cost-per-click (CPC) and then compare your number to industry averages to ensure that you're not overpaying.
Paid Social
By investing in sponsored content or paid ads, brands can boost their presence and expand brand awareness beyond their existing fans and followers. Benefits/tips for successful paid social:
Paid social is the best way to target a specific audience. Social platforms like Facebook allow brands to segment according to age, income, region, interests and even upcoming trips.
Unlike search, paid social isn't driven by buyer intent. Brands should focus on building brand awareness, targeting their keywords to the top and middle of the sales funnel.
Pair your awareness campaigns with your best, most-powerful content: white papers, ebooks,
webinars, etc.
Include a clickable link. This will help turn overall brand awareness into actionable results.
Most social platforms charge according to engagement, whether a click or an impression.
To Top it Off
If budget allows, consider these other paid tactics:
Native. A paid ad designed to look like editorial content on the site.
Sponsored Content. A type of native content, sponsored content (also known as an advertorial) is a video or article that is created by the publisher on behalf of the brand and placed on its website.
Brand Integrations. Blurring the line between PR and advertising, brand integrations can include product placements or interstitials (a commercial sandwiched between a program
and a commercial break), which can help brands reach audiences across television, streaming and on-demand.
Display. Banner ads appearing on sites other than search engines, which typically feature
multi-media elements like images, audio and video.
Earned
With the rise of content marketing, some businesses may ask if investing in media relations is still important. When brands can communicate directly with their audiences, do they still need to go through a media gatekeeper? The short answer: YES! In fact, today, media relations is more important than ever.
According to BuzzSumo, content shares from viral sites like Buzzfeed and Upworthy have plummeted in recent years. At the same time, highly respected outlets like Harvard Business Review and The Economist have seen a dramatic rise in social sharing. The takeaway: audiences are looking for credibility and authority. Quality is what differentiates a brand amid
all the noise.
But modern media relations isn't limited to what you may think of as "news." Beyond the usual suspects—newspapers, TV, digital, radio—today's earned media also encompasses content sharing on thirdparty sites and influencer engagement, i.e. bloggers, analysts, celebrities and anyone else who carries weight.
With earned media—unlike paid, owned or shared—you can't just roll up your sleeves and get to work. You need to have established relationships already in place. That takes time. For brands that want to elevate their stature, the best and quickest way to accomplish this is to work with a public relations firm that has longstanding relationships in your industry.
Here are three steps you can take to get started building your earned-media profile:
Build Influencer Relationships
People are judged by the company they keep. So are brands. A great way to begin building authority in your field is to connect with respected experts or "influencers."
Start by doing your research to determine who to target, what topics they address and how they interact with their followers, and then reach out in a personalized way (many journalists will state in their profile how they prefer to be contacted: email, DM, etc.). Remember, you're not the only one trying to make an impression.
Check to see if you have any common connections on LinkedIn, and then askfor a personalized introduction. Having someone vouch for you is the best way to break the ice.
Attend Industry Events
A great pitch will only take you so far, especially when it comes to new brands and untested products. You need to get out and strut your stuff in front of the industry. One of the best ways to do that is to participate and attend trade shows and conferences.
Make the most of every opportunity. Reach out to organizers and offer yourself as a speaker. Create compelling multimedia and collateral for your booth or presentation. Then get the word out to journalists for pre- and on-site media opportunities. Actively engage on social media—before, during and after the event—using event hashtags, posting positive comments, and responding and thanking users who speak favorably about your brand.
Extend Each Opportunity
You secured a media opportunity. Congratulations! But your work isn't done. Ask yourself how you can make the opportunity go even further. All media outlets have multiple channels they need to fill. Offer your CEO for a Facebook Live interview or a video that appears on the
website next to an article. Maybe you can contribute a bylined article to accompany the piece. With a little creativity, you can turn a simple article into a multi-channel opportunity.
Top 10 Media Relations Tips:
Choose story angles that are timely and relevant, not purely promotional.
Decide how to deliver the news most effectively—press release, pitch, exclusive, advance or blog post.
Do your research. Target the right reporters and tailor your outreach to each journalist's
specific beat and specialty.
Use the inverted pyramid style of newswriting, starting with the most important information: who, what, where, when, why.
Make sure your media communications are clear, concise and free from superlatives and marketing speak.
Distill your news into three main points, max. Too much information will distract from your argument.
Don't release your news right before a holiday or during important industry events. Reach out early in the day to avoid interfering with daily deadlines.
Paste your press release into the main body of the story and include links to photo or videos, no attachments.
Prepare. Make sure you are ready for interviews and able to answer likely questions.
Be considerate. Follow up with reporters when they ask for information. Keep up with their work and career moves, and reach out when you aren't asking for anything.
Shared
Shared media is the common thread connecting all elements of your digital program. What it's not is your personal megaphone. If your social feed revolves entirely around touting your own brand, your followers will tune out or unfollow. Here are some immediate steps you can take to better engage on your social platforms.
Social Listening
Most brands monitor their social channels to identify mentions and respond to negative and positive feedback. But if you want your brand to be seen as a go-to expert, you need to have your finger on the pulse of the industry. That means focusing on more than what they're saying about you.
Social listening is a tool that allows you to be a fly on the wall—the equivalent of research gold. A social listening program will uncover:
Key insights. Research is paramount to a successful marketing program, but it can be costly and time consuming. Social listening is an easy, affordable alternative that can reveal valuable information.
Competitive threats and opportunities. Information is power. If you know what your customers
are saying about your competitors, you can move quickly to capitalize on opportunities and avoid making similar mistakes.
Leads and social selling. You can identify and nurture leads by responding to conversations and
answering questions.
Access to Influencers. Learn who the influencers are in your space and begin to engage with them in a non-salesy way.
Keywords to use for social listening:
Your brand name and handles Product names
Competitors' brand/products and handles
Your slogan and your competitors' slogans
Names of key executives at your brand and your competitors' companies
Branded hashtags
Unbranded hashtags and industry buzzwords
Forums
Most social strategies revolve around the same channels: Facebook, Instagram, Twitter, LinkedIn, Pinterest and Snapchat. While these are important, they're hardly the whole picture. One the best ways to engage with your audience and add value is to actively participate in forums like Quora and Reddit. Unlike pure social sites that thrive on conflict, sites like Quora
give executives the opportunity to answer questions and provide in-depth responses that demonstrate thought leadership.
Customer Support
Social media is increasingly becoming a tool for customer service. In fact, customer service interactions on Twitter have grown by 250% in the past two years. The key to smart customer support is to be prompt—this is where social monitoring and listening comes in handy—and stay friendly. Answer questions or direct the user to the right support channel. When appropriate, you can also move the conversation to a private message to handle specific troubleshooting.
Owned
With owned media, you as the brand are squarely in the driver's seat. You decide what to create—blogs, white papers, emails, video, infographics—and when. You develop the content calendar and workflows. But it's not quite as simple as it sounds.
There's a lot of content out there. According to the Content Marketing Institute, 76% of B-to-B marketers blog. If you're not consistently producing fresh and compelling material, you aren't going to connect and generate leads—the ultimate goal.
To get started, assess your strengths and bring on outside help such as writers, designers, multi-media professionals and marketing strategists. If you're rolling out a content program for the first time, it's best to go slow and build from there. Focus on creating a few pieces of high-quality content rather than a lot of mediocre material. Here's how you can get started:
Emails
In an age of messaging platforms, tweets and DMs, emails seem almost like an antiquated form of communication. Don't be fooled. The average open rate for email is 21.73%, as compared to 6% for organic Facebook posts. Because you can divide your contact list according to industry and other criteria, email is also more personalized than long-form content
shared through social channels.
Like all content, email should be about adding value and sharing information, not hard selling. Keep emails short and include strong headlines and calls to action. Decide how many emails you want to send each month—two is a good number—and keep to the number (you don't want to wear out your welcome). To enhance each email campaign, create a workflow with a second or third email that provides additional relevant information to all who opened or clicked on a link.
Blog
Blogs are the gateway to your brand, the space where you turn strangers into visitors. If they bite, new visitors will have an opportunity to download ebooks and white papers, and click on offers as they move further down the marketing funnel. It takes a lot of visitors to convert just one customer. That's why blog posts should comprise the largest portion of your owned content.
When it comes to blogging, the No. 1 rule is consistency. You don't need to blog every day, but you do need to keep to a regular schedule. Develop topics that address your audiences' needs, providing actionable, easy-to-understand advice like "Five Ways to Make Your Content Go Further." Keep it interesting, mixing up written posts with videos, infographics, podcasts and more.
Video
You know you need video. From engagement, to SEO, to email clickthroughs, video is king of every category and metric, shareable across all platforms. With video comprising 69% of all internet traffic and growing, it's literally the future of content marketing. The only thing more
effective than video is live video and virtual / augmented reality.
If you're integrating video into your content mix—and you should—invest in decent equipment such as cameras, editing software, lighting and sound equipment. Match the type of video you produce to your marketing goals—how-tos for top of the funnel; demos and testimonials for
bottom of the funnel. Remember, video, like all other owned content, should be part of a larger digital strategy, tied to your campaign goals and geared to target personas.
All About Bots
From chatbots to Siri and Alexa—bots are here and they're here to stay. Widely used as a customer service tool for larger brands, bots are great for addressing basic questions (and saving on human capital), less so for issues that require a human's touch. Here are five ways to use them:
Interact with website visitors (give your bot a name and avatar).
Qualify and nurture leads before handing the prospect off to a live person to close the deal.
Provide personalization. By asking users a series of questions or short quizzes, bots provide precise information to help close the deal.
Integrate chatbots into messaging apps like Facebook Messenger to further guide customers through the sales process.
Gather data and customer information.
The Right Recipe
James Beard, award-winning chef and food writer Ruth Reichel said "the first time you make
something, follow the recipe, then figure out how to tailor it to your own tastes." That's good
advice for both cooks and digital marketers. While no two digital programs should be the
same, every online marketing effort should have some combination of paid, earned, shared and
owned. In the end, where you spend your time and resources will depend on what you are trying to achieve.
Need help putting together the right marketing mix? Contact Chris Cherry, Executive Director of Client Engagement at ccherry@jconnelly.com or call us at: 973-850-7329 to learn more.
Click these links to learn more about different paid, earned, shared and owned tactics to create a flavorful digital marketing mix:
Looking to Start a Deeper Conversation? Quora Can Help
Five Things to Remember When Planning a Paid Social Strategy
10 Popular Blog Formats to Make Your Writing Sizzle
Taking Your Story to the Financial Press? Here are Four Tips to Keep in Mind
Easy to Give Up Social Media? Probably Not.