Companies devote a substantial amount of resources toward marketing and public relations campaigns to keep their image positive, exciting, and desirable. At the same time, the consumer's voice is a powerful one and with the help of the internet, anyone has the potential to achieve 15 minutes of fame. Once in a while, some anonymous videographer produces a gem that a brand would be hard-pressed not to latch onto.
Just look at the latest internet sensation "Chewbacca Mom," also known as Candace Payne.
Kohl's hit the marketing jackpot simply because Candace posted a video laughing hysterically over the electronic Chewbacca mask she purchased from the store. Beyond the hundreds of millions of views the Facebook Live video received, a hefty number of news stories about Chewbacca Mom were reported, including a late night TV guest appearance.
Kohl's wasn't behind this, but they were a big piece of the story. Hasbro, the maker of the Chewbacca mask also came out on top. The toy flew off the shelves after the video went viral.
The reality of this story, and others like it, is you can't recreate it. Target couldn't hire an actor to record a video of a "customer" doing the same thing with a product it sells without looking incredibly silly. The authenticity of the Chewbacca Mom video is obvious. It was a random act that unintentionally turned into tremendous brand exposure.
There are of course loads of marketing campaigns that have gone viral (Watch a few examples in Bonnie Clark's blog, Turn up the Volume). The point here is that it's very difficult to recreate this kind of unplanned situation without losing its relatable and endearing touch.
The most companies can do when user-generated viral videos pop up, is take advantage without trying to stage an identical scene (recreations never feel natural—because they're not). In this case, Kohl's kept the momentum going by giving Candace and her family more Star Wars toys and posted its own Facebook video, which received over 33 million views so far. Smart, considering the positive customer feedback and additional exposure it received.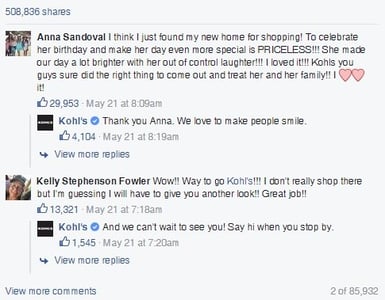 A few years ago, a Fresno fireman attached a GoPro camera to his helmet while on duty. Incredibly, he captured footage while he was resuscitating a kitten he pulled out of a burning house.
The kitten unfortunately didn't make it, but the video of the first responder's emotional and heroic act went viral. GoPro's marketing team got their hands on the footage and used it in an ad for their HD HERO3 camera.
It ended up being the brand's most-viewed campaign of the year, generating more than 1.3 million social shares. It was even recognized at Ad Age's 2014 Viral Video Awards as the best user-created viral ad.
I love last year's "Drive like a Boss" Acura commercial. You know, the one with the woman rapping in the car while her coworkers, unbeknownst to her, listen through the Bluetooth. That woman—Chelsea Ranger—was originally the star of her own viral YouTube video.
Chelsea was doing what we all do—belt out song lyrics while driving. Her husband secretly taped her and put it on YouTube. Next thing Chelsea knew, Acura was casting her to play a similar role in their 2015 TV commercial.
Whether finding inspiration for your next ad or receiving free publicity, all of these examples demonstrate the value these types of videos have for brands. Leveraging them the right way is crucial for success.
As it turns out, all those hours watching YouTube may actually pay off.