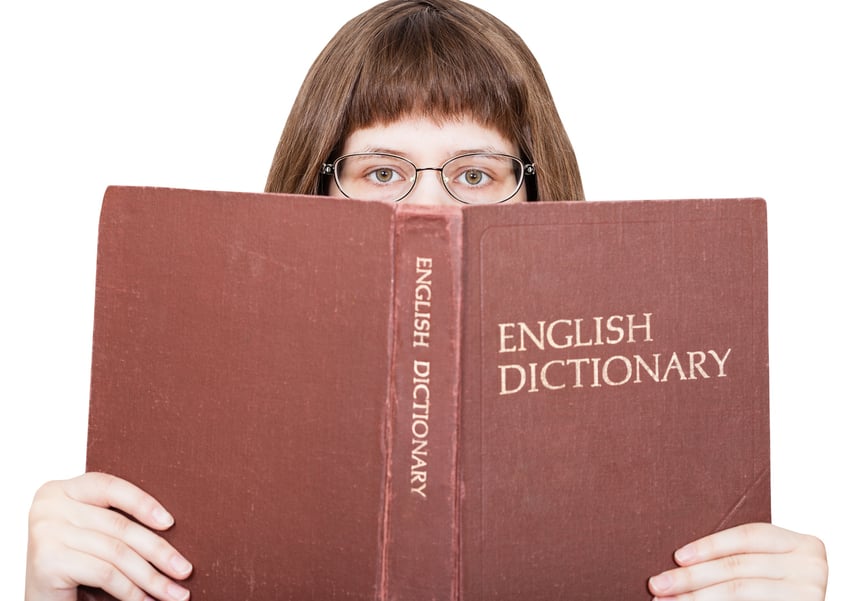 I recently made a reference to the renowned chef Jean-Georges Vongerichten in something I was writing. Since his name wasn't recognized in spellcheck I Googled what I thought was the correct spelling. Not only did I discover that there is an "e" between the "g" and the "r," but I found a pronunciation guide that New York magazine had put together for the names of Big Apple celebrities. As someone who is always a little nervous about saying a name that I've only seen in print that was a relief.
A few days later I came across something even cooler and more helpful—at least to me.
Let me start by saying I'm an unabashed word nerd. As I kid I loved thumbing through the Random House American College Dictionary and finding words I'd never seen before. Many years later I still have that dictionary and a couple of dozen more. So it should come as no surprise that I look forward to the updates made to the Oxford English Dictionary each quarter to see what new words are now acceptable in polite society.
For the June 2016 update the OED editors added 249 new word entries. A few of my favorites are agender, air punch, demonym, dudder, exploitational, folktronica, sneakerhead, spoach and wifty. (If, like me, you don't know the definitions, look them up and possibly choose one as your word of the day. As my eighth grade English teacher used to say, "Use a word three times and it's yours.") They also added 455 new sub-entries. Many of those (singer-songwriter or dues-paying) seem self-explanatory, but I have to admit that both wife sale and wedding tackle threw me. (One is probably what you think and the other not even close.)
But the June 2016 update did more than just add some new words (and we'll get to a few of those a little later in this post), the editors have also updated the pronunciation guide to reflect how English is spoken around the world. The OED traditionally supplied British and American English pronunciations "for all non-obsolete words." (Ed Note: Are obsolete words still included in the dictionary, but readers have to figure out how to pronounce them on their own?) Now they've added "pronunciations in the variety of English most relevant to that word" including English as spoken in Australia, Canada, the Caribbean, Hong Kong, Ireland, New Zealand, the Philippines, Scotland, Singapore & Malaysia, and South Africa. I had never before considered how that language has evolved around the world. I had always thought there was American English, British English and people who speak English with some kind of an accent, like my wife's relatives from Scotland.
The pronunciation updates alone would be enough to get most logophiles excited but the OED pronunciation guide is now more than just a series of transcriptions. Instead, each of the words has been recorded by a speaker of the relevant dialect, which allows OED users to hear the pronunciations as well.
I love that the OED, the original edition of which took almost 50 years to complete and was made possible through the work of hundreds of volunteer contributors, continues to grow and reflect the dynamism of the English language. The first complete edition was published in 1928 and its origins are outlined in Simon Winchester's fascinating book, The Professor and the Madman. The 20-volume complete second edition, which added "5,000 new words and senses to the 400,000 definitions expressed in 60,000,000 words" was published in1989. Today, the OED is available as an online publication and is in the process of being comprehensively revised. More than 150 years after its launch, the dictionary remains a living and vital document that reflects how we speak and provides a record of the evolution of the English language. And if an institution long-thought of as a bastion and protector of tradition can continue to evolve and grow there's no reason for the rest of us not to do so either.