Fill in the blanks to the right to download a PDF of the complete guide.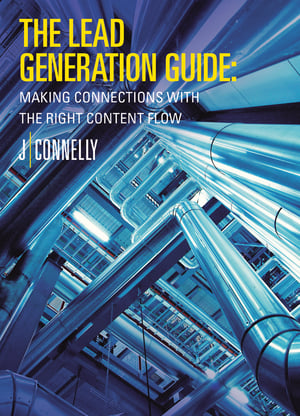 Learn how purposeful content can turn visitors into leads. Additional content includes:
- How to develop a content strategy.

- How to distrubute your content.

- How to use SEO in your content.


CONTENT BUILDS TRUST
Content marketing gives brands the power to provide consistent, relevant and valuable information that informs, educates and helps audiences overcome challenges. It raises brand awareness and builds trust. The more you're seen as a go-to knowledge source, the more
reasons people will have to seek out your brand for information and potentially convert into customers.
Here's the proof. According to a survey of over 1,000 consumers by Fractl + Moz, in a week's worth of time:
93% of respondents had made an online search to find information
about a company or product.
89% read an online article.
50% downloaded content from a website.
This guide will give you the tools you need to create content that turns visitors into leads.
CONTENT STRATEGY
Whether your content includes written material, infographics, videos or all of the above, to build a brand following it needs a clear direction and a cohesive flow. Make it easy for your audience to recognize—and seek out—your brand's expertise and perspective. These next steps will help guide you through creating a strategy and keep you on track all the way to distribution.
Research Your Target Persona
Buyer personas are generalized representations of your ideal customers. When you paint a picture of your target persona, it makes it easier to identify your audience and most importantly, give them personalized content based on their needs.
The key to building trust in any relationship is getting to know one another. When you publish content, you're introducing your audience to your brand. Learning as much as you can about your preferred audience is a crucial step in helping you gain a strong sense of their needs, challenges and interests so you can tailor your content to topics they'll care about.
Nail Down the Objective
What is your "why?" Are you looking to build general brand awareness or promoting the launch of a new service or product? Once you pinpoint why content is needed, you can more easily identify the themes that you should address.
Assess Existing Content
Creating content can be overwhelming if you don't know what it is you actually need. Audit your current material to narrow down which pieces can be discarded, used as is or repurposed.
Here are five tips for crafting great content:
Give your content a purpose. Think about what you want your audience to remember and the action you want them to take. Before your prospects become customers, they go through a buyer's journey where they get to know the brand better and reach a level of trust that helps them decide whether or not to do business with you. Different types of content are recommended at each stage of the journey.
Don't be self-serving. Your content should inform its audience on a
specific topic in a way that's not condescending or "salesy." The reader should walk away with knowledge that they can apply to their own experiences.
Represent the brand. The goal is for people to recognize your brand—and
what better way to do that than through the content? Let your brand shine in the narrative, the visual format and in key messages.
Make content actionable. Give your audience a reason to take action whether that means visiting your website, downloading more content or filling out a form. Keep them engaged as long as possible.
Avoid jargon. The fastest way to lose your reader is to write over their
heads, using acronyms or terms that most people wouldn't understand.
Get to the point and leave out the nitty gritty.
It's All About the Data
Based on the goals of the campaign, define what success means to you and determine how you plan to measure performance. For example, is your goal to convert three new visitors into leads? Or maybe you're focused on getting more followers on social media. Without the goals in mind, it will be harder to know if the content is working.
Create a Distribution Plan
Think about how you're going to get your content ample visibility. It may seem tempting to try the "throw it everywhere and see where it sticks" method, but it will be more effective if you have a targeted plan.
Buyer's Journey

Distribution Strategy
Savvy marketers know that successful content marketing isn't simply about producing lots of content. It's what you do with it that really counts. The key is to be proactive and roll out a plan to distribute your content through a healthy mix of paid, earned, shared and owned opportunities.

These guidelines will help put you on the right path to getting your hard work into the right hands.
Research Where Your Target Personas Are
Once you determine your ideal audience, it's important to learn more about where they go to consume news and stay ahead of the curve on industry insights and trends. Start with some basic research. Where do they read news and from which publications? Which social media platforms do they favor? Within those platforms, are there niche interest groups you can join? These questions and more will help determine where your content should go.
Learn About Distribution Channels

Website
You should house all of your owned content, like blogs, ebooks, whitepapers
and videos on your website. This will help drive traffic. Turn to page 5 for more information
on topic clusters and pillar content—two important components of your website.

Social
Share your content across social media—Twitter, LinkedIn, Facebook and
Instagram. Of course, not every platform will make sense for every brand. Choose the
ones where your audience spends the most time and commit your resources where it
makes the most sense.
Media
Partner with a public relations team to get your brand story into the public eye.
In addition to pitching the media on stories about your brand, your PR team can pursue
opportunities to publish your content on third-party websites. This kind of exposure
adds credibility, creates a new avenue for audiences to find your content and gives you
something new to promote.
Email
Target your content to segmented contact groups with an email campaign. The
more personalized you are, the higher the chances are of converting subscribers to
customers.
Get the most out of your content by optimizing it for different distribution channels. Spending time slicing and dicing the work you've already created will make it easier to stick with your content strategy over time.
Here are five ways to make your content go the extra mile.
Breathe new life into older content. Identify popular blog posts in your archive and spruce them up for re-sharing by updating the introduction and adding new examples.

Give content a makeover. Take a handful of blogs on similar topics and format them into an ebook or turn a webinar into a video. There are countless ways to freshen up what you already have.

Pare down larger assets. A longer how-to video can be edited into shorter clips. Interesting facts from a white paper can be recreated into an infographic.

Amplify content on new websites. Build relationships with influencers so you can become a resource on their channels. Remember to give back and extend the same courtesy.

Leverage media coverage. Bylined articles that were written specifically for publications can be tweaked as separate blog posts or even expanded into subtopics that link back to the published material.
CONTENT ORGANIZATION FOR SEO
Search engine optimization (SEO) plays a huge role in content distribution. Individual keywords used to be a big focus for optimizing content for search. Now it's more about how your content is structured and organized, not only within one piece, but among multiple pieces
of content with related topics under a common theme.
Themes are largely based on how people are searching for content and what they're searching for within your industry. People have become more specific by using longer conversational queries that describe a full thought instead of one or two keywords. Google has picked up
on this and provides the most accurate information possible including supporting content. This means you want to rank for topics rather than simply keywords.

How can you fit SEO into your content strategy? Organize your website according to main topics with supporting content on sub-topics (utilizing your longer keyword phrases) hyperlinked to one another. Hubspot calls these "topic clusters." It helps to address as many
searches as possible about a particular subject and it also gives the searcher a complete picture and even more of your content.
Topic Cluster

A common way to structure blogs is to write multiple posts about similar topics. It sounds effective, but what you're actually doing is writing blogs that compete with each other. It makes it harder for the person searching to find all the information they need. Shift your mindset towards the topic cluster model: Identify the broad themes you want to rank for, and create content based on topics and keywords that link to the theme. This is a great structure to
consider as you decide how to repurpose existing content.
Pillar Content
Pillar content represents the main topic you want to rank for and it's what the topic clusters are built around. Hubspot recommends creating a pillar page on your website that covers all aspects of the main topic in general terms. The reader can scroll through the page and
click on links to bring them to more specific content on sub-topics within that overall theme.

For example, if the main topic on your pillar page is crisis communications, the page will include links to cluster content that focuses on more specific topics within the theme. This might include blog posts about reputation, how to handle a social media crisis, tips for building a crisis plan and more. The cluster content links back to the pillar page, giving the reader an organized and in-depth look into a topic that you have authority on.
GIVE YOUR CONTENT LIFE
Think of your content as a living and breathing object that positions your brand as a trustworthy knowledge source. Once the content is created, look for ways to leverage and
extend its life by making it relevant to new audiences across multiple platforms and remember to keep the buyer persona and customer journey in mind at every stage of the process.
Need help getting your content in front of the right people? Contact Chris Cherry, Executive Director, Client Engagement, at ccherry@jconnelly.com or call us at 973-850-7329 to learn more.
Click these links to learn more about lead generation, content marketing and inbound marketing strategies:
I Was a Content Marketing Failure: Hard Won Lessons from the Early Days of Inbound
Four Reasons Why Ephemeral Content is a Smart Brand Strategy
Top Five Content Ideas for Generating Leads
Ten Popular Blog Formats to Make Your Writing Sizzle
Financial Firms Can Use Content to Build Trust