Fill in the blanks to download the entire ebook and learn how social media fits into your marketing plan. Content includes:
How to use social media as an effective business tool

Adapting your message to different social platforms
Tips and tricks for engaging on popular social platforms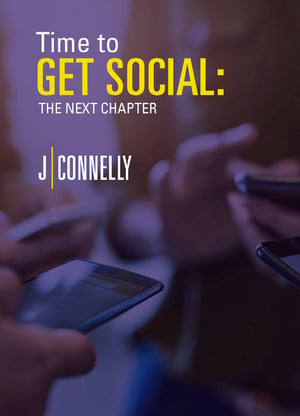 Time to Get Social: The Next Chapter
In the year and a half since we first published "Time to Get Social" (Oct. 2016), a lot has changed in the world of social media. Revelations of Russian interference in the 2016 election
and the spread of "fake news" on social media have prompted sites like Facebook, Twitter and Google (YouTube) to tighten control over their content flows, making it more difficult for brands to monetize—and potentially weaponize—information.
With higher barriers to entry, brands are doubling down on creating immersive organic experiences, giving their followers something memorable to connect to, whether through live video, augmented and virtual reality, ephemeral content (Instagram Stories or Snapchat) or one-on-one engagement through apps like WeChat, What'sApp and Facebook Messenger.
With the social media world expanding exponentially—practically overnight—businesses must keep apace, focusing on the platforms where their stakeholders are most active. Equally important, brands must adapt their message to the tone and style of each individual network. After all, you wouldn't talk to colleagues in a conference room like you would friends in a bar—nor should you treat Facebook, Twitter and LinkedIn as interchangeable echo chambers.
Social media is a powerful business tool. But like all tools, you have to know how to use it if you want to reap the rewards.
PRIMARY LEADERS: FACEBOOK
The original social network, Facebook boasts some 2 billion users (it passed this major milestone to much fanfare in June 2017) and 65 million business pages—by far the most of any social media site.
If you have a business that markets to consumers, you cannot afford to ignore Facebook. The average Facebook user spends more than 35 minutes on the site per day! That's a lot of time and a lot of eyeballs! Plus you can target the exact demographic you're looking for, segmenting audiences according to age, location, interests or even upcoming trips.
In January 2018, Facebook announced changes to its algorithm, favoring posts from friends and family instead of brands and publishers, a move designed to prevent the spread of "fake news." Brands posting engaging content that fosters meaningful conversation—no spammy clickbait—will have a much higher likelihood of appearing in newsfeeds. Live video is also favored under the new algorithm, and brands should lean on tools like Groups, which are favored for their higher levels of engagement.
Launch Date: early 2004
Tools
Notes is a feature that lets you write full-length blog posts with formatting, tagging and pictures. You can use it to publish content that requires formatting or is too long to post to your wall.
Chat is an instant messaging application for users to communicate in real time with other Facebook users.
Marketplace lets users post free classified ads, but viewing is limited to only those on Facebook.
Groups allows users to create an online community of people with a similar interest.
Ad Manager offers a step-bystep process for setting up and running a Facebook ad campaign.
Stories is a Snapchat-like feature that allows users to share photos and videos that disappear after a day. Less popular than the original or even its Instagram sibling, Facebook is pulling
out all the stops to get users onboard.
New Features
Facebook 360 (powered by Oculus and supported in Samsung Gear VR)
Allows users to take and share 360-degree videos and stills on Facebook. Almost a year after Facebook introduced the feature, 1 million videos and 25 million stills have been posted, with millions more accessing the feature.
Messenger Day
Much like Instagram Stories and Snapchat, Messenger Day lets users send and receive disappearing messages. You can also personalize your posts with stickers and filters.
Article Context
To help combat "fake news," Facebook unveiled Article Context, which provides additional information about the source material like facts about the publisher and links to trending articles from other sources.
Pros/Cons
Pro
Users aren't afraid to communicate with businesses on this platform. It allows for transparency that otherwise wouldn't be expected on other channels—meaning, it's a great platform for customer support and it provides an increased level of satisfaction to develop personal relationships with the brand.
Pro
Positive business reviews can be shared and promoted.
Con
If someone is upset with some aspect of your business—a product that didn't meet expectations, poor customer service, a poorly worded public statement—your Facebook page is likely to be the first place they turn to vent.
Con
What's on your page is a reflection of your business. A thoughtless repost or political comment can end up causing a big headache.
Tips/Tricks
Fun company photos should be shared on Facebook regularly. The platform helps humanize your brand and allows for a more family-friendly feel, which can build brand loyalty.
It's been estimated that as many as 87% of Facebook posts go unanswered. Respond to your customers and start a conversation!
Use groups and event pages to gain more traction and awareness for campaigns or company initiatives.
Fac
ebook Stats
On average the Like and Share Buttons are viewed across almost 10 million websites daily.

The most common age demographic of Facebook users is 25 to 34, a key target for many marketers.
Every 60 seconds 510 comm ents are posted, 293,000 statuses are updated, and 136,000 photos are uploaded.
42% of marketers report that Facebook is critical or important to their business.
PRIMARY LEADERS:
TWITTER
Twitter is the newsroom of the social media world—a place where regular people connect with journalists, celebrities, politicians and brands.
When news breaks—whether in sports, entertainment or politics—people turn to Twitter to weigh in with pithy wisdom condensed into 280-character blocks (tweets). Since Twitter is a public forum, tweets can quickly go viral—and many public figures have successfully parlayed an active Twitter feed to further their own personal, business and even political success.
Twitter is unique in its ability to bring people together in common cause. Hashtag campaigns like #MeToo and #TimesUp have reshaped the face of business and government, bringing
long-held societal problems to the forefront of our national dialogue. For better or worse, Twitter is increasingly being used as a catalyst for change.
Launch Date: March 21, 2006
Tools
Hashtags, represented by the # symbol, are used before a relevant keyword or phrase in a tweet to help make them easily discoverable. Clicking on a hashtag in any message shows you all other tweets associated with that keyword or phrase. Hashtagged words that become very
popular often become Trending Topics.
Direct Messages enable private conversations between Twitter users about tweets and other content. Some accounts, particularly businesses on Twitter, have enabled a setting to receive Direct Messages from anyone. Direct Messages are particularly effective for brands addressing customer service issues, moving a complaint out of the public eye and making it easier for users to share specific concerns.
Mentions are tweets that contain another user's handle, or Twittername, starting with the @ sign. If you include multiple @usernames in your tweet, all of those people or businesses will see your tweet in their Notifications tab.

New Features
Twitter280
It was big news when Twitter announced it was giving users twice as much space to share their worldly wisdom, increasing the character limit from 140 to 280.
Threads
Twitter formalized the tweet thread, with a feature that makes it easier for users to fire off a tweet storm, two or more tweets strung together to form a thread.
GIF Feature
Twitter's new GIF feature allows users to search and post a GIF without ever leaving the site.
Pros/Cons
Pro
Snapshots of information keep users informed about a variety of topics in real time and give them the power to add to the dialogue. You get to see and share relevant articles, company updates and interact directly with your audience, which helps you find out what they like and do not like to hear or see.
Pro
Join in on relevant and industryrelated conversations through hashtags. Easy for searching, creating and joining existing conversations, staying informed and up-to-date on trends.
Con
Following too many thought leaders can make your newsfeed overwhelming (see the tips and tricks below).
Con
If social media is not your primary responsibility, it may seem impossible to keep up with the required number of tweets to maintain an active Twitter presence.
Tips/Tricks
Create private or public lists. This means adding influencers, staff, media, publications and various groups that interest you or are relevant to your business for quick and easy monitoring.
Create a content calendar to plan a variety of topics that are of interest to your industry and/or business.
Leverage trending topics to reach a broader audience.
Check out these impressive Twitter stats:
Twitter claims 320 million monthly active users.
21% of American adults use Twitter.
80% of Twitter's users are "affluent millennials."
People send more than 500 million Tweets per day.
Twitter serves more than 2 BILLION search queries per day.
In 2017, 17% of Twitter users said the used the network for NEWS , an increase of 15% from the previous year.
Tweets that include both photos and links receive 150% more engagement.
PRIMARY LEADERS: LINKEDIN
Facebook…what Facebook? For business professionals, b-to-b brands, independent consultants and professional services firms, LinkedIn is the only game in town!
Largely free of kid pics and political rants, LinkedIn is all about networking, recruiting and staying up-to-date in your field or industry. The LinkedIn blogging feature is an excellent way for users and companies to build thought leadership and connect with prospects and leads. Creating, joining and participating in groups helps you stay abreast of important news and trends while also providing a built-in network for all your work-related questions.
Focus on adding value rather than blatantly promoting or selling your services—and make use of the many ways to share information, including Showcase Pages and SlideShare, which creates all-online presentations that are easily shareable.
Launch Date: May 5, 2003
Tools
Personal Profiles give users a basic LinkedIn identity and provide entrée to an online social network reflective of real-world professional relationships. Your public profile pops up when people do a name search on an engine like Google, Yahoo!, or Bing.
Company Pages can be used to raise brand awareness, promote career opportunities and educate potential customers on your products and services. Regular updates to this page serve as conversation starters with employees, current and potential clients. By delivering useful and engaging content, you'll foster engagement and help your message spread faster.
Messaging allows LinkedIn users to send and receive private messages between first-level connections and group members. Users with premium memberships can send private messages to anyone in the system through InMail.
Showcase Pages are niche pages where companies can promote specific products or market to a specific buyer persona.
Groups on LinkedIn provide a place for professionals in the same industry or with similar interests to share content, find answers, post and view jobs, make business contacts, and establish themselves as industry experts. It's like a real-world networking event, minus the small talk.
Jobs is a feature for companies to share openings with prospective candidates.
New Features
Trending Stories
LinkedIn users can keep abreast of industry news with the "What People Are Talking About Now" news widget, featuring stories curated by former business journalists.
Smart Replies
These artificial intelligence recommendations theoretically help users respond to private messages, providing suggested responses that include the person's name rather than a simple "thank you."
Expanded Analytics
Beyond likes, shares and views, LinkedIn now provides more data on who is engaging with a user's content, highlighting which companies they come from,
where they're located and what roles they play.
Pros/Cons
Pro
Link with all your business and personal professional connections.
Pro
Great channel to see thought leadership articles and showcase your skills and capabilities.
Con
Keeping up with your network can be difficult. If you have more than 1,000 connections, you probably don't know them all personally or exchange direct email. But each connection gives you access to a wider network, opening up even more business and career possibilities.
Tips/Tricks
Keep posts concise and direct. Longwinded posts tend to be ignored since LinkedIn is a business-oriented platform.
Make sure your personal description is concise and contains the right keywords.
If someone comments on your status or post, make sure you respond. This will help create a community (especially around a content hub like a company page).
Every update should convey your brand promise and values but in a way that is informative, insightful, and inspirational—not self-serving.
Here are a few facts you need to know about LinkedIn:
As of January 2018, LinkedIn claimed some 530 MILLION USERS in more than 200 countries and territories.
There are 10+ MILLION active job postings on the site.
LinkedIn is currently available in 24 lang uages: Arabic, English, Simplified Chinese, Traditional Chinese, Czech, Danish, Dutch, French, German, Indonesian, Italian, Japanese, Korean, Malay, Norwegian, Polish, Portuguese, Romanian, Russian, Spanish, Swedish, Tagalog, Thai and Turkish.
The most prevalent business fields are information technology and services (10.9%), marketing and advertising (8.9%) and human resources (3.9%). The most common job titles include sales (12%), education (10%) and administrative roles (10%).
PRIMARY LEADERS: INSTAGRAM
From photos of exotic vacations to "food porn," Instagram is all about inspiration. A mobilefirst social network, the photo and videobased app caters to the under-35 crowd—the too-cool kids who have abandoned Facebook now that grandma and grandpa are on it.
Instagram is the leading social network for teens. It's also popular with brands, with a per-follower engagement rate of 4.21%—that's 58 times higher than on Facebook, and 120 times higher than on Twitter. In August 2016, Instagram added Stories—a Snapchat-like feature that allows users to post photos and videos that automatically disappear after 24 hours. What started as a copycat quickly bested the original. Instagram Stories surpassed Snapchat in daily usage in just a few months, and the feature has helped solidify its dominance as the outlet of choice for young people.
For consumer brands—especially fashion and lifestyle brands—Instagram is a must! The key to successful marketing on Instagram is to resonate emotion. Think natural and clean. No campy or overly staged pics. Increase engagement by including hashtags and other user handles in the caption. And always include a location—posts tagged with a location receive 79% higher engagement!
Launch Date: October 6, 2010
Tools
Profiles feature a selection of recent photographs, biographical information and other personal details that makes the platform feel like a more-traditional social media site.
Carousel ads expose company brands to more people beyond followers.
Photographic filters are applied to images to give them a custom look. Stories post a series of photos and videos that disappear in a day.
New Features
Live Stories
Users can go live and interact with their followers in real time. Live videos disappear when the video is over.
Follow Hashtags
Instagram users can follow hashtags just like they do people.
Polls
Users can poll followers on Instagram Stories, asking yes/no questions or creating custom answer options. This is a great tool for brands that want to learn more about their followers' preferences while also encouraging interaction.
Pros/Cons
Pro
The platform offers real-time response. Within six hours of posting, the average posts
gets 50 percent of its comments and likes.
Pro
According to Pew Research Internet Project, Instagram is the fastestgrowing social media platform.
Con
Instagram doesn't allow businesses to use clickable links in posts, which can make it difficult to conduct a campaign on Instagram that's specifically designed to drive traffic to a website.
Con
Limiting live links means that Instagram severely restricts SEO opportunities.
Tips/Tricks
Instagram reports that photos generate 36 percent more likes than videos—and that photos with faces get 38 percent more likes overall. But above all, make sure your photo content is
visually unified and compelling.
Posts that include another user handle in the caption net 56 percent more engagement.
Posts with at least one hashtag average 12.6 percent more engagement and posts tagged with a location receive 79 percent higher engagement.
Consider including one of the top 10 most engaging emojis in your posts (the heart emoji is the second-most used emoji by brands, and the most engaging), and look at posts with these emojis so you can replicate it.
Users can connect their Instagram accounts to Facebook, Twitter, Tumblr and Flickr. Still on the fence about Instagram? Check out these impressive stats:
There are 800 MILLIO N Instagram users (500 MILLION of whom are active), making the platform third, after Facebook and YouTube, in number of active users.
Instagram users share 95 MILLION posts per day.
There are over 25 MILLION BUSINESS profiles on Instagram worldwide, up from 15 million in July of 2017.
In one month, half of all businesses on Instagram used the "STORIES " feature.
Over 80% OF ACCOUNTS on Instagram follow a business.
After viewing a post, 75% of all users take an action like VISITING A WEBSITE.
Instagram has a 2.2 PER CENT PER-FOLLOWER INTERACTION RATE the highest of any other social media.
PRIMARY LEADERS: YOUTUBE
From Justin Bieber to PewDiePie—YouTube has spawned a generation of celebrities who have turned a massive following into multimillion-dollar empires. And it's not just singers and musicians, YouTube has made stars out of a whole universe of talent—from beauty experts, to comedians, video game commentators to people who have become famous (and rich) by simply
unwrapping and opening up toys!
But YouTube isn't just a smart strategy for entertainers and media personalities. It's also a must for businesses of all stripes and sizes. Why? Sheer numbers: 1.5 billion users who watch 1 billion hours of videos a day! 300 hours of video are uploaded to the site every minute.
Successful marketers create channels that embody the essence of their brands and products. Variety is the spice of life, and YouTube thrives on well-rounded content—everything from how-to videos to explainers, customer testimonials, vlogs and more.
Launch Date: April 23, 2005
Tools
YouTube Analytics lets users monitor the performance of their channel and videos with up-to-date metrics and reports. There's a ton of information available across different reports, including watch time, traffic sources and demographics.
YouTube Creators Academy offers a wide range of online courses that teach users how to make the most of YouTube's capabilities.
New Features
In-App Sharing and Messaging
Allows friends to share videos and their reactions without leaving the app.
Community Tab
A social feature that lets creators engage with their followers through text, video, photos and more. Introduced to a small group of creators in 2017, the feature is now available to channels with more than 10,000 subscribers.
Dark Mode
Originally a hidden feature, Dark Mode turns YouTube's interface from white to black, creating a more cinematic experience. YouTube made the feature widely available in May 2017.
Pros/Cons
Pro
Video streaming platforms convert viewers to raving fans and customers, while at the same time educating consumers. Images can paint a picture but videos tell the story in an entirely different light.
Pro
Videos posted to YouTube are easily shared on other social networks, linking your social presence across channels.
Con
While just about anyone can shoot video with their smartphone or tablet, that doesn't make everyone a professional video director. Amateurish or sloppy video production can create a negative impression.
Tips/Tricks
Videos should ideally be a minute in length, but if the message needs to be longer, two minutes max. Shorter videos are also more likely to be shared.
Animated videos are the biggest attention grabbers for consumers.
Sharing video on your other social channels helps generate more traffic for all your video properties.
YouTube has amassed some jaw-dropping facts and figures:
YouTube has 1.5 billion users—almost onethird of all people on the Internet—and everyday "they watch" 1 billion hours of video.
YouTube overall, and even YouTube on mobile alone, reaches more 18-34 and 18-49 year-olds than any cable network in the U.S.
More than half of YouTube views come from mobile devices.
SECONDARY LEADERS: GOOGLE+
It would be easy to dismiss Google+ as the search giant's failed attempt at social networking. But that would miss the point entirely. While Google+ is not a destination in and of itself, the platform is essential for businesses because it helps push your rankings higher in Google searches. And Google accounts for 80% of the world's searches.
Google+'s parlance is "circles," as opposed to Twitter's "followers" and LinkedIn's "connections." Organize your circles according to location, age or other demographics to better control who sees what.
Recently, the site has stripped out some of its most popular features, like Hangouts, and redirected them to their own apps. The move has prompted many tech insiders to question whether Google+ has a future at all.
While Google+ is not the hit the search giant might have hoped, reports of its death are "greatly exaggerated." Google+ is still key to the search engine's business strategy, and the company continues to roll out new features and bring back old ones (like Events). It also has small flourishing communities such as photographers and Harry Potter fans. If at first you don't succeed…
Launch Date: December 2011
Tips/Tricks
Create links within content that take users back to your site by anchoring text keywords.
Link your other social media profiles from Twitter, LinkedIn, Facebook, YouTube and elsewhere to help drive traffic to your other profiles.
New Features
Google+ Polls
Invite your circles, communities and people to answer surveys, with up to five possible answers.
Google+ Zoom
A new image compression tool, Rapid and Accurate Image Super Resolution (RAISR), uses up to 75% less bandwith without sacrificing quality.
Hidden Comments
Google+ will hide low-quality comments, helping to eliminate spam from those who are only using the site to artificially boost search rankings.
Paid Social is a Must! The social media landscape is crowded. Every day, brands vie for precious space on the news feed. With many sites now favoring posts from friends and family,
investing in a paid strategy is even more important. Here are some key points to consider when building a paid social strategy:
Start with the goal. Do

you want to drive traffic

to your website, raise

broader awareness or

increase engagement?

Choose your platforms. Where does your audience spend most of its time? Where are you
getting the most traction?

Align goals with social

media platforms. If

you're looking to launch

a new product, Twitter

is great for driving clicks.

Make sure the objective

fits the platform.

Know your audience. Be as specific as possible when it comes to targeting, segmenting
audiences according to behaviors and even upcoming trips.
Blend with Organic Content. Many people will unfollow brands that are overly promotional.
SECONDARY LEADERS: PINTEREST
Too many ideas and nowhere to put them? Pinterest can help! Pinterest is a virtual visual bulletin board where you can curate, pin, share and organize information from across the Internet—everything from recipes, to fashion ideas, home décor to DIY and more. And while
Pinterest may play second fiddle to some of the bigger players, businesses should not overlook the importance of the site.
Why?
First, it creates a visual storefront. Second, Pinterest users actually buy! A recent study found that 93% of pinners have used Pinterest to plan or make purchases and 52% have seen something on Pinterest that inspired them to buy.
Pinterest has other advantages over the "big guys:" less trolling, it's not a pay-to-play
network and it has an algorithm that doesn't push older posts lower into the sort queue.
Looking to market through Pinterest? Get creative with visuals. Create Pinterest boards
around a unique theme and then populate it with diverse, original content—infographics,
tutorials, videos. Offer Pinterest-exclusive promotions and mine the site for trends you can co-opt to excite and inspire!
Launch Date: September 2011
Tips/Tricks
Make sure you add the Pinterest share button to all of your product and content pages on your website and blog. It gives Pinterest users an easy way to share your information, without ever navigating away from your site.
Optimize all the images that you upload. Make sure the file names contain descriptive keywords. Once uploaded, edit your pin to include a link back to the original source or related content on your website.
New Features
Board Sections
Users have more ways to organize their pin boards. For example, instead of creating separate boards for kitchen and bathroom, users can arrange pins into several sections on a single "home" board.
Lens
With Lens, Pinterest users can combine ideas from the real and virtual worlds. When
they come across décor, fashion or food, users can scan to their phone. Pinterest will show them similar products, along with suggestions on how to mix and match with other pieces of clothing or home décor.
Engage with Live Video If you're a brand on social media, engagement is more important than ever. That's because social platforms like Facebook and Twitter have changed their algorithms
to favor personal posts over branded ones. Consider this:
Facebook users watch live video three times longer than on-demand video, and live video generates 10 times the number of comments.
Live video creates an emotional connection that is impossible to replicate with written or on-demand video content (80% of people would rather watch a live video than read a blog post).

The popularity of live

streaming has surged

in the past two years,

and is expected to

become a $70.5 billion

industry by 2021.

Since Facebook, Instagram, Twitter, YouTube and Snapchat all offer in-app live video capabilities, it's easy to find a platform that fits with any business' content marketing strategy.
SECONDARY LEADERS: SNAPCHAT
If you're like most adults, you probably think of Snapchat as the app that lets teens take
and send don't-want-Mom-to-see photos.
But the app has grown up over the past seven years and now offers multiple marketing advantages. In early 2018, Snapchat unveiled its redesigned interface in the hopes of making it appeal to a wider demographic, i.e. adults. So far, the new design has gotten mixed reviews,
although Snapchat did post its rst ever better-than-expected quarterly earnings following the rollout. And yes, Snapchat is still a favorite among teenagers (many of whom are on it precisely because their parents aren't), but the app has grown up over the past six years and now offers multiple marketing advantages.
Snapchat is primarily used for creating multimedia messages referred to as "snaps." Snaps can consist of a photo or short video, and can be edited to include filters and effects, text captions, and drawings. Images only last up to 10 seconds before they disappear. It sounds fleeting, but the "blink and you'll miss it" approach helps create buzz and chatter.
Brands are also getting on board, using the app to reach audiences in a new and exciting way. With its Discover Channel, advertisers create sponsored content that is interspersed with videos and articles from like-minded publishing partners. All content automatically disappears after a day. Businesses can use the platform to offer a "behind the scenes" look at events,
new product launches and company gatherings. Promotions are a great way to go. Invite Snapchat users to like, share stories and comment on snaps in as a way to enter contests and giveaways and access promotional discounts.
The launch of Instagram Stories in August 2016 took a big bite of out Snapchat's user base. One year after its competitor's launch, Snapchat's monthly active user growth rate fell from 17.2% per quarter to just 5%, and its share price fell from $17 IPO to an all-time low of $12.67.
Launch Date: September 2011
Tips/Tricks
Find your timing. Make sure visual images aren't too fast or slow in the limited amount of time you will have with a consumer.
Have fun with this channel – it's more about entertaining your audience than promotion. Don't
be afraid to use relevant filters.
Tapping into the Snapchat user community means having access to young and ready-to-spend consumers.
New Features
Public Stories
This new feature takes stories out of the app, allowing users to send via text or email stories from verified users like celebrities or anything found in the Our Stories section, which are publicfacing stories curated from the community.
Multi-Snap
With this feature, users can record and share videos in one sequence rather than having to build a story from individual videos.
SnapMap
An easy way to see where your friends are and what they are doing. You can click on the Bitmoji avatar to see their Story or enter their chat to say "hello." SnapMap also includes a heat map of the most popular places in the world where people are snapping
Businesses Can't Ignore Messaging With over 5 billion monthly users, messaging apps are
becoming a key part of a social engagement strategy. In fact, more people are using the top four social messaging apps (WhatsApp, Messenger, WeChat and Viber) than the top four social media apps (Facebook, Instagram, Twitter and LinkedIn).
Here's what you need to know:
Messaging isn't just an alternative to texting. It's also a great customer service tool
for answering questions and troubleshooting in real time.
According to Facebook, 54.5% of social media users in the U.S. prefer messaging channels over email, phone and online chat. And, with the rise of artificial intelligence and chat bots, messaging is becoming even better for the bottom line.
Messaging platforms bring brands and people together. That's becoming increasingly hard to do in the crowded social media landscape.
CONCLUSION
To leverage the power of social media, brands need to understand their communities—what motivates and excites them and how to keep them engaged and eager for more. Social media is many things; what it's not is a one-size-fits-all proposition.
By getting to know each social network and how it operates, you'll have a better sense of where you want to spend your time and resources. In the end, listening is key to any effective communication. Immerse yourself in the customs and culture of each social network and learn how to leverage the tools and features so that you're reaching different audiences on different platforms.
Of course, social is only one part of an overall digital strategy. Successful digital marketing
programs incorporate four key elements: Paid, Earned, Shared and Owned (PESO). Stay tuned for more on digital in our next ebook.
Social media brings communities together. If you learn how to engage in an authentic, meaningful way, you'll win hearts and minds every time.
Looking for more guidance on getting social?
Contact Chris Cherry, Executive Director, Client Engagement, at ccherry@jconnelly.com or call us at 973-850-7329 to learn more.
Click the links to read more about different social strategies:
8 Ways to Increase Your Engagement on Social Media
Getting Personal: How CEOs Can Use Social Media
Five Things to Remember When Planning a Paid Social Strategy
Create Thumb-Stopping Videos on Social Media