Fill in the blanks to the right to download a PDF of the complete ebook.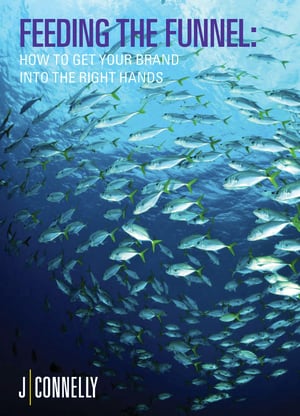 Learn more about the top of the marketing funnel and the importance of the awareness stage to gain trust and attract leads. Content includes:
- How to use different content types for top-of-the-funnel tactics

- How to build a cohesive strategy

- Top-of-the-funnel metrics
CAST A WIDE NET
Everyone's journey is different. We all set out on our own path in life, but along the way, we achieve many of the same milestones: graduations, new jobs, marriages, births, etc. This journey—different but the same—is a lot like the buyer's journey.
Every buyer who interacts with your company will have their own way of finding you and becoming a customer. But, like in life, most customers will go through a similar set of decisions on their way to completing the buyer's journey. From visitors to leads, they'll move deeper into the marketing funnel—we call it a funnel because it starts off wide and gets narrower as you move closer to the bottom. That's why it's so important to attract a lot of leads to begin with.
How can you attract and keep more leads? Develop a strategy that fits each key phase in the buyer's journey— awareness, engagement, conversion—or top, middle and bottom of the funnel.
The first stage of the marketing funnel is called the awareness phase. Not every person who reads a blog post or comes across your website will want to buy. They may not even realize they have a problem. Maybe they're thinking about going on vacation but not sure if they should or don't know where to go. They don't want to hear about your all-inclusive pricing model. At least not yet. You're better off explaining why taking a vacation is healthy or why they should choose one destination over another. You could write a blog post: "Five Reasons Why Taking a Vacation is Good for Productivity" or film and post a video about the natural
wonders of Costa Rica. If your content is good, they'll dig deeper to learn why your offering is right for them.
But this book isn't about the entire funnel. It's about getting them to notice you in the first place: the top of the funnel.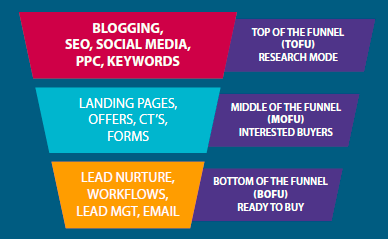 AWARENESS
Content Types
The top of the funnel is when visitors are just starting to learn about your brand. In the real world, it's the equivalent of walking into a store to browse. The shopper could be in the market
for something specific and looking to get the lay of the land. Or maybe they caught sight of your window display and spontaneously decided to walk in to get a closer look. The goal here is to make a good first impression. You'll turn off the visitor if you push too hard or bog them
down with too many details.
There are certain types of content that are best suited to the top of the funnel. To inform, educate and inspire your prospects—and hopefully move them through to the next stage
(engagement)—focus on the following content types:
• Blogs
• Earned media
• Infographics
• E-books
• Videos (formats like how-to videos)
• Podcasts
• White Paper
• Webinar
• Tip Sheet
• Social media
What do all of these types of content have in common? They're easy to access.
You don't have to give away your email address to read a blog post or watch a video. Remember, your audience isn't invested in what you do. Make it easy for them to consume what you put out into the world.
Personas
Because the top of the funnel is about problem-solving, not promotion, it's important to address your audiences' concerns. The best way to do that is by creating personas that provide
a complete picture of your likely customers. For example, if you sell insurance, you would create one persona for each customer "type" such as HR managers, lawyers, etc. Start by putting a name to the fictional person—HR Heidi or Attorney Bernie—and then begin
completing the portrait, filling in both personal details (age, income, family, educational level, etc.) as well as their role in the company and what their goals and challenges are.
You probably won't have this information at your fingertips, so you'll need to do some research first. Talk with your sales team to get a sense of who they're talking to and what they say; reach out to current customers through surveys or interviews. This will help you create sample profiles that best represent your real-life customers.
Messaging
With your personas in place, it's time to create your messaging. This is one of the most important steps in the process. As you create different types of content, some for awareness, others for engagement and conversion, it's essential that your messaging remain consistent throughout.
Think of messaging as the building blocks of your campaign. Every campaign will have different pieces and different specialists: writers, multimedia professionals, designers, media relations experts. If all of these people and touchpoints are telling a different story
or focusing on a different attribute, it'll muddle your message and confuse your audience. You want everyone speaking from the same script.
Here are the key elements that go into a messaging plan.
The Big Idea. Think of this as your elevator pitch—a mantra to set the stage for the campaign and the company.
Positioning Pillars. Like the legs of the stool, the positioning pillars are the meat of your messaging and should be bucketed around your brand's top three or four core differentiators.
Proof Points. Brand credentials that will provide instant credibility with the press and public. These are the facts—statistics, background info, etc.—that add weight to your
argument.
Brand Story. Bring your story to life by weaving all the elements together in a cohesive narrative, adding color, context and emotion to tell the story you want.
OPTIMIZE IT!
To help visitors find and engage with your content, keep a close eye on:
SEO. Use long-tailed keywords (phrases that are specific to what you're selling) in the blog title and copy.
Call-to-Action (CTA). Include an eye-catching visual—like a button—with a simple action phrase that tells visitors what you want them to do: download an ebook, sign up for a free demo, etc.
Pay-Per-Click (PPC). Google's display network reaches 90% of global internet users across 2 million sites. Even a modest investment can go a long way to building awareness of your brand among a wide audience.
A COHESIVE STRATEGY
Lead generation is about supporting a company's sales team. If a business is expanding
into a new area or going after a different audience, the PR and marketing teams can
grease the wheels. At the start of a program, it's important for all players—content
strategists, media relations experts and key sales and marketing leads—to work together
to create a cohesive strategy that maximizes every opportunity. Once a campaign is
underway, teams should regroup regularly to share upcoming opportunities and wins.
Earned & Owned
Earned media is an essential part of the top-of-the-funnel marketing strategy. As a
third-party endorsement, earned media is powerful because it not only creates broad
awareness that most businesses can't achieve through owned channels alone, it also
provides credibility, helping move leads deeper into the funnel.
Here's how to make the most of your media wins:
Start a Conversation
Don't just post a link to a media hit with some bland and generic message. Think about
how you use that coverage to start a conversation in your owned channels. Pose a question that is relevant to the article. Encourage your audiences to engage.
Create Collateral
High-profile media wins have staying power. If it's an article, consider repurposing it into
an attractive leave-behind that you can give to your sales teams. For broadcast, you can
compile several clips into a sizzle reel that you can post on your website and in social
channels.
Looking for some strategies to jazz up your media pitch? Loop in the marketing teams with these tactics:
Surveys
No news to promote? Make news. Surveys are a great way to break through and
establish your brand—and executives—as a thought leader. While surveys can be costly,
the results can be mined in a multitude of ways, from pitching, to infographics, blog
content and more.
Experiential Marketing
In this online age, people are hungry for tangible experiences. Something as simple as a
bus tour gives your audience an opportunity to engage in a much deeper way. Above and
beyond generating media coverage, experiential events are tailor made for video, social
media and other top-of-the-funnel content.
TOP-OF-THE-FUNNEL VIDEOS
If engagement is top priority, you need video! Consider these for top of-the-funnel marketing:
Explainers or How-To Videos. Typically 30-to-90 seconds in length, these informative videos are great for synthesizing complex subject matters. Think financial services, technology and pharmaceuticals. Pair these with high-tech production elements like animation, whiteboard animation and motion graphics.
Thought Leadership. Do you have a dynamic CEO or rising superstar employee? Thought leadership videos help showcase the strength of your company and, by extension, your brand, without being too salesy. Formats can include a one-on-one Q&A, a compilation of several executives answering questions or even repurposed footage from an event.
Brand Videos. Though they aren't educational, brand videos can bring your brand to life through emotion and great storytelling. The goal is to showcase not what you do, but
what your brand stands for: your mission, vision and values.
TOP-OF-THE-FUNNEL METRICS
You've got your personas figured out and the messaging down. Your marketing and
communications teams have developed the strategy and you're consistently putting
out informative content that helps your audience solve a problem. But is it working? Be
cognizant of how you are measuring your campaigns. If you aren't bringing in enough
leads to begin with, you'll have less of them to convert. Here are some metrics that will
help you gauge effectiveness.

Page Views
With page views, you'll be able to see which pieces of content are getting the most
eyeballs. If your numbers are low, either visitors can't find it or they aren't engaging with
the headline enough to click on the link.
Page Performance
By sharing their email addresses, customers that answer a call-to-action become leads.
Those that visit your website but don't answer a call to action, won't. Analyze your blog
pages to see if visitors are responding to what you're putting out there. If they're not,
reconsider your topics to make sure that you're addressing the right questions.
Average Session Duration
Like page performance, average session duration is another indicator of how well your
audience is engaging with the content you're sharing. The longer a visitor spends on your
site, the more likely they'll continue on to become a lead.
Bounce Rate
The bounce rate measures the number of people who are visiting only one page on your
site before leaving. Having a high bounce rate doesn't bode well for attracting leads. If
you have a high-bounce rate, consider a stronger call-to-action, reworking the content or
making changes to your site's navigation to make it more user-friendly.
New vs. Returning Users
Every business needs both new and returning visitors. New visitors start the flow of
traffic into the funnel and returning visitors become the leads that will eventually convert
into customers. If you're analyzing top-of-the-funnel performance, a healthy mix of both
means you are bringing them in and keeping them coming back for more.
A STRONG FOUNDATION
How can you build a lasting relationship? Honesty, trust, shared values. This is true both in business and life. If you start the conversation by adding value, you'll create a solid
foundation that is essential to moving your leads deeper into the funnel and eventually converting them into customers. Take the time to get to know your customers, speak to them
in a language that they can understand and, above all else, be a resource. You'll hook them and be well on the way to reeling them in!
Need help developing and filling your sales funnel? Contact Chris Cherry, Executive Director, Client Engagement, at ccherry@jconnelly.com or call us at 973-850-7329 to learn more.