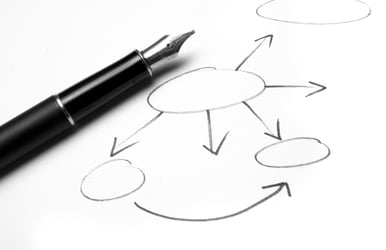 Not too long ago communications plans were a lot less complicated. Marketers took a blend of TV, print, public relations and in-store promotions (depending on the product) and mixed them all together. It was simple, positive results were pretty much guaranteed and whatever worked best could be repackaged for the next initiative.
But in today's hyper-connected world, the communications plan that was perfect last week may already be passé . Marketers must be flexible enough to adapt to how their target audience is currently consuming media and be able to quickly deliver relevant content through the appropriate channels.
Case Study Example: HighTower
Here's a real-life example from our marketing team's case study archive. HighTower, an innovative financial firm, was looking to differentiate its business from the Wall Street status quo.
Our mandate was to change the perception of financial advisors and show what differentiates them from the salesmen known as brokers. The financial world is complex and using too much industry jargon and legal language can lose an audience in a hurry, so we came up with an easy-to-understand analogy—brokers are like butchers and fiduciary advisors are like dietitians. One is trying to sell you something, one is looking out for what's best for you. Simple and to the point.
Recognizing that competition for audience attention is fierce, we created a fully integrated communications plan that would dramatically amplify HighTower's message. We started with a targeted public relations strategy and built content for our digital marketing campaign. Our digital production team created a video that went viral and had more than 134,000 views on YouTube.
In addition to our video campaign we also made a concerted effort to garner traditional media coverage and secured coverage for the firm in a wide range of leading trade and consumer outlets including The Wall Street Journal, Barron's, Worth, Huffington Post, Investment Advisor, Investment News, and Wealth Management. We also were successful in securing appearance for the firm's CEO on major television networks, including CNBC, Fox Business and Bloomberg.
And although we don't claim all the credit, since that campaign HighTower has grown from a startup company to a family of more than 100 financial advisors working with clients across the country.
Tips for Creating a Successful Communications Plan
Every campaign is going to be different, but here are some basics to help you in creating your own modern communications plan:
1. Know Your Audience
The first step in any communications effort is to figure out who you are talking to. Identify your Buyer Persona(s) and use those insights to guide you in creating memorable content.
2. Stay Relevant. Be Innovative.
Create messaging that will engage your audience and highlight product benefits that will keep your brand in the spotlight. Anticipate trends and adopt new marketing tactics as necessary to stay connected with your ever-changing audience.
3. Amplify Your Message and Find the Right Distribution Channels
Continually evaluate relevant media channels and be willing invest in distribution to get the right content in front of the right person at the right time.
4. Measure Results & Optimize
Data will help you understand the success (or failure) of a campaign. Analyzing your target's behavior will help you evaluate messaging strategies and inspire value added content. If yours is not a data-driven culture, you can still review topline learnings, get input from your team and use your own experience to determine what type of content your Persona(s) will engage with. Apply what you've learned towards an optimized campaign and repeat.