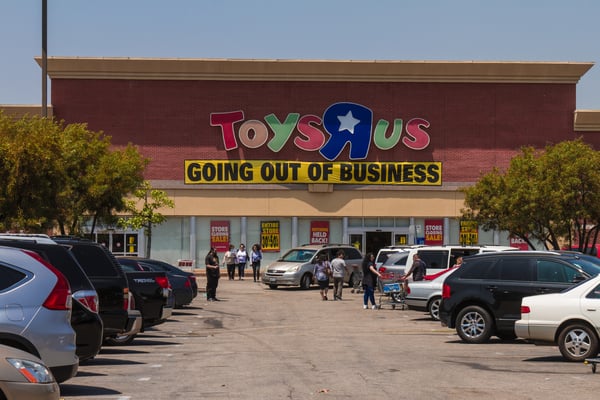 When Toys R Us filed for bankruptcy in 2017 with over $5 billion in debt, it was the third-largest retailer bankruptcy in history and a sad day for America's children. There were many reasons for the gigantic toy chain to fail but the primary culprits were competition from Amazon and other online retailers combined with the bane of every struggling company—too much debt. Within a year, all the company's more than 800 stores across the country had been closed, although several hundred still operate overseas.
But now Toys R Us is back with a new business model and plans to open two new retail locations, in Houston and Paramus, N.J., in time for the 2019 holiday shopping season. The new stores will be much smaller and serve as demonstration platforms for toy manufacturers who will rent space from the retailer but garner all sales revenue from their products themselves.
This new concept takes advantage of the brand recognition of an iconic name while heading in a new but similar direction. Only time will tell if it will work over the long term.
Building a Brand Takes Time and Money
Companies spend countless dollars and dedicate years to creating a recognizable brand, one that resonates with consumers and stands for something. But having a recognizable brand isn't always a guarantee of continued success. There are dozens of examples of brands whose taglines are remembered long after the companies themselves have been acquired, merged or just faded into obscurity.
But do those brands have any value beyond being the answer to a trivia test? There have been attempts to bring back some venerable names, but often the efforts are rooted more in nostalgia and wishful thinking than a sound business plan.
Not All Brands Make a Comeback
Certainly, none of the great and venerable names in financial services have been successfully revived since the worldwide financial crisis. Take E.F. Hutton for example. It was easily one of the most recognizable Wall Street names during the 1970s and '80s when its television commercials ("When E.F. Hutton talks, people listen.") were everywhere. Through a series of mergers and acquisitions, what was left of a once-powerful independent brokerage house became part of Citigroup.
In 2007, in the aftermath of the subprime mortgage Citigroup was forced to sell off assets and a group of E.F. Hutton alumni bought the brand they had once represented. They "modernized" the brand identity by dropping the periods in the name and making it EF Hutton. The good intentions of the former executives and nostalgia for the brand's past glory were not enough to overcome all the other obstacles it faced. In April of this year, the new EF Hutton suspended operations with some $12 million in debt.
So far, no one else has tried to bring back any of the great financial brand names of the past and many of those still hanging around do so in abbreviated form (Merrill Private Wealth Management) or in strange combinations with other brands, (Morgan Stanley Smith Barney).
Other Brands, Other Possibilities
Although relaunching famous brands in financial services hasn't worked yet, there are possibilities in other spheres. Remember the soft drink Slice? When Pepsi launched it in the 1980s, it was a line of sweet, fruit-flavored sodas struggling to compete in a highly cluttered soft drink space. After several attempts at rebranding, PepsiCo finally pulled the plug on it in 2009.
Now, Slice is back. Or at least the name is. The latest iteration, a flavored sparkling water "made purely with organic orange juice" that comes in a 25-calorie serving, is from a company called New Slice Ventures.
The revival of Slice and several other brands from the past can be attributed to entrepreneur Mark Thomann whose company Dormitus Brands looks for discontinued brands whose trademarks he feels still have some value. He's snapped up General Foods' decaffeinated coffee brand, Brim, and licensed it for a line of artisanal coffee equipment.
Other brand names in his stable include Aiwa (the high-end audio manufacturer), Cingular Wireless, Underalls (originally panty and pantyhose all in one but now a line of workout tops, leggings and biker shorts), and Coleco (early home video games, now retro games and collectibles). Perhaps his most interesting brand-name acquisition is that of Spuds MacKenzie. Spuds was the official party animal/spokesdog for Bud Light, but now is being positioned as a health and fitness brand for dogs.
Reviving Old Brands for New Consumers
Dormitus says it is waking sleeping giants and reintroducing brands in innovative ways to appeal to a new generation of consumers. It's certainly a new approach to recycling, in this case finding new uses for intellectual property rather than physical. And it certainly allows the original brand owners to get a little payback for their initial brand-building efforts.
For more on making the most of your brand names, check out the JConnelly ebook: