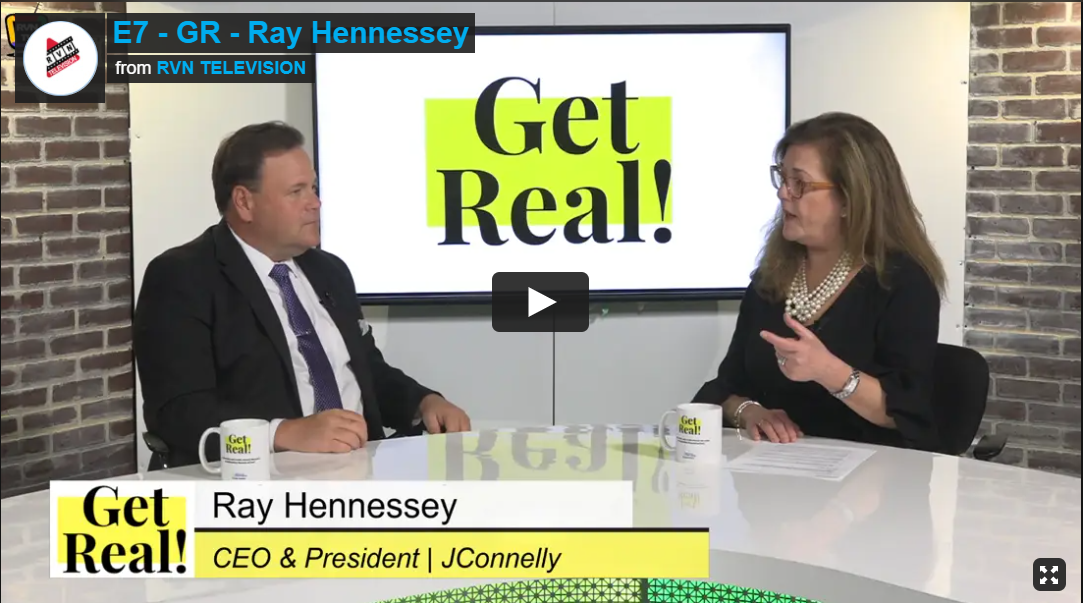 JConnelly's President and CEO Ray Hennessey sat down with Get Real! co-host Meg Hanington on RVN Television to discuss the benefits of working with a PR firm as well as some of the top PR trends in the independent advisor space that he has observed over the past year.
We've summarized a few of the questions and answers from their discussion below.
Click the link to watch the full interview: https://rvntelevision.com/episode/getreal-with-ray-hennessey/
1. How has Zoom Affected JConnelly's Advisor Clients?
Public Relations is like financial services in that we are both in the relationship business. There was something cute about Zoom when it was new 12 months ago, but it's becoming old.
There was a reason why, when I was in TV, we tried not to be on air for more than two-hour blocks of time. In some cases, people are on Zoom calls for up to 10 hours a day, and it takes its toll.
We're increasingly seeing clients opting for more face-to-face meetings. With the vaccine and businesses starting to open, you'll see that more. It's been a strain keeping up with relationships in this environment.
2. How Does JConnelly Serve Financial Advisors?
JConnelly started in the financial industry, serving clients in asset management and wealth management. It's been a core practice area for us.
We used to do what we call "traditional PR," focusing just on media pitching and similar tactics. We've evolved to keep up with how people are communicating. For example, social is much more important now and we media train people who interact with media and who also just want to look and sound smart in meetings.
We recently acquired AdvisorPR, which is geared to the individual advisor office. Most of our history was spent dealing with some of the larger independent brands, so we added capabilities for the individual office and the individual advisor. We help them with marketing and branding, website development and PR through our AdvisorPR division.
It's been one of the true growth areas in our business throughout the pandemic, so we've invested a lot in that over the last 12 months.
3. What Can We Attribute to the Growth in the Independent Advisor Area?
On the individual advisor level, it was helpful having a market that was resilient during the pandemic. We didn't hear a lot of advisors wanting to leave the business because of it. In fact, we saw a lot of older advisors saying that there's finally a market where they can put their relationship skills, background and knowledge to work. There was a lot more interest getting that experience out there from a PR standpoint.
Additionally, there was a lot of corporate business activity. Breakaways were still happening and wirehouses were trying to benefit from the growth of RIAs. There was a lot of interest in this industry, which led to a lot of business for us.
4. What Makes JConnelly Unique?
What we do isn't all that different aside from who we have doing it. The JConnelly team has a lot of experience in this industry. With the AdvisorPR acquisition, we can be a complete top to bottom provider and partner. From high-level corporate messaging to the individual advisor working in local markets, we can help them in places where their values are important. We can help them craft a message and get it out onto whatever medium is available to us.
5. How Can You Be Successful in a New Advisor Engagement?
We first ask what they are looking for so we can set expectations. Pure public relations will typically not be an immediate lead generator. It's about building your brand and working within the marketing funnel.
It could include wanting more business visibility within the industry, wanting to acquire other practices or working within a certain client segment. Our Immersion period is when we discover those outcomes and create custom plans from there. We help clients understand what makes them different and what motivates them, including their philanthropic and community-based efforts.
5. What's the Difference Between Marketing and PR?
I don't know the answer to that anymore. It used to be that you would go to college and take a marketing class and PR would be part of a marketing plan. Ultimately, your outcome should always be conversion and sales. The goal is to get more business so it should all work together.
Public relations is about how you're communicating through traditional media, social media and other types of digital media. It just depends on how you do it. I always define the difference between sales and marketing by explaining their metrics. Sales has one: did you make the sale? Marketing has many different metrics that don't always make sense to me.
I will say one thing about ROI: particularly with advisors, they tend to look at individual campaigns and programs. For instance, if they get on one of the major lists or moved up on the Barron's or Forbes lists, it can make all the difference in the world.
6. How is the Media Landscape Changing Regarding Regulations?
The regulators are finally starting to loosen up on what we already knew. Financial advisory was always one of the only industries where you couldn't have your own customers tell you how great you are. Word of mouth is what drives referrals for financial advisors. It was okay behind the scenes, but it couldn't bubble up into social media unless you wanted compliance to step in.
Now, advisors can show their work, opening a new opportunity for storytelling. It's going to transform the way we tell stories about advisors going forward and change the landscape significantly.
7. How is the Industry Cultivating Younger Advisors?
I think there needs to be a better-quality financial advisor out there when it comes to the younger advisor. The economics of the business are different for the newer advisors. There needs to be more mentorship.
If you look at what Rob Clarfeld built with his own firm, he cultivated an emerging group of leaders in a mentorship phase and showed them the values he wanted them to have. The priorities need to change for the people getting into the business, so the focus is not on the "what you are doing," but on the "how" and "why."
If you think about what COVID-19 did to the business, this is the first time since the financial crisis that en masse people were not able to take every phone call. People were scared and nervous. If you coasted through the last 10 years, you were not prepared for those conversations.
The industry needs people who are more creative and can see the business and clients for the long term.