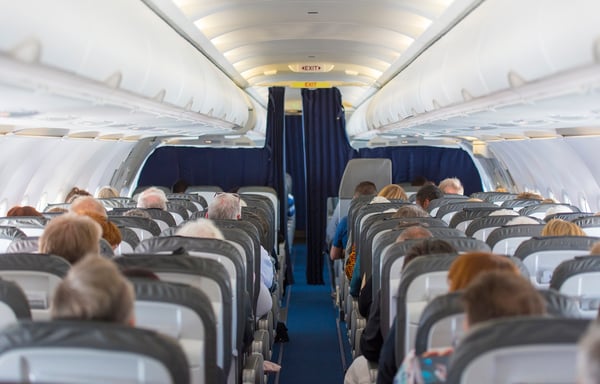 Beware of jumping on every viral social-media opportunity that comes along for your brand.
To wit: The curious case of the romping, mile-high couple on a recent Virgin Atlantic flight.
A couple on flight from London to Miami on July 4 was filmed coming out of an airplane restroom together. No record exists of what went on behind that small locked door, though, as CNET noted, "The woman was somewhat grim-faced. The man emitted a satisfied smile."
Naturally, the video went viral, with more than 8.7 million views on LADBible's Facebook page as of Monday.
Normally, such a video would simply be a no more than a fleeting laugh, an embarrassing moment brewed from a mixture of lack of restraint and the ubiquity of mobile cameras.
But it became a corporate lesson when an odd event occurred: Virgin Atlantic itself chimed in to cheer on amorous contortionists, injecting its brand into the fray.
"We're pretty sure that's our plane! The mood lighting certainly put a smile on their faces," Virgin wrote on its own Facebook page. Virgin even created a hashtag to commemorate the assignation, #SmileHighClub.
Virgin Atlantic, of course, has always been an aggressive brand, known to embrace the decidedly non-virginal in its own marketing. Founder Richard Branson has been vocal in ensuring, as a policy, his employees are not the type to "bang on lavatory doors when a couple slips in there" and even admitted to joining the mile-high club in his youth, before founding Virgin Atlantic, with a "lovely lady from Los Angeles."
But Virgin Atlantic's injection into the viral video creates a tremendous amount of brand risk. For one thing, it could be perceived as violating the privacy of its own passengers. These are customers, after all, who expect to be provided services and some semblance of protection. While you can't stop a fellow traveler from snapping a photo or recording a video (in most cases), you should have an expectation that the company you chose to do business with – a round-trip ticket on that particular flight is more than $1,200 per person – will honor your privacy.
Then there's the issue of what went on behind that folded door. In truth, no one knows. It is all supposition and innuendo. The couple may have simply needed a quiet moment. There could have been a personal trauma that needed to be discussed outside the prying eyes and ears of seatmates. No camera caught the event. By joining into the viral carnival of the video, Virgin Atlantic could have unwittingly been opening up this couple to an embarrassment that goes beyond an intimate encounter. Without much information, the airline was taking a large – and unnecessary – risk.
In general, it is usually a losing game to inject your brand into fleeting social media virality. The short-term, forgettable intrusion by Virgin Atlantic into its customers' coupling (or whatever went on in there) was a social-media fail and could have caused a brand crisis. Next go round, Virgin Atlantic, and other brands who are trying to catch the wave, would be best served by abstinence.