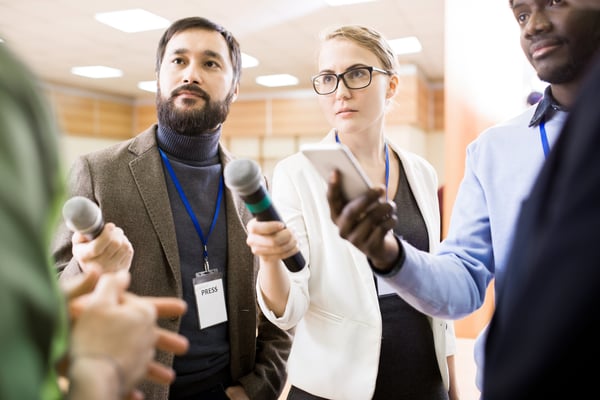 Western culture has conditioned us to believe that the phrase 'off the record' is a magical spell that confers all sorts of protection for unsuspecting individuals when interacting with the media. Movies and television shows would have us believe that to utter that phrase forms a special bond between reporter and interviewee that guarantees that whatever follows is now off-limits and will be spared from the snare of journalistic ink.
However, if a career in strategic communications and media relations has taught me anything, it is that the phrase 'off the record' is a lie that offers only but a false-sense of security with no guaranteed protection whatsoever, and that someone is always listening to what you are saying. As a result, we conduct extensive and active media training sessions centered around two golden rules when it comes to speaking to the media:
Golden Rule Number One: Your microphone is always on and someone is always listening.
Golden Rule Number Two: If you do not want to see it published, don't say it at all.
Conversations with Media are Always "On the Record"
History is littered with examples highlighting the need for caution and a strict adherence to the golden rules. For example, in a 2008 interview with The Scotsman, Obama aide Samantha Powers was quoted saying "[Hillary Clinton] is a monster, too - that is off the record," a comment that was picked up by publications globally and subsequently led to her prompt dismissal. Furthermore, back in 2000, reporters' microphones were able to pick-up then candidate for President George W. Bush refer to The New York Times reporter Adam Clymer as a "major league a**hole." Unfortunately, these examples are sadly but a drop in the ocean when it comes to media blunders in the political and business world.
Journalists Aren't Out to Get You, They Just Want a Good Story
An awareness and adherence to the golden rules are designed to protect you when engaging in the media and prevent the types of knee-jerk reactions that can cause any media opportunity to take an unexpected and unpleasant turn. When speaking to the media even the small-talk prior to the start of an interview is fair game from a reporting standpoint.
Please don't get me wrong, it is not my intention to insinuate that all journalists are untrustworthy and out to get you, nor do I wish to portray an Orwellian view of society when suggesting that the microphone is always on. I work with great reporters on a daily basis who are diligent in collecting the facts, hearing both sides of the story and writing a compelling story grounded in facts. They are a credit to their profession and part of the life-blood of a free press that keeps our democracy from descending into autocracy.
However, it is important to stress that what is said in front of a journalist is free to be used in print later on, whether as a direct quote or as coming from 'a reliable source.' Secondly, understand that all media has some degree of bias, however small, and that journalists will approach a story with some angle in mind that often differs from the interviewee's intentions. To put it simply, a reporter's primary interest is in reporting, not in being your mouthpiece.
Social Posts are Always on the Record
Furthermore, as outlined in a previous article, A Lesson from Aesop for Today's Company Executive, the rise of social media has only made the record even harder to expunge (if even possible at all). Consequently, the dangers of not adhering to the golden rules mentioned above have now spilled over into our personal lives. Tweets and Instagram posts, unless conducted under the secrecy of a private account, are public statements and thus free to be shared and published by the media without prior consent. For example, leaked private messages from Stefano Gabbana's Instagram account revealed that he had made derogatory comments about Chinese people leading to the cancellation of D&G's 2018 fashion show in China. Last year, Elon Musk was also criticized for claiming on Twitter that he had secured funding to take Tesla private, and the media seems to analyze every syllable of President Trump's tweets on a daily basis.
Next time you want to inappropriately respond to a tweet or post that semi-nude on Instagram, remember that the social media microphone is always on and ask yourself if this is something that you are happy to be published. If it isn't, either post behind the safety net of a private account or better yet don't post it at all. Sadly, too often the need for caution is ignored resulting in what should not have been said in the first place spreading like wildfire through the social media jungle and into the open arms of a willing media.
Conduct a Professional Media Interview
Learning how to properly conduct yourself and being aware of the dangers of developing too cavalier an attitude in front of the media, is essential to any successful public relations campaign. The Golden Rules are designed to protect you from any fatal slip ups. It is important to remember that a strategy of preserving a good reputation is always much sounder than having to rely on a crisis strategy. As Warren Buffett eloquently put it "it takes 20 years to build a reputation, and 5 minutes to ruin it. If you think about that, you'll do things differently."
Click the image to download our free ebook for more tips for successful media interviews.