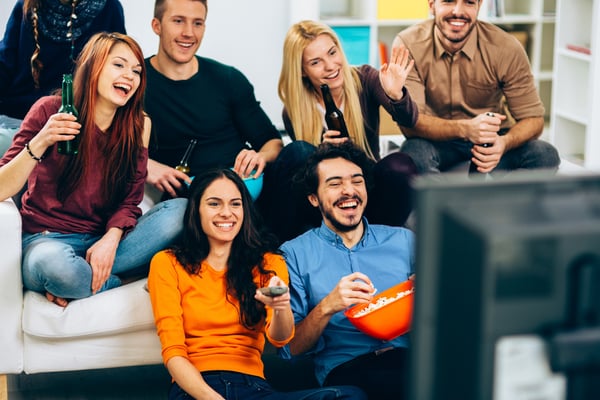 Why am I writing a blog about a show that is almost 15 years old? As with many TV shows watched primarily through reruns, I've seen the same few episodes of "Friends" over and over. I finally added the complete series to my Netflix queue and watched the whole thing in order. I'm sad to say I only have a handful of episodes left to watch.
With a fresh batch of comedic inspiration—and an increasing work pace as the year's end approaches—now is a great time to revisit your PR strategy and align it with your business goals and priorities for 2019. Start with APP—not a mobile app—rather a process to audit, pivot and plan for the next few quarters, all inspired by my favorite Ross episodes of "Friends."
Time for a Web Audit
Is your website "fine?" It may seem like common sense to keep your newsroom and social media profiles current but you'd be surprised how many firms fall behind. Lesson number one comes from later in the series when Rachel and Joey get together and need to tell Ross about their relationship. Ross walks in on them kissing before they are able to sit him down and have a discussion. While Ross says he is "fine" multiple margaritas and a burning pan of fajitas quickly show that he is not.
There are a few simple steps to make sure your website is better than "fine." First, click over your newsroom and double check that all of your recent press releases have been posted.
If you include additional collateral in your newsroom, ensure that recent blogs, commentaries, and research have also been posted. If you've recently made any tweaks to your boilerplate, or the "About Us" section at the bottom of your press release, update that same copy in any of the marketing collateral before you post it to the site.
If you leverage your boilerplate in your social media profiles you should also refresh those section to have a consistent message across all of your externally facing properties. If there are no posts on your social profiles for more than two weeks, draft posts to promote the content that you'll be adding to your site. Use a scheduler and space the social posts out at least two to three days apart so that all of the coverage doesn't crowd your timeline. For content that may be a little dated leverage hashtags like #TBT (throwback Thursdays), #FBF (flashback Fridays), or #ICYMI (in case you missed it.)
Another section to constantly update in your newsroom is your events page. Keep your partners and clients informed on what industry events you'll be at. Whether it is a speaking role, having an exhibitor booth or just attending to network, post the event name, date, a link to the agenda and the event hashtag, and encourage those attending to share social posts from the company page on their own channels.
While you are sprucing up your website see if any members of the team need to update their bios or headshots.
Pivot Your Plan
In one of the most meme-worthy scenes from "Friends," Ross is trying to move his sofa up a stairwell and keeps getting stuck, all the while shouting "PIVOT "to the friends helping him in the hopes that they'll figure out a way to get the couch up the stairwell.
It's not too late to pivot your PR strategy for 2018. Take a look back at your plan for this year and if there are any goals or objectives you have not achieved, determine if they are still a priority. If so, shift gears to focus upcoming pitch outreach and content to support those objectives. If that objective is no longer relevant, review the remaining ones to prioritize them and determine if any recent initiatives should be placed at the top of the priority list.
The fourth quarter is a great time to reinforce a message that you've been working on all year. Whether you are trying to change a current perception or have the media adopt new positioning, find ways to incorporate those messages into all of your PR activities for the remainder of the year.
Prepare For Your Planning Meeting
Planning is the bedrock of a successful PR campaign. Fail to give it adequate attention and you're liable to feel like it's the day before a holiday and you forgot to go shopping. Think of Ross Geller who forgot to buy a Santa suit to continue the holiday tradition of having Santa visit his children, and ended up becoming the "Holiday Armadillo."
Before you roll up to your 2019 PR planning meeting dressed in costume or even put it on the calendar, it is critical to have your business goals outlined. If you are unsure about the targets that the business needs to hit, how can you develop strategies to support them as well as metrics to determine if you've achieved that goal?
The agenda for your planning meeting should start by reviewing successes and challenges from the previous year and opportunities for any activities that may carry over into the next year. Additionally, you should plan to review your current spokespeople: do you have too many to prioritize or do you need to deepen your bench and identify backups so you don't miss out on time-sensitive opportunities?
For a new product or service, launches outline the pre-, during and post-launch tactics that will be needed for a successful kick-off. This can include any existing content that may need to be modified or new digital or printed collateral that would need to be developed to accompany a formal announcement.
Even if an initiative won't go live until the last quarter of the following year, it's never too early to get your team thinking of ways to promote the campaign.
Before 2018 comes to a close below are some final takeaways to get the fourth quarter and New Year started on the right foot:
Develop a workflow so that when a new piece of collateral or release is developed that all of your web entities can be updated simply and quickly.
Encourage your team to think outside of the box and identify messages that you can own in the market.
Have your spokespeople develop talking points and content that articulate a point of view. The fourth quarter often has year end reviews and outlook commentaries, but media aren't looking for a summary of recent events. It is more helpful to share the firm's strategy and vision moving forward as well as any expectations for the market or the sector that you operate in as well as factors you may be taking into consideration like regulatory changes.
Don't be afraid to pivot at any point in the year. Your PR plan should be a living and breathing document, an objective outlined in the first quarter may need to be shifted in the third if there are major changes to your business. These could include an acquisition or a staffing change at the executive level.
Download our free ebook to find out how PR can impact your digital communications: