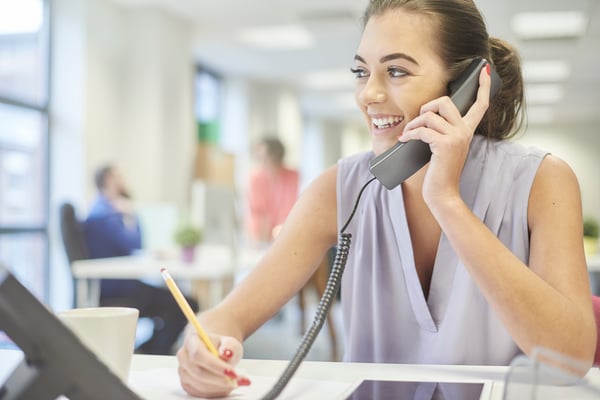 As an expert in your field, you may be asked by the media to comment on a new trend or to provide perspective on a current event. Media interviews are powerful tools for brand exposure and getting your message out, and since most interviews for print and online outlets are conducted over the phone, you won't even have to leave your office.
The phone interview entails a different dynamic than a face to face session and neither party has access to body language or facial expressions to use as social cues. While picking up on subtle clues in person can let you know when it's time to cut a story short, there are still simple techniques you can apply to help your phone conversation run smoothly.
Consider these tips that may not only raise your chances of being included in the story, but increase the potential for future opportunities.
Click here for 3 mistakes to avoid in a TV interview.
Don't read from a script.
Always have notes or a bulleted list of key points on hand. It's easy to get lost in the conversation or go off on a tangent and forget to mention something important. Jot down only brief thoughts to help stay on message and to avoid sounding like you're reading lines that someone else wrote.
Show your charisma.
Put forth the extra effort to get your emotions across. Even though the other person can't see it, smiling will translate over the phone and your voice will naturally depict that sentiment. Avoid the monotone. If you make a conscious effort to keep the inflection in your voice, it will help keep the reporter engaged.
Always be present.
Your interview is an important meeting and should be treated as such. If your email is constantly pinging, a TV is playing in the background or someone knocks on the door, you can quickly lose focus. Turn everything off. If you're in a high-traffic area, put a sign on the door or move to a conference room. Show the reporter that they have your full attention.
Talk with them not at them.
You aren't giving a speech. If you feel yourself talking a lot, you probably are. Unfortunately, you can't see if the interviewer is anxiously waiting for you to take a breath. Stop and ask if they would like you to elaborate further or if they have any additional questions. You can also offer to send background materials after the call if the interview is nearing the end.
Follow through with your email.
If you offered to provide more information, gather the materials and send them immediately after you hang up. The journalist will appreciate your understanding the urgency of wrapping up the story and it ensures everything is sent while it's fresh on your mind. If you have a PR team, the publicist on the call with you will likely take care of this on your behalf.
For more tips on mastering the art of the media interview, download our e-book: