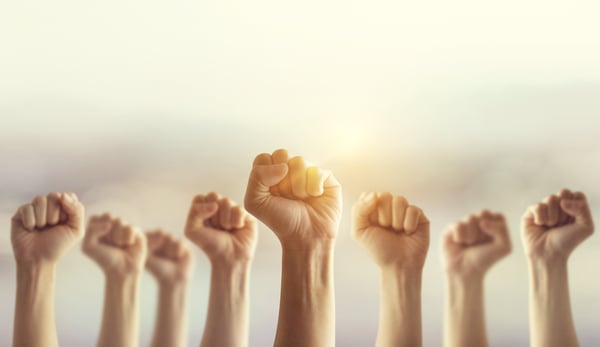 Are brands more powerful than politicians?
It's looking that way. In these intensely polarizing times, elected officials are unable or unwilling to take action. Brands have much more freedom because they don't have to answer to special interests and electorates whose views are often at odds with consensus opinion. When it comes to business, brands have only one stakeholder: customers. And while politicians are busy tying themselves in knots trying to curry favor with ever-narrower groups, many brands are stepping in to fill the leadership vacuum.
Last month, Dick's Sporting Goods announced it would destroy all assault-style rifles rather than return them to the manufacturers. (The store previously announced its decision to stop selling these rifles and raise age limits on firearms purchases to 21.) Dick's isn't alone. Walmart, L.L. Bean and Kroger are among the other retailers that have changed their firearms policies in the wake of the February 14th shooting that left 17 students and faculty dead in Parkland, Fla.
Guns aren't the only issue. Last year, many of the country's biggest corporations, including Google, Apple, Facebook, Target and Campbell Soup, joined forces with local and state officials to oppose the Trump administration's decision to pull out of the Paris Agreement on climate change, effectively siding with the seven out of 10 Americans who supported staying in.
For brands, there is some risk of losing business from people who disagree with their actions. Yet, those same companies also know they can make up for or surpass any potential losses thanks to a highly energized customer base who has more incentive to buy. This is particularly true on issues where a large majority of Americans have found consensus (even if politicians haven't).
How should brands use their power in a way that's most advantageous?
Pick and choose your battles
When it comes to weighing into these issues, businesses should focus on principles at the core of what they do. In December, outdoor retailer Patagonia posted a new message on its homepage: "The President Stole Your Land," a response to the Trump administration plans to shrink the size of two national monuments in Utah by nearly 3 million acres. While the bold move drew headlines (and back-and-forth Twitter barbs with Interior Secretary Ryan Zinke), it was entirely in keeping with Patagonia's 45-year history of environmental activism, which included a 1988 campaign to restore Yosemite Valley, a 2004 "Vote the Environment" campaign and a donation of $10 million (or 100% of the company's Black Friday sales) to support environmental causes in 2016. Patagonia clearly understood its customers and where they stand on the issue. The company's sales increased by 7% during the week of the announcement as compared with the previous week's sales.
Lead, don't follow
You won't get any points for letting others test the waters before seeing that it's OK to jump in. Merck CEO Kenneth Frazier was the first executive to resign from President Trump's manufacturing council in the aftermath of Charlottesville last summer. Though other CEOs eventually resigned, too, Frazier stood alone for most of that first day, leaving himself vulnerable to incoming attacks on Twitter. Frazier's stature as one of the few black chief executives of a major public company only added to what was inarguably a brave decision.
Have a plan in place
Think you've thought through everything? Chances are you haven't. Create a plan for how you will address negative feedback, both in the press and on social media. Have statements ready. Line up influencers who can back you up. Make sure you're not caught off guard if your plan goes awry.
Don't buckle under pressure
By taking a stand, you're going to ruffle some feathers. You should be comfortable with that from the get-go because backing down from a principled position looks worse than some negative comments on social media. Under Armour CEO Kevin Plank has been on every side of the political divide. Shortly after President Trump's swearing in, he called the new president an "asset," which drew criticism not only from some quarters of the public but from the company's own high-profile endorsers like Steph Curry. Plank later had to walk back those comments. He did himself even more of a disservice several months later when he resigned from the president's manufacturing council in the wake of Charlottesville without a clear explanation for why.
We live in an age when global companies wield enormous power. But with power comes responsibility. Brands that know how to balance the two will set themselves up for success.
Don't get caught in a bad situation. Download our free ebook and find out how you can prepare yourself and turn a crisis into an opportunity: