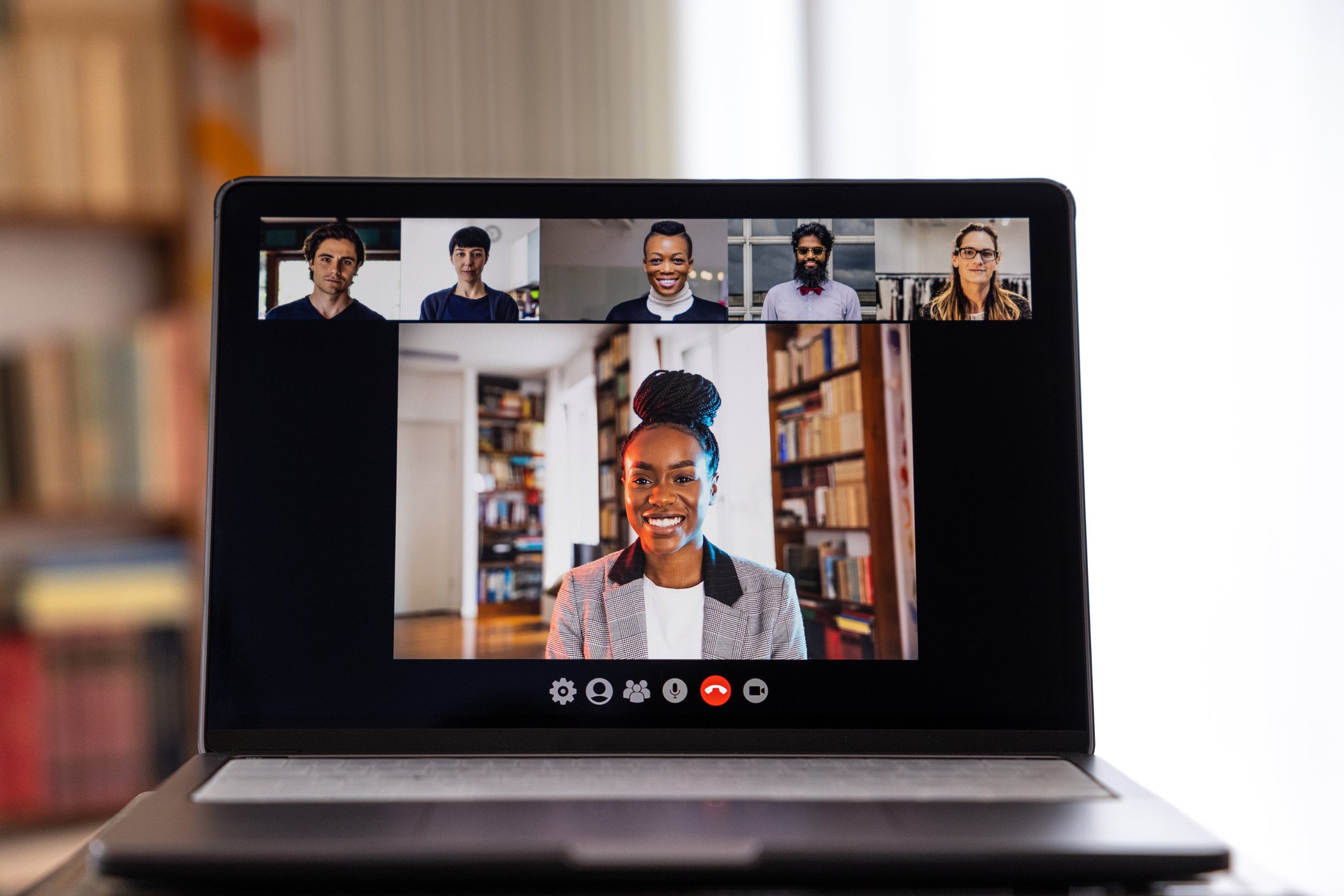 Webinars are an effective tool for financial advisors to connect with prospects and showcase the value they bring.
If you are looking to create a webinar that generates return on investment, follow these four steps to attract, engage, and convert your prospects:
1. Develop a Webinar that Attracts Prospects
Choose a Compelling Topic
First, determine a relevant and timely topic that you want the webinar to focus on. Consider your target audiences' concerns, trending topics in the financial industry or events that may affect their financial situations. For example, "Should I Invest in Cryptocurrency? Everything You Need to Know" or "Financial Considerations for a Post-Covid World" are common topics on investors' minds.
Craft an Attention-Grabbing Title
If you're highlighting a product, get creative with the title to increase its appeal. A captivating title can help gain the attention of prospects and increase your number of registrants.
Add Visual Interest

A visually appealing webinar will assist in keeping your audience interested and retaining prospects during the presentation. A good rule of thumb is to use more visuals than words on your slides. Graphs and images can help keep attendees interested.
Use Polls to Connect with Your Audience

Adding polls throughout the webinar is another impactful technique to increase engagement and gauge views on different topics. For example, you can launch a poll that asks attendees about their comfort level with the current state of the market. When they feel connected through interactive features, it may increase the chance for scheduling a follow-up meeting.

The following presentation slides present the same information, but in two drastically different ways. Need help creating presentations that convert? Click here to see how AdvisorPR can help.

2. Promote Your Webinar
Now that your webinar is created, it's time to get the word out. There are countless ways to market your webinar and grow your list of registrants, including utilizing email campaigns, social media platforms, advertisements, and event websites. Consider your budget, audience, and capabilities to determine the best method to market your webinar.
Email Marketing
Determine who your target audience is and segment an email list accordingly. For example, if your webinar is focusing on saving for your children's education, your recipient list should include prospects who are more likely to be planning for education expenses.
Send multiple emails and test different subject lines and content to determine which have the best open and click through rates. Refer to this for future webinars for continued success.
Finally, don't forget to filter out registrants when sending emails! Create a separate email sequence for them so they don't forget about the webinar after signing up. Including an "add to calendar" button on the registration confirmation is also a helpful way to increase your attendance rate.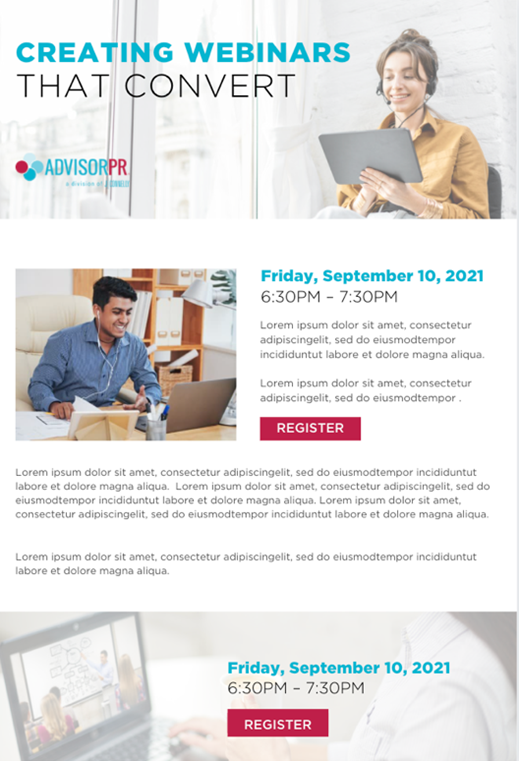 Social Media Platforms
Utilize your social media platforms to promote your webinar. Post multiple times on LinkedIn, Twitter, Facebook, and Instagram to let your connections know about your upcoming webinar and increase your registrant number.
Use visually appealing graphics and short teaser videos to encourage people to sign up. Ensure your messaging and call to actions are clear when directing people to the webinar's landing page. If you have a small audience on social media, consider posting your webinar details on LinkedIn and Facebook groups that are geared towards your target audience.
Advertisements
If you want to reach more people who aren't in your social network or email database, consider investing in advertisements for your webinar. Since ads can be a more costly avenue than email and social media marketing, it's important to have a proper plan in place. Develop a spending budget and timeline of how long you want the ad to run.
Then, determine the details of your ad campaign to target the appropriate people based on demographics such as location, age, interests, gender, and marital status. Although advertisements can reach a larger audience, a detailed ad campaign is what will ensure the ads are converting and generating ROI.
Additional Ideas

Although email, social media, and ads are three of the most popular ways financial advisors choose to market their webinars, there are many other routes to consider. You can add a "sign up" link to your email signature or on the homepage of your website to promote your webinar.

Consider connecting with popular podcasts that your target audience may listen to and run an ad with them. You can also post your webinar details to event websites such as Eventbrite or have the details added to local listings.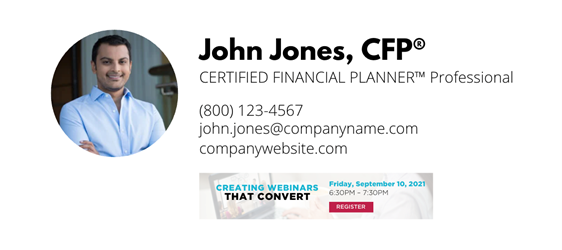 3. Create a Well-Developed Landing Page
A well thought out landing page is just as important as catchy emails and ads.
Consider the "who, what, where, when, and why" when you are developing the landing page:
Who does the webinar apply to? Does the messaging work for your target audience? Is your target audience mentioned in the title?
Who will be presenting? Make sure to include a picture and brief bio for prospects to make a personal connection and to illustrate the presenter's credibility.
What is the content of the webinar? Choosing the right topic will help secure registrants.
Where is the webinar? Is there a Zoom link? Can people watch a recording if they are unable to attend? Noting these details in the landing page helps avoid confusion and can positively impact the response rate.
When is the webinar? Don't forget to include the time and date of your webinar. Since webinars attract people from various locations, include times across different time zones.
Why should someone join the webinar? Include key takeaways to inform registrants what they will learn.
4. Develop a Follow-Up Campaign

The work isn't finished after your webinar is complete. The most important part of a successful webinar is the follow-up. People are unlikely to connect with you unless prompted, so it is important to reach out to both attendees and non-attendees to continue showcasing your value.

Send them both a recording of the webinar with a helpful attachment. Follow up again with a guide related to the webinar topic and a Calendly link. Launching a poll at the end of the webinar with feedback questions such as "Did you find value in the content provided in today's webinar?" is an effective way to lead into a follow-up call. Reach out personally to those who responded positively and ask them if they want to schedule a call.

Webinars are a low-cost solution to exhibit your value and convert prospects. Record your webinars so you can repurpose the content for continued success. Most importantly, don't forget to have a well thought out plan in place to attract registrants, engage attendees, and convert your prospects!

Check out our blog, How to Evaluate Your Marketing Efforts, for help determining if your webinars are adding value to your business.

If you need help developing a webinar that will convert prospects into clients, contact AdvisorPR, a division of JConnelly, to find out how we can help you increase ROI for your webinars.