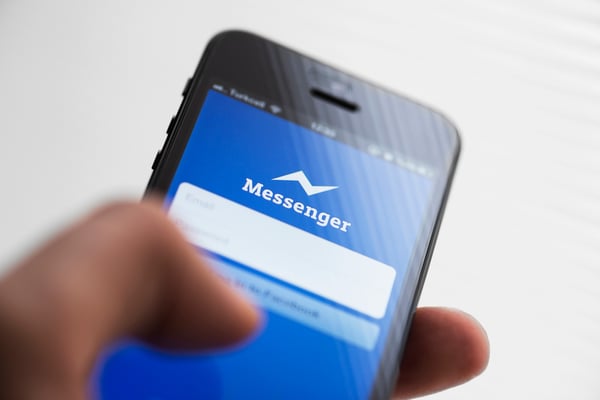 Messaging apps enable users to send messages back and forth and engage in real-time conversations. There are a number of apps to choose from and most social media platforms have messaging counterparts like Facebook's Messenger and the direct messaging functionalities on Instagram and Twitter.
Messaging apps are a great alternative to text messaging, but that only scratches the surface. Brands should pay close attention because these platforms offer an opportunity to bring them closer to people, a challenge often faced in the crowded social media space.
Here's why 2018 should be the year you consider messaging apps in your marketing plan.
1. Your Customers Are Already Using Messaging Apps
Over the past few years, we've seen a hefty rise in the use of messaging apps. In fact, four of the more popular ones—Facebook Messenger, WhatsApp, WeChat and Viper—boast more monthly users than the top four social networking sites: Facebook, Twitter, Instagram and Google+.
It's easy to understand why messaging apps are becoming a key part of social engagement strategies for businesses. Once I discovered that I could send a direct message to a popular shoe brand and receive a discount code from them, I didn't hesitate to do business with them.
There's a good chance your customer base is already using messaging apps in some way, so it makes sense to cater your customer-relations strategy to the preferences of your audience.
2. Customers Want to Interact on Their Terms
Today's consumers are smart, independent and informed. They have to be in order to sift through the number of brand choices out there. It's no surprise how much convenience plays a role in deciding who they want to do business with. According to a 2016 Nielson survey commissioned by Facebook IQ, 53 percent of people say they are more likely to shop with a business that they can message directly.
Phone customer service can be limiting. With messaging apps, people can engage when they want and where they want without wasting valuable time sitting on hold. Not to mention the amount of time consumers spend online. It only makes sense to stay online when they have a question or want to do business. If marketers place a larger emphasis on customer needs, results will follow.
3. Messaging Apps Will Be More than Just Conversational Platforms
In 2018, messaging apps will continually evolve their e-commerce capabilities and shift from being solely conversational platforms to multi-purpose business tools. WeChat is a great example of a messaging app ahead of its time. Launched in 2011, China's "super app" has an array of functionality including a digital wallet service and e-payment system.
With the rise of Chatbots, people can easily make reservations, get answers to general questions, place business orders and more. According to a survey by Oracle, 80 percent of businesses will want to use chatbots by 2020. Not surprising since they save money, can be available to customers 24/7 and can have simultaneous conversations with thousands of people.
Maybe robots are taking over.
To learn more about the latest social media trends, click the image to download JConnelly's free ebook: