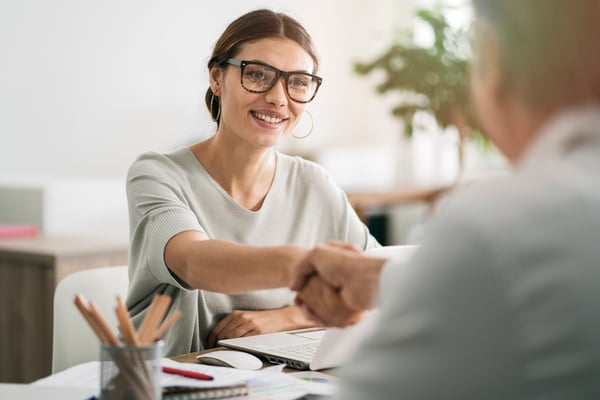 Lights...camera…action! With the flare and fanfare of the media, PR can be portrayed as just a façade of camera angles and fabricated stories. Yet, behind all the interview coaching and client meetings, the core of this industry is authentic relations. Our lives are built on a foundation of people. Imagine all the holiday parties, coworking events, social groups, and family get-togethers you attend. It's been estimated that around 85% of jobs are filled due to networking. Start using these PR nuggets to help you land your first job:
1. Recognize Your Personal Brand
To a certain extent, you may already be establishing a PR presence without realizing it through your social media posts. As you prepare to land a job, your resume has been circulated to companies and recruiters, as well as public job websites. If you have an online portfolio, a quick Google search will find it. At the interview, your attire and demeanor are integral parts of your presence. Combining all these components, you've created an image that represents your personal brand.
2. Turn Your Connections into Relationships
PR is based on creating relationships and nurturing them. LinkedIn is great for networking and presenting who you are, but PR takes it further than that. Building relationships requires time, attention and confidence. The person who collects the most business cards at the job fair doesn't always get the job. It's about following up, thanking the recruiter for their time, and providing value to the relationship. Nurture your skills and position yourself as someone that can offer value. Relationships are exchanges, with both parties benefiting. Let them know what you can bring to the table.
JConnelly Tip: It's not worth only impressing the big shots – you never know when you're talking to one! Present your best image around all your connections.
3. Regulate Social Media Wisely
Posting online allows you to regulate how you appear on social channels, without requiring a third-party. By adjusting privacy features, you can monitor your visibility, giving you more power than ever to control your online image. Social media itself is a form of PR promotion, regulated by the users rather than journalists or news reporters. Using social media channels gives you the opportunity to create how you want to be portrayed in your version of the media, and with this comes a lot of responsibility.
4 PR Tips for Social Media:
1. Separate personal and professional social media.
Instagram and LinkedIn shouldn't be approached the same way. Use LinkedIn to position yourself as a professional in the industry through sharing articles or writing from your own experience. Save the beer pong footage for a platform only your friends can view.
2. Consider making personal accounts private.
If you don't want to publicly display certain accounts like Instagram or Twitter, think about changing the privacy setting. If you're a part of a highly regulated industry or trying to enter one, setting your accounts to private may be crucial to establishing your credibility.
3. What would ____post?
Social media is a double-edged sword; your reputation can do a 180 with the push of a share button. There's no hurt in setting a standard inspired by a social media role model. Ask yourself whether this person would stand behind what you're posting or if it aligns with your brand image.
4. Know the audience for each platform.
Your grandma may be on Facebook and your boss is probably on LinkedIn. Keep these people in mind as a guide to creating appropriate content for each platform.
What do these tips have common? Communication is the name of game—use it to your advantage. Get more communication tips in our free eBook series: