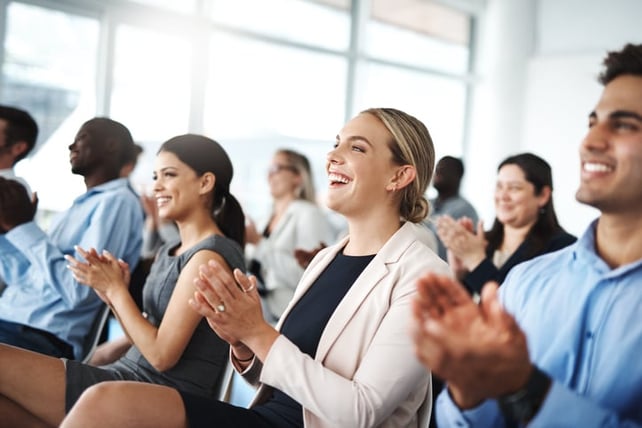 Successful businesses evolve with the times. Disney started as a small animation studio and grew into a multinational mass-media and entertainment conglomerate. In 1994, Amazon launched an online bookselling business. Today, it is the most valuable company in the world with too many verticals and business units to name.When the business landscape shifts, it sets off a domino effect. One group that needs to stay on top of these changes is the conference/events industry. If your program offers stale advice that doesn't reflect the modern environment, people will see little value in purchasing a ticket, and attendance will quickly dwindle.
The best example of a large-scale event that has successfully evolved over the years is South by Southwest (SXSW). Founded in 1987, SXSW, colloquially known as "South by," began life as a small regional music festival. Over the years, it added film and multimedia components. The multimedia unit, later renamed SXSW Interactive, went on to draw monumental crowds, surpassing attendance for the music festival. It's now the biggest non-sporting event in Austin, responsible for infusing more than $350 million into the city's economy in 2018.
Even financial conferences, which tend to have more one-dimensional audiences, can grow and evolve with the times.
JConnelly recently provided media support for the 10th anniversary SALT conference. Launched in 2009, SALT, which stands for SkyBridge Alternatives, was a lot like the name suggests—a forum for discussions on alternative investments. Anthony Scarmaucci founded the conference at the nadir of the economic downturn, in large part to reinvigorate Las Vegas tourism. His plan worked, and SALT quickly became a top financial conference.
But Scaramucci also understood that business doesn't take place in a vacuum. To take full advantage of new opportunities, you need to have discussions on emerging investments, like blockchain, cannabis and artificial intelligence, alongside the more traditional hedge funds and venture capital. Likewise, public policy and geopolitical affairs heavily influence markets. These themes need to factor into the conversation.
SALT recently celebrated its 10-year anniversary with a forum that gave attendees a larger view of the business and financial landscape. The theme of the 2019 conference: harnessing investment capital, technology and public policy to spur growth across socioeconomic strata in the United States and around the world.
Here's a snapshot of some of the most highly anticipated SALT sessions:
Life in the Trump Era
NBC correspondent Stephanie Ruhle hosted a no-holds-barred discussion with two key figures from the Trump world, former New Jersey Governor Chris Christie and former Attorney General Jeff Sessions. During a wide-ranging talk on everything from the Mueller report to Trump's taxes, Christie referred to the president as a "salesman" who shouldn't be prosecuted for obstruction of justice because he surrounded himself with "good people, who, when the president decided to pop off and say things he shouldn't have, put the brakes on." For his part, Sessions defended his decision to recuse himself from the Russia investigation, saying regulations prohibit members of a campaign from participating in an investigation. "I felt comfortable that recusal was the right thing," Sessions said. "If I was going to have any respect or integrity, I had to recuse."
Rebuilding America One Opportunity at a Time
In a solo address, Secretary of the U.S. Department of Housing and Urban Development Dr. Ben Carson made a strong pitch for the administration's signature bipartisan initiative: Opportunity Zones, which allow investors to harness unrealized capital gains to help rebuild communities nationwide. "When people call America the land of opportunity, that's not just a slogan, Carson said. "Every stretch along every road has the power to be a zone where opportunity is found. We want to create opportunity so that the rising tide floats all boats." After the address, a diverse panel of experts—including an architect of Opportunity Zone legislation, two investors and the mayor of Columbia, South Carolina—spoke about how Opportunity Zones are likely to spur new development and attract businesses, leading to the creation of jobs in once-depressed areas. "Eighty-five and one-half percent of the population lives in cities," said Columbia, South Carolina Mayor Stephen K. Benjamin, an early supporter of Opportunity Zone investment. "We need to focus on equitable development across cities and more creative ways to attract private-sector capital. It's a win-win all around."
Russian Aggression
More than two years after an unprecedented attack on our elections, U.S.-Russian relations are at their lowest point since the end of the Cold War. Can America expect a thaw? Worth Editor-in-Chief Richard Bradley sat down with two of the foremost experts on Russia, former U.S. Ambassador to Russia Michael McFaul and Hermitage Capital CEO Bill Browder, a human rights activist. Browder believes that the status quo is unlikely to change anytime soon. "Putin stole $200 billion from the Russian state that should have been spent on healthcare, education and roads," Browder said. "Putin needs to take that anger and redirect it to get people angry at someone else. If Putin loses, he'd be arrested, his money will be taken away and he'll be killed. Staying in power is his objective." McFaul questioned President Trump's repeated failure to stand up to the Russian leader and his willingness to play footsie with despots. "He's got a fixation on being Putin's friend," McFaul said. "Not once has he ever criticized him for doing things that aren't in America's interest. He's not trying to cultivate a close personal relationship with Angela Merkel. He has a weird obsession with Kim Jong-un and Vladimir Putin."
Art imitates life. In the same vein, conferences should reflect the environment in which they take place. That means setting the stage for broader and deeper conversations.
Are you looking to build awareness of your upcoming conference? Read our tip sheet to learn what you can do to increase media exposure before, during and after an event.