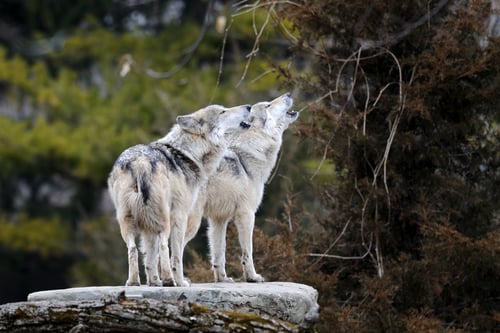 Just add drama: This American Life gives new life to the Custer Wolf press release.
"The Custer Wolf is dead. He was the master criminal of the animal world."
Those words, read dramatically in actor Michael Chernus' best Sam Elliott-style growl, stopped my podcast-bingeing-while-house-cleaning routine cold.
Suddenly I was no longer corralling stray toast crumbs from the kitchen counter. I was deep in the wilds of South Dakota, joining the hunt for "the cruelest, the most sagacious, the most successful animal outlaw that the range country had ever known."
Until Ira Glass popped in to remind me that this wasn't just a dramatic story. It was a press release. Written by a government employee—nearly a century ago.
Unfortunately, that may be the last time someone wrote a press release worth reading.
While great writing and a compelling narrative would be welcome in any announcement, it's simply not enough. The press release has been proclaimed dead many times over and for good reason: most are boring, trite and toothless.
So why revisit this one? Read on.
Lessons from the Custer Wolf
1. Modernize the Classics. Despite being "famous in wolf circles" it's doubtful I would have ever heard this story without the power of podcasting. I happen to love the written word, but pictures, videos and pure audio might work better for your chosen audience.
Considering we're a few years away from widely adopted augmented reality, we can at least do better than a few canned, bland quotes.
Think about the story you're trying to tell, then ask: How would this play out on the radio? What does it look like as a digital spot? Are there interesting characters to call on? Or processes that need to be explained? Take stock of your story's strengths, then pull together the resources that make communicating the morals that much easier.
2. Appeal to Your Audience. Entertainment options in 1921 were limited. The first baseball game hadn't yet been broadcast over the airwaves. Charlie Chaplin was on the verge of starring in his first silent film. And it wasn't like people were gearing up to take a leisurely trip to South Dakota—even today it's described as "seldom visited" (and we have the luxury of RVs).
People had time to let a story play out, basically. News can be entertaining. It can follow a narrative path. But the four-page length probably wouldn't pass muster today when our attention span has a 140-character limit.
A few years ago, Canada tossed the traditional text-quote-text-quote press release format in favor of a streamlined document built for the digital age. A quick introduction, a few bullet points of top-level information, then quotes and links that add color and depth to your offerings.
It's content tailor-made for cobbled together blog posts and quick-hit Tweets.
3. Be Your Own News and Entertainment Source. Cleary, whoever wrote the Custer Wolf release had some fun with it. Why not you too?
Rather than try to fight every carbonated competitor in a grab for press attention, Coca-Cola instead took its news in house, turning their website into a digital magazine with viewer appeal (and a Millennial-welcoming design).
Ashley Brown, who leads digital communications and social media for the brand, has refocused the company on "covering" their own news, rather than pitching stories to outside journalists. This approach not only cuts down the barriers between brands and communities, but let's Coke's creative team have some fun with their own announcements.
Bringing your news back to your site also ensures you can track, measure and benchmark every communications effort, an important facet of communications that's here to stay.
Business writing doesn't have to be boring. Taking steps to move your announcements into the 21st century will at least ensure your audience is engaged—and may just give you a gateway to your next great campaign.