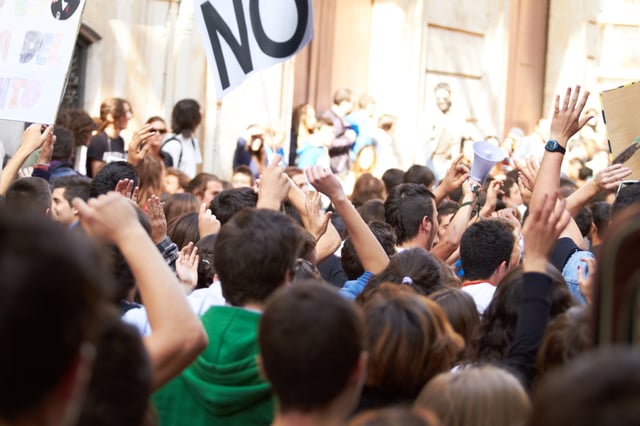 Conventional wisdom about mixing business with public political activism has long been rather simple: don't.
If a company takes a stand on a controversial issue, it risks losing business, according to this school of thinking. Companies have long been involved in politics but these were usually behind-the-scenes efforts via lobbyists and industry groups, not part of highly visible public campaigns.
But the role of companies as important players in public political discourse is changing. This isn't a recent development but part of a long-term shift, partly the result of the mainstreaming of Corporate Social Responsibility, or CSR, policies since the early 2000s. By creating CSR policies, companies are staking out public positions on a broad range of topics from immigration and the environment to race and gender issues, to name just a few.
But what happens when public figures, such as politicians, say or do things that contradict a company's "values" or when high-profile events pressure a company to reaffirm or defend its position?
The election of Donald Trump "brought to a boil something that's been percolating for some time," says Daniel Korschun, a professor at the LeBow College of Business at Drexel University who has published research about consumer responses to corporate political activism.
"One of the biggest surprises for me has been how unprepared many companies appear to have been for the Trump administration," he says. "Companies have been writing feel-good values statements for years but very few thought deeply about the implications of these statements."
As a result, it's becoming riskier for many companies to not to speak out on political, social, and environmental issues, among others. To not do so, risks a backlash from customers, the general public and even their own employees.
Consider what happened with ride-hailing services Uber and Lyft earlier this year following President Trump's initial immigration ban proposal. The New York Taxi Workers Alliance (NYTWA) condemned the executive order and called for its "largely Muslim" membership of 19,000 drivers to support demonstrators protesting at John F. Kennedy International Airport by mounting a one-hour work stoppage.
New arrivals couldn't hail a yellow cab but Uber continued to operate through the stoppage and, after it ended, tweeted that it had turned off surge pricing. The backlash against Uber, a company which seeks to recruit many of the same people who drive yellow cabs, was immediate: a #DeleteUber campaign quickly spread.
Nearly five hours later, the company, backed down. It said it had "not meant to break strike" but then Travis Kalanick, then CEO of Uber, added that he would continue as a member of the Trump administration's economic advisory group. This led to more allegations of hypocrisy and, four days later, Kalanick left the advisory group.
Uber's actions "showed a surprising disregard for so many of its drivers and customers," says Korschun.
Meanwhile the co-founders of Lyft, one of Uber's biggest competitors in the U.S. issued a statement. They said they wanted their company to be a model for the type of community we want our world to be—" diverse, inclusive, and safe," condemned the proposed travel ban and planned to donate $1 million to the American Civil Liberties Union to "defend our constitution."
However, the Uber-Lyft story doesn't mean that every company needs to take a stand on hot-button issues.
"Consumers have heightened expectations that values-oriented companies–those which describe themselves as being guided by core beliefs and values–will take a stand, while expectations are lower that results-oriented companies–those that describe themselves as making decisions purely on how it will affect performance—will take a stand," according to Korschun.
In other words, the challenge has less to do with the stand a company takes as it does with ensuring that what a company says isn't contradicted by what it does: corporate hypocrisy.
To take an example from the right side of the political spectrum, consider Hobby Lobby, a chain of craft stores. Hobby Lobby, which says it tries to run its business on Christian principles, claimed that the Affordable Care Act's requirement that insurance plans provided by companies cover contraception violated a federal law protecting religious freedom. The Supreme Court ruled in Hobby Lobby's favor.
All customers of Hobby Lobby may not agree with its stand but, over the long-term, it was more important for the company to stay true to its stated values than not take a stand.
So what should corporate leaders do?
It depends on whether a company is values-oriented or results-oriented and how it's perceived by customers and, just as important, its employees. As Uber weathered the storm following the JFK taxi strike incident, for example, some of its own employees questioned the company's continued presence on the Trump advisory council.
If customers and employees perceive a company as being values-oriented, then not taking a stand on the issues it says it cares about, may be more risky than taking a stand, even among those who don't agree with your stand.