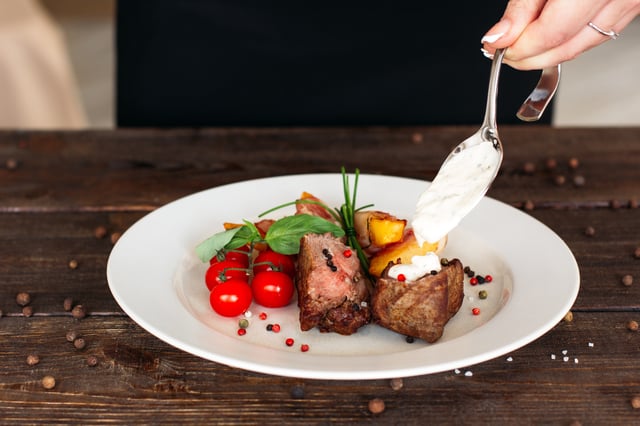 Like a healthy meal, the best content marketing offers a well-rounded diet of valuable information: blogs, emails, ebooks, white papers, infographics and videos—though not all in equal measure.
Think of it this way. If your content program is like your dinner plate, your company's blog should be the main dish—the meat and potatoes (or if you're a vegan, the veggies and quinoa). That's because each type of content serves a different purpose.
Blogs are the gateway to your brand, the space where you turn strangers into visitors. If they bite, new visitors will have an opportunity to download ebooks and white papers, and click on offers as they move further down the marketing funnel. It takes a lot of visitors to convert just one customer. That's why blog posts should be a mainstay of your content program.
But a blog shouldn't be the equivalent of serving meatloaf for dinner every night. To get readers to return, you'll want to vary what's on the menu. In need of a little inspiration? We walk you through 10 of the most-popular blog formats. Bon Appétit!
List Posts
"Five Social Media Marketing Costs You May Be Overlooking." "14 Must-Ask Interview Questions This February."
Lists are a great format for blogs. There's no guesswork. Visitors can look at the headline and instantly decide if they want to read it or not. If they're short on time, they can usually scan the headlines and digest most—if not all—of the relevant information.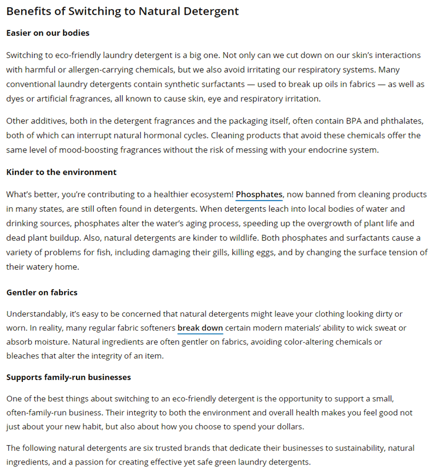 Take a look at this blog from Zappos: "Six Eco-Friendly Detergents Worth Switching to in 2018." It starts with a brief two-paragraph opener and includes simple headlines: "Easier on our bodies," "Kinder to the Environment," "Gentler on Fabrics." I get the main points of the article whether I spend three seconds or three minutes reading it.
How-To Posts
As a content marketer, your goal is to provide value. How-To blog posts do just that, offering your readers help solving their problems, from "How to Figure Out Your Face Shape Once and for All" to "How to Manage Marketing Campaigns like a Financial Currency Trader."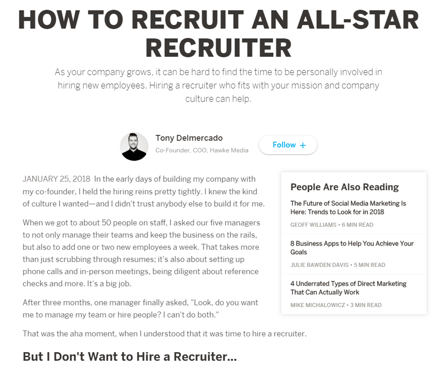 This post on American Express' Open Forum, "How to Recruit an All-Star Recruiter," actually achieves two goals: It reaches employers who know they need to hire a recruiter and want to make sure they hire the best one out there, and it also speaks to small business owners who aren't sure they need a recruiter in the first place.
Best-Of Posts
Compiling your most-popular posts into a best-of list not only allows you to revisit the hits, it also gives you a break from churning out new content (save for a paragraph or two as a catchy lead in). You can schedule best-of posts at key times of the year, like monthly, quarterly or annually.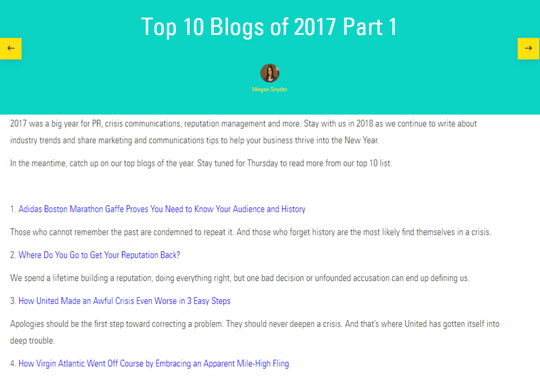 Here's JConnelly's best-of blog roundup for 2017—the first of a two-parter. Which brings us to…
Series Posts
Taking a two-parter to the next level, a regular blog series gives readers something to anticipate and come back to every week or so. Also, by putting a box around the series (by naming it), you'll have more freedom to go slightly off-topic without confusing new visitors.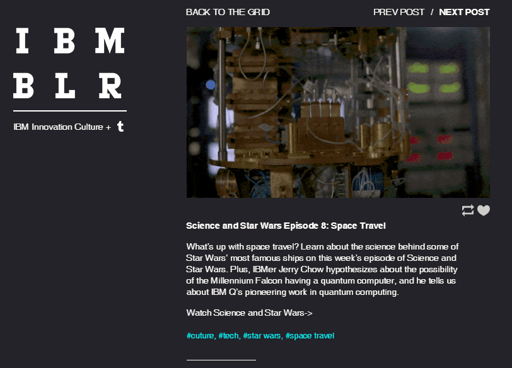 IBM's blog, IBMLER, has a weekly series "Science and Star Wars," featuring videos that "explore the science reality behind the science fantasy." What Star Wars fan wouldn't want to tune in?
Profile Posts
Storytelling helps brands connect with their audience. By shining a spotlight on the people associated with your brand—either employees, customers or advocates—you'll create an emotional resonance that is impossible to do with facts and figures alone.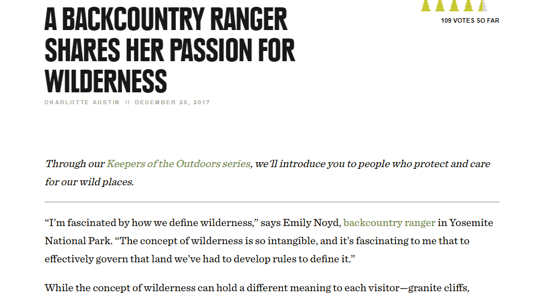 REI is a beautiful blog dedicated to all things outdoors. In its long-form series (a twofer), "Keepers of the Outdoors," REI introduces readers to the park rangers and conservation activists who spend their days caring for the land.
Q&A Posts
Like profiles, Q&A posts give readers an up-close and personal look at your subjects but without the filter of the storyteller. Post as a one-off or consider an ongoing series where you regularly pose the same five or 10 questions to multiple people.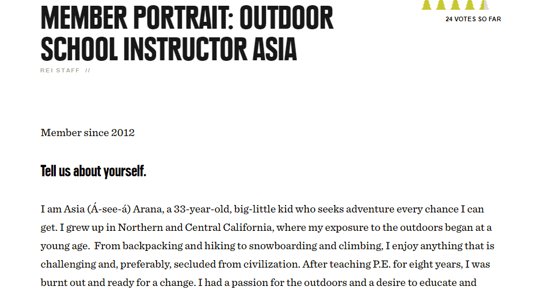 Here's another great one from REI: "Member Portraits" regularly spotlights an eclectic group of outdoor enthusiasts, from an REI outdoor instructor to an avid urban cyclist.
Quote Posts
If you're struggling with a bout of writer's block (who hasn't?), a quote post is great for putting you—and your readers—in a fresh mindset. You can either construct the post around a single person on an important day (Dr. Martin Luther King, Jr. Day) or quote from multiple authors during a key time of the year (Black History Month). The main requirement: Make sure the quotes are interesting.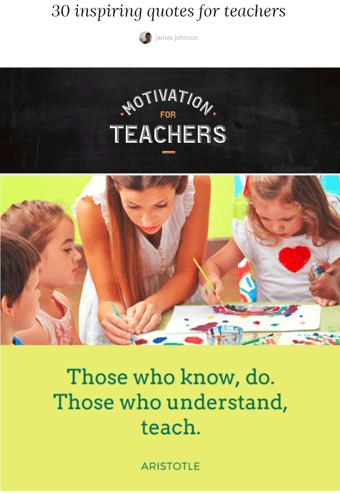 Here's a great one with inspiring quotes for teachers. I give it bonus points for being so wide ranging—it's not every day you can quote Aristotle, Malala and Phil Collins in one blog post!
Crowdsourced Posts
With crowdsourced posts, you ask your readers to play a part in creating the post—either by submitting a question or sharing their perspective—thereby increasing the level of engagement. Crowdsourcing also gives you a bit of a respite since you're outsourcing the brunt of the work.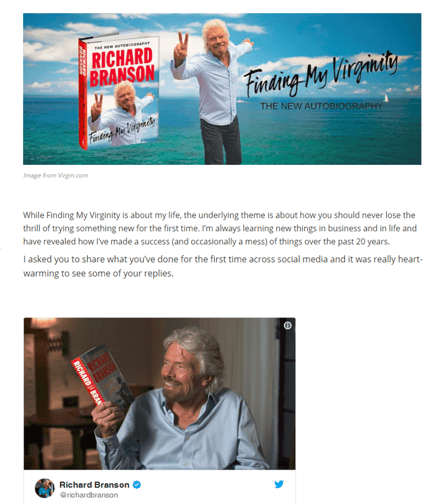 To promote his new book, "Losing My Virginity," Virgin CEO Richard Branson asked his followers to share their experiences trying something new. Here, he recaps the most memorable stories. Since most businesses don't have as large a social media presence as the Virgin CEO, you'll want to make sure you have an active enough following to make crowdsourcing feasible.
Newsy Posts
Timely news always provides great fodder for blog posts. But remember, inspiration can come from any place, not just your particular industry. Does something in the pop-culture world remind you of a problem your customers face? What about local, national or international news?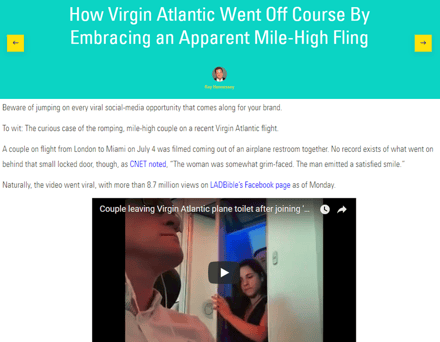 Some of our most popular blog posts are ones where we comment on what's going on in the world. Here's how we made it work when Virgin Atlantic was in the news.
Example Posts
Did you read this post? Then you know why example posts work!
Variety is the spice of life. Try something new. It'll keep them coming back to your blog for seconds (and thirds, and…).