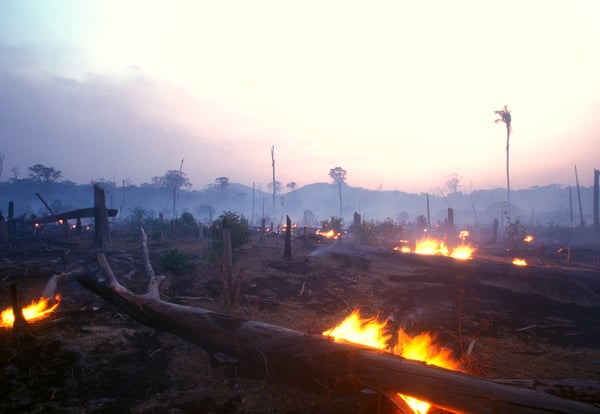 The news about the fires in the Amazon rain forest, paired with the fires in Angola and the Democratic Republic of Congo, have been shaking the world. News coverage has brought up fears about our future ecosystem, deforestation practices, higher CO2 levels, and much more. Perhaps the most shocking of it all, was the way this news dabbled into the media. It wasn't until the rain forest had been burning for two weeks and public figures, influencers and celebrities posted about the event, using their robust platforms to circulate the news, that the media started to cover it. This shows the demand for CSR initiatives is much greater than the supply for it.
Natural disasters like these examples cause the media to stir as it inevitably spreads to social media and beyond. But most importantly, the overriding question people have is what can we do now? Communities are charged with giving a helping hand while the words environmental sustainability and corporate social responsibility (CSR) are buzzing as people look for ways to take more action.

Consumers Want Companies to Embrace CSR
Consumers, especially younger consumers, are looking for companies that prioritize CSR through sustainable practices that will provide preventive solutions. In fact, 81% of millennials expect companies to declare their corporate citizenship publicly, and most will spend more to pay for sustainable products. If your company doesn't have an ESG progam, now is the time to start.
CSR Should be Authentic
Think back to Hurricane Katrina, when the federal government was unable to act quickly, and Walmart took the driver's seat. This set the precedent for other companies to jump to rescue, including American Airlines, flying thousands of water bottles and food items to New Orleans. In times of need, companies can step up to the plate and provide relief through their wallets, CSR initiatives and sustainable processes.
While helpful, some of these efforts are reactive and not preventative. Businesses are in a great position to make a difference, but they must be careful in their approach. If companies are waiting for a disaster to strike in order to show their CSR efforts, this tactic will eventually backfire. This is merely a show to get more press and good brand imaging. Not only could they be accused of greenwashing or taking advantage of the situation, but this defeats the purpose of the program. CSR should be part of the overall business plan and align with company values, influence messaging, and much more. Customers will find out if you're not truthful in your approach.
Consider the following examples of brands that got it right:
IKEA: People and Planet Positive
IKEA is a leader in the space, establishing sustainable business practices all throughout their company and promoting a mission to be people and planet positive. One of their initiatives includes promoting a balanced diet that focuses on "vegetarian food, seafood and seeing meat as a treat." In fact, IKEA Vegetarian meatballs are rolling out this fall for a trial! Initiatives also include producing as much renewable energy as they consume by August 2020 and reducing waste from stores by 10%.
Adidas: In with the Paper, Out with the Plastic
Adidas is another model company, paving a sustainable road in the sporting goods industry. Since 2000 they've dabbled into impact investing, by having sustainable considerations in their portfolios. They've also been listed in the DJSI every year since. In April of 2014, they removed plastic bags from their stores globally and replaced them with paper bags. While some of these initiatives may seem small, the impact is big.
4 Ways companies can embrace a CSR program the Right Way
1. Offer Impact Investments
Impact investing is investing into companies and organizations that are looking to create a social and environmental impact. This is a great way for a company to show their interest in supporting business practices, like offering impact investments in 401(k) plans.
2. Provide Volunteer Days
CSR initiatives don't always have to be large and complex programs, but rather small impacts throughout the company that influence a socially responsible mindset and practices. Providing days for employees to volunteer in the community is a great way for a business to promote this.
3. Create Sustainable Processes
Sustainable processes can look different for each type of company, but common ones include using recycled or recyclable materials for products or services to reduce waste. Using renewable energy in company facilities is another great example.
4. Offer Ample Parental Leave
Social responsibility also pertains to social issues in the community, including gender equality. What better way to make a move towards defeating this than offering equal and sufficient parental leave?
Whether you're interested in implementing CSR efforts or your company is already a good corporate citizen, it's important to have a communications plan set to relay this to your audience. Check out our eBook, Creating a Socially Responsible Brand: