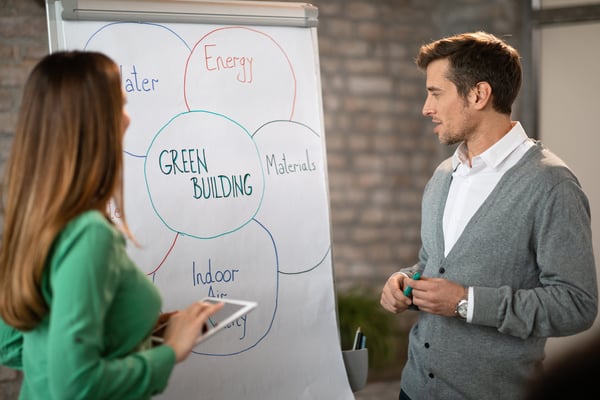 Sustainability shouldn't be a separate and distinct practice at organizations. It needs to be infused throughout every decision and top of mind for every management decision-maker. Here's why: it replaces profit with purpose, and purpose is a deeper and more attractive goal for stakeholders and employees of all stripes.
Make no mistake, that doesn't mean purpose replaces profit. In fact, it very much complements commercial gain— facilitates it, even. The change in thinking, however, may be uncomfortable for some people to appreciate. Which is where corporate communications comes in.
Articulating the benefits of sustainability and corporate social responsibility is nuanced. It cannot be shoved down people's throats, nor can it be ignored. A skilled communicator can present the benefits of sustainability and CSR in an attractive and understandable way, even in a manner that is motivating. But to truly evangelize this proposition, selling points have to be magnified.
Purpose More Important Than Paycheck
One of the most telling data points for CSR is with employees and job candidates. A new survey by Austin-based Swytch, a renewable energy company that operates in the blockchain space, shows that millennial employees would be willing to take a pay cut to work at an environmentally focused company. More than 10 percent of the group surveyed said they would be willing to take a cut in pay for as much $10,000, while about three percent said they would take even more of a pay hit to work at a green-minded organization.
This is a significant finding. And it doesn't merely apply to millennials, although the numbers are much higher for that demographic: less than 25 percent of GenXers and fewer than 17 present of baby boomers would make the tradeoff.
Overall, 70 percent of respondents said a company's sustainability plan would play a role in their decision to remain at a company over time.
This places environmental stewardship in a leading philosophical business position.
Purpose Has Become Essential to Every Organization
It makes it easier to understand why so many companies are embracing CSR and why so many investors are requiring that environmental, social, and corporate governance policies are adhered to with the capital they employ. Purpose is fast-becoming an essential requirement for every organization.
In another survey, this one by the international consultancy Korn Ferry, 90 percent of employees at self-described purpose-driven organizations felt more engaged and connected to their work. Moreover, they outperformed their respective industries' growth rates by nearly 300 percent. The evidence should be clear for the benefits qualitative aspirations inure versus the historical quarterly profit-making by which corporations have operated for so long.
How does purpose translate across the board at a company? How can employees feel more engaged? How can they be shown that they are part of a bigger mission for the company for which they work? These are the basic questions that must be asked and answered. Externally, these messages must be exemplified to partners, shareholders, clients and consumers. Internally, messages must resonate with corporate culture and garner employee adaptation into their everyday roles.
Communication is the bridge by which organizations can crossover from profit to purpose. For those organizations who haven't walked over to the other side yet, it's time to take the first step.
Read more about why corporate social responsibility is a must-have in today's business environment: