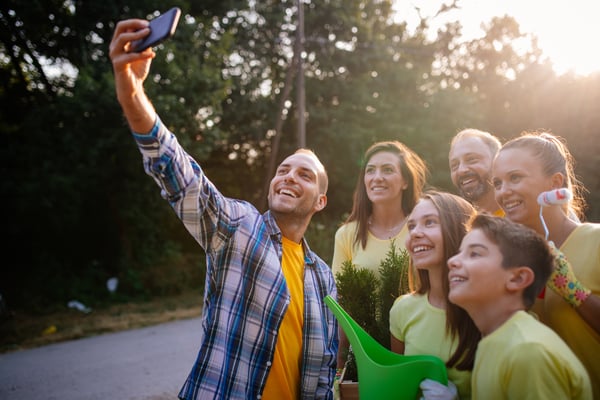 Social media is an effective marketing tool for reaching your brand's key stakeholders and distributing your message. Consumers want to support brands that are doing good in their community. Use social media to inform your audience about your CSR efforts in real time and build awareness for your brand and CSR initiative.
Here are four ways you can use social media to do so:
1. Host a live video
When it comes to sharing your brand's story, live streaming on social media is a great way to share your story. Live videos on Facebook receive 10 times more engagement than regular videos. Creating a concept to support your CSR efforts to produce live on air through social media is a great way to share your message to your audience.
In 2017, Kohl's partnered with Tone It Up to motivate people toward a healthier lifestyle during the winter through #GetActiveWithKohls. To support this mission, Kohl's hosted a live event on Facebook that provided a unique at home workout from the Tone It Up team while of course wearing workout gear from Kohl's. While raising awareness for living a healthier lifestyle, Kohl's was able to reach an audience of 50K.
2. Create a hashtag campaign
The use of hashtags is an effective marketing tool for starting or joining a trending conversation on social media. A hashtag unique to your CSR initiatives can share your message to a larger audience on social media.
World Wildlife Foundation launched a social campaign in 2015 that leveraged emojis of endangered animals called #EndangeredEmoji. The organization educated the community on the 17 emojis representing endangered species and with every retweet earning a 10 cent donation. The tweet received over 40K engagements while educating the population on their mission and encouraging donations and signups.
3. Establish a partnership with aligned organizations
Partner with a non-profit or organization that supports a similar cause of your brand. The two brands can cross-market their initiatives together on social media.
Walgreens partners with Red Nose Day to raise awareness for childhood poverty every June. While they have been partners for nearly three decades, the partnership was only recently recognized using social media. Now when a customer purchases a red nose at Walgreens, they are instructed to snap a picture and share it on social media. Social media has allowed celebrities like John Legend and Milo Ventimiglia to get involved, which also helps with increasing awareness.
4. Produce a powerful video
Creating a powerful video is a popular tool for brands to grab their audience's attention on social media. Consumers are also more likely to stop their scroll and watch a video rather than an image with a post. Captivate the community and share your efforts in the form of a video with an impactful message.
In an effort to support diversity and acceptance of all human beings, Airbnb created a campaign called #WeAccept. The company introduced the campaign by explaining they accept all human beings no matter their race, gender, sexual orientation, religious or political views, age, education and so on—anyone is welcome at Airbnb. To support this initiative, Airbnb took action to provide short-term housing to people in need. They asked owners of properties in their community to donate their homes for a period of time or asked for physical donations to charities they are partnered with.
Having a CSR program is more than just a box to check off today, download our free ebook and learn why your business needs a CSR Strategy.