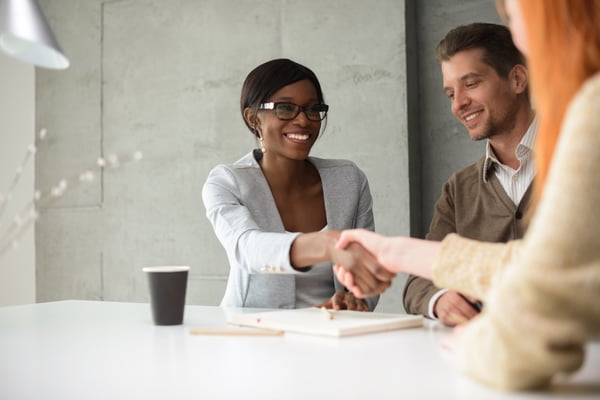 Let's pull the curtain aside. Being an independent advisor doesn't just entail helping clients achieve their financial goals. If that was all, most of the job wouldn't be relationship management. Financial advisors also take on a therapist role, unpacking the emotional financial baggage that clients have created their whole lives, on top of a plethora of money misconceptions. It's even harder to tear these down when money is closely tied to feelings of worth and self-image.
To completely change this emotional outlook is nearly impossible but having a healthy rigor with your client that incites a mutual trust, secures your credibility and advisement when there are unknown market changes or a client mentions investing advice from a friend's uncle at the last block party.
1. Make Each Interaction a Human Connection
It's no doubt customer service is the secret sauce to most successful businesses, just take Zappos as a leading example. Their "To Live and Deliver WOW" approach has singled them out in a crowded market of online retailers, as they were sold to Amazon at a hefty sum and are known for being a great place to work. Zappos' philosophy is based in simple logic: we're all human.
As an independent advisor, your work is as good as the connection you make with each of your clients. This shouldn't change when talking with the media. In fact, media contacts should be treated like gold, as they're the gatekeepers of large portions of readership and credibility. Create a relationship with them that's not just based on your needs but rather a mutually beneficial relationship. On interviews and in communications materials, avoid jargon and speak to your audience in a way they can relate to and will understand.
2. Find Your Niche and Own That
In a world of financial advisors, be a different financial advisor. The first question when hiring someone for the job is, "do you have experience with this kind of work?" Let's turn the tables around. Clients shouldn't be asking you this question, but instead should be coming to you already knowing you're an expert in a certain area of your industry. The more specific the better. Serve a specific clientele and show how you're a leader in the space and why others should listen to you. This is crucial to gaining more of these clients and establishing your brand within a crowded industry.
3. Leverage Your Connections
Next time you get a latte at your favorite coffee shop, stop and talk to the barista. Ask your Uber driver how their day is going and how your barber's family is doing. These small interactions may lead to nothing, but you never know who you're talking to and more importantly, you never know who they know.
Translate this same mindset to media. Position yourself as a go-to source by providing a valuable perspective. When you have good interviews and are providing insight, you become an asset to the media, and this yields more press opportunities. Having a strong relationship with the media gives you the credibility through the hits you'll receive and ultimately builds that trust with your audience.
To maximize PR efforts, integrate these into your marketing campaigns and strategies, by advertising your press hits and appearances. Learn how to measure these efforts with: