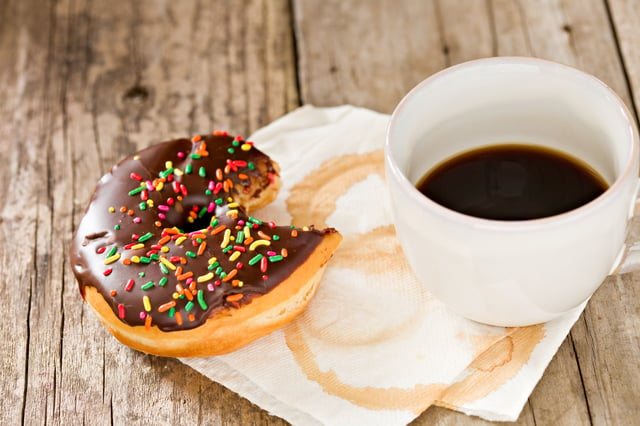 Rebranding should help companies expand their base of customers, not lose existing ones.
"What's in a name? That which we call a rose by any other name would smell as sweet."
Tell that to the fast-food industry.
Dunkin' Donuts is now the latest chain to toy with changing its name, following in the footsteps of brands like KFC (née Kentucky Fried Chicken) and the ill-fated The Hut (Pizza Hut) that have decided to rebrand by removing the part of their name that most closely describes what they sell, i.e. fried chicken.
Set to open in Pasadena, California later this month, the new store—to be known simply as Dunkin'—will test the waters for a complete rebrand and name change in the second half of 2018.
Like KFC, Dunkin' Brands—Dunkin' Donuts' parent company—is betting that the rebrand will fuel growth in a new category, helping the doughnut behemoth become a "beverage-led brand and coffee leader."
A name change is a bold move, one that provides established brands with the chance to restore some lost luster or make inroads into new customer base. But, like all big changes, opportunity always comes with risk. In the world of fast-food, giant corporations must make sure they're not abandoning their roots, alienating long-time customers in pursuit of trendier menu items and new patrons.
For Dunkin', the KFC story serves as a cautionary tale. In 1991, Kentucky Fried Chicken rebranded as KFC to achieve two goals: avoid paying licensing fees to the State of Kentucky (the state trademarked its name to help fill its cash-strapped coffers), and to keep up with the cultural shift to lighter, healthier fare.
At first, the change seemed to work.
In 1997, KFC dominated the chicken-chain market, with $4 billion in annual sales, and steady increases in per unit sales in eight of the previous nine years. Meanwhile, KFC's closest competitor—Boston Market—lagged far behind with $1.2 billion in sales.
But the good times didn't last. Rumors swirled about the reason for the name change: that KFC used genetically modified chicken. New menu items like Rotisserie Gold—a competitor to Boston Market—fell flat.
Throughout the 2000s, sales slumped, and KFC closed 1,200 U.S. stores between 2002 and 2016.
In 2013, rival Chick-fil-A, with half as many U.S. stores, surpassed KFC as the No. 1 chicken chain by sales. As it turned out, customers didn't want healthier options. They wanted to indulge in the traditional recipes they had come to know and love.
Fed up, franchise owners successfully sued KFC's parent company, Yum! Brands, forcing the company to abandon its grilled advertising campaign and return to its core product: fried chicken.
KFC eventually got onboard with the change, launching an advertising campaign featuring a likeness of founder Colonel Sanders (played by SNL alum Darryl Hammond and several other well-known comedians), while also bringing back the Colonel's original recipes. Early signs suggest the move is working. In 2015, the year the company reintroduced the Colonel, U.S. sales grew by 2%.
Is Dunkin' headed for a similarly bumpy ride?
Not likely. Dunkin' has spent years cultivating a shift to coffee sales. For the past decade, its slogan has been "America Runs on Dunkin'." What's more, Dunkin' actually sells more coffee than doughnuts, and its current logo features a coffee cup, not a doughnut.
But Dunkin' shouldn't rush to make itself into the next Starbucks, either. Recently, the chain unveiled four new-store designs featuring cozy earth tones, couches and free Wi-Fi, perfect for the type of customer who is likely to linger over a latte and laptop. Dunkin' must remain loyal to its customers even as it tries to eat into Starbucks' more affluent, premium customer base.
Shakespeare was right after all. It's not about a name. It's about staying loyal to your customers and not forgetting where you came from.