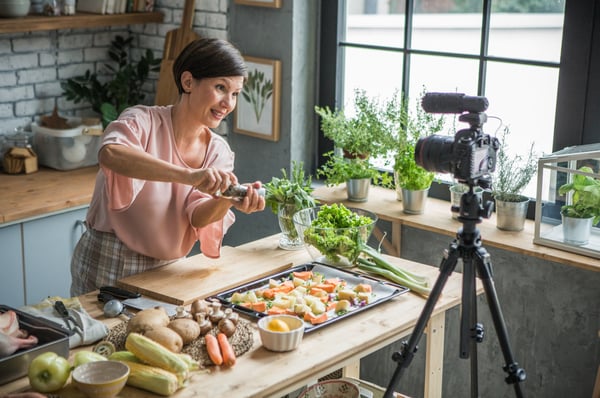 No matter what business you're in, without customers, you have no business. When everyone shopped locally, having a big sign and display windows might have been enough to let potential customers know where you are and what you did. But these days, when the majority of Americans (more than 79% according to Pew Research) admit to shopping online, that kind of simplistic marketing just won't do it anymore.
You can't take customers for granted anymore, and on top of that your voice is just one among many shouting, "Look at me!" If you want to engage their attention, you have to have something they can't find anywhere else. They don't want to read your marketing brochures, but the do want to know how you can help them, how your product or service can improve their lives in some way.
That's why content marketing—sharing information that highlights your expertise and helps a prospective customer know more about the subject—is important early in the marketing process. At this stage the goal is to build an audience rather than to blatantly promote your brand. That comes later after you know who is really interested and likely to convert to a customer.
There are a number of tools available for online content marketing, but the most effective are probably blogs, videos, infographics, and of course, social media.
Blogs Let People Get to Know You
Blogs give you a chance to show your personality and provide an opportunity to forge a deeper connection with your audience, who can get to know all about your business and your products without being subjected to a "hard sell."
Lists make great fodder for blog material. You don't have to fall into the David Letterman trap and limit yourself to Top Ten lists, in fact a list of three or five items, as in "Three Reasons Why You Should [Fill in the Blank]" or "Five Things You Didn't Know About [Fill in the Blank]," could be even more effective in getting readership.
Using a Q&A format can also be highly effective and gives you a chance to answer questions about your product or service that your audience might not even know they have. Commenting on timely topics covered in the news can have the same benefit. Personal stories that shine a spotlight on the people behind your brand can help establish an emotional connection that can be invaluable over the long term.
And if you've got a lot to say about something, consider serializing it. A regular blog series gives readers something to anticipate and come back to every week or so. But remember, when it comes to blogging, the most important thing is consistency. You don't need to blog every day, but you do need to keep to a regular schedule. If you promise content but don't deliver, you'll quickly lose whatever followers you have.
Video Is Everywhere
Fewer and fewer people will bother to read a 2000-word article from start to finish, but will gladly spend the same amount of time watching a video. People watch them everywhere on all kinds of devices. A year ago, research showed that a Facebook video receives 135% more engagement than an image, although that number is probably even bigger by now. Videos can supplement virtually any form of content and provide a more dynamic way to tell your story. From product videos and testimonials to educational and how-to videos, there is no shortage of ways to entice viewers to watch. Effective video can be as simple as someone telling a heartfelt story into the camera on their phone.
According to YouTube, mobile video consumption grows by 100% every year. And by 2019, video will drive more than 80% of all web traffic. With these growing statistics, video is a marketing tool used to reach, attract and engage with your target audience.
A Picture Beats 1,000 Words
Everyone loves infographics, so make sure you break up posts containing lots of text with something eye-catching. For example if you're talking about the content of a white paper heavy with complex data, put the most important points you want to make into an infographic. That makes the content more easily digestible and gives you something that can be repurposed for your social media efforts.
Social Media and More
Social media has become such an important part of every business's marketing mix that it can't be ignored. It's also far too broad a subject to take up here. Just let me say that you can't live without it. A study from Pew Research Center notes that 84 percent of American online shoppers review at least one social media site before making a purchase.
Other weapons in your content marketing arsenal should also include podcasts, tip sheets, webinars, white papers and ebooks.
And speaking of ebooks, be sure to download JConnelly's latest offering which explains how to get sales leads that turn into customers: