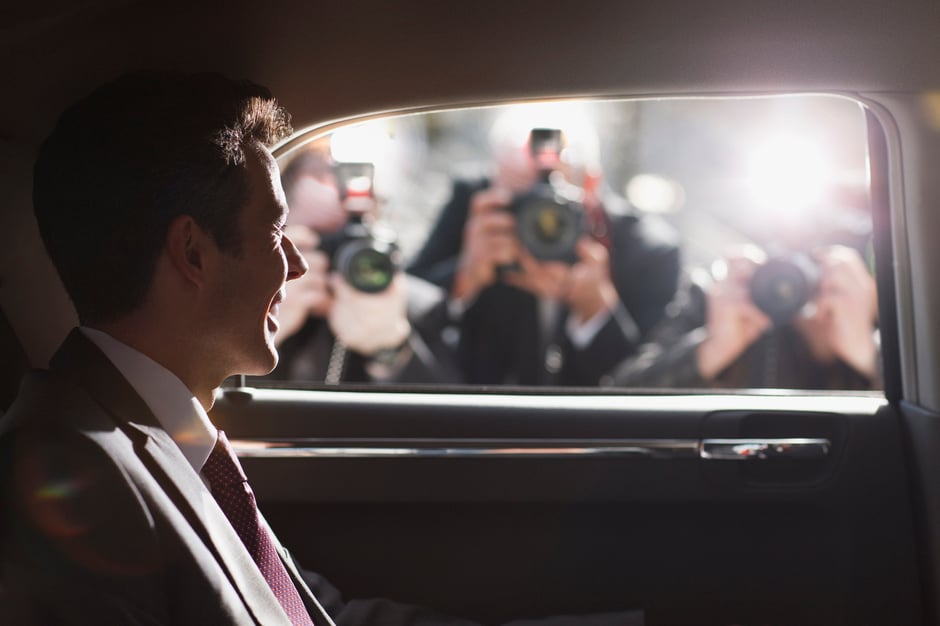 Ready for your close up? Executive visibility is key to building successful companies and brands.
Gone are the days when a CEO could be successful simply by running a company and building shareholder value. Today, chief executives must step out from behind the desk and don multiple hats: promoter, storyteller, educator, cheerleader, philanthropist—to name just a few.
Like an actor promoting a new film, CEOs are increasingly called upon to serve as the "face of" their brands—giving voice to their company's mission, vision and values. This is especially important for startups still trying to build credibility and raise funds.
CEO visibility can have a profound effect on corporate earnings and reputation. The most visible CEOs often run the world's most valuable companies: Tim Cook, Mark Zuckerberg and Richard Branson, among them. Of course, the media will naturally choose to cover chief executives of the largest, most successful companies—but visibility for its own sake does not necessarily translate into larger revenues.
Donald Trump is arguably one of the most talked-about people in the world. But since he announced his bid for the presidency, Trump's business interests have suffered. According to Foursquare, visits to U.S.-based Trump-branded hotels, casinos and golf courses are down 14% year over year. Highly recognized CEOs who have leveraged their outsize personas to a business advantage typically spread a message that is larger than themselves.
Wondering why you're not a media darling? Check out these tips for making yourself into the next superstar CEO:
1. Tell a Story
Building a personal brand means sharing something of yourself. It might be a compelling life story or a cause or hobby that you're particularly passionate about. Richard Branson is a modern-day adventurer who has kite-surfed across the English Channel and crossed the Atlantic Ocean by hot air balloon. His thirst for adventure is a natural complement to the Virgin brand, which includes airline, high-speed rail, cruise line, even a spaceship dedicated to commercial space travel (the final frontier)!
2. Connect
In the modern business environment, brand building is all about connecting. Whether you're connecting with an influencer on LinkedIn or a journalist on Twitter—educate and engage. Remember, it's not about who tweets the most; it's about being thoughtful and adding value. A report by INSEAD, one of the world's leading global business schools, about the Most Influential CEOs on Twitter found that the No. 1 most influential CEO—Apple's Tim Cook—tweeted only 50 times during an eight-month period but "garnered almost 2,000 retweets per tweet." The runner-up—Bill Gates—had "around 15 times the followers of Cook but only gets half the retweets."

3. Get Recognized
Are you the best at what you do? Prove it! Submit yourself for industry awards and "best of" lists. Adding a line like "named one the Best Women in Business" adds credibility when pitching the media.
4. Polish Your Pitch
Have an interesting spin on the news? Can you predict what the big trend will be in the next six months or year? There's nothing the media loves more than a great sound bite. Just make sure to practice your delivery and integrate great storytelling. Facts and figures are important, but great stories are what people will remember.
5. All of the Above
When it comes to elevating your profile, most people focus on pure media relations—securing a feature or profile, or getting a spot on a television news show. But in today's business environment, media relations alone is not enough. Executives must become thought leaders in their fields, speaking before industry groups, contributing bylines to media outlets and websites, sharing their insights through blog posts and white papers, and participating in webinars, Facebook Live Posts, Live Twitter chats and the like. Take advantage of all the opportunities out there to educate your audiences and build your brand.
CEOs can no longer cede precious ground to their competitors by hiding away in their corner offices and avoiding the limelight. By building an authentic and visible profile, CEOs will humanize their businesses and go a long way toward winning customers' hearts and minds.
Need help positioning yourself as the next media darling? Contact JConnelly today to hear how we can help!