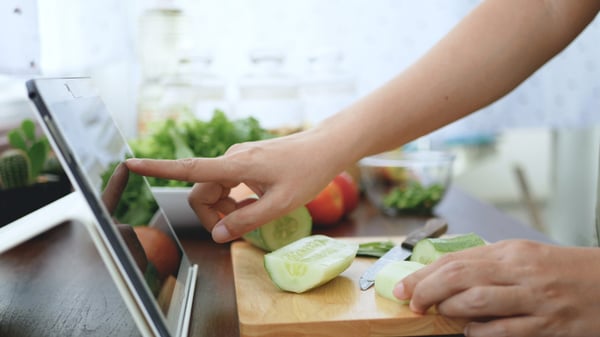 It's amazing to think that there are hundreds, if not thousands of social media platforms. After all, most work in roughly the same way: news pages, photos, videos, hashtags, follows, unfollows, etc. But lumping LinkedIn into the same bucket as TikTok is a little like saying Brooks Brothers is no different than Forever 21 (RIP) because they both sell clothes.
I recently shared some advice for marketers breaking into TikTok, the newest social media phenomenon. But way back in August, which is a lifetime in social media circles, I thought of TikTok only in the vein of VSCO girls and hashtag challenges. Since then, I found out that the platform is becoming popular for its recipes; and like all things TikTok, the Gen. Z-preferred social media site puts its own unique spin on cooking.
TikTok hasn't reached the heights of BuzzFeed's Tasty, which gets billions of monthly views. But it's no less addictive. And since TikTok is more about personality and less about the fundamentals of cooking, it offers a great outlet for young food and beverage brands looking to break through and show some personality.
Here are three tips for making effective TikTok videos—and to highlight how every social media site is unique, I've also included some of the previous advice I shared from watching Tasty videos.
3 Tips for Making Effective TikTok Videos
1. Make it Fun
I'm guessing that few people who watch a TikTok recipe video will endeavor to make the actual dish. Knowing this, you should feel free to dispense with the formalities and just have fun. That's what the site is all about: letting loose and sharing your talents and personality. Think up interesting ingredient combinations and make the preparation part of the performance, infusing comedy or visually interesting stunts. TikTok offers a ton of features, which you can use to surprise and delight your audience, chopping a vegetable with the swipe of your hand, for example.
2. Think Outside of the Box
The one rule of TikTok is that there are no rules. You don't need a fancy kitchen to make a dish. In fact, you don't even need a kitchen. One guy shows you how to cook shrimp curry inside a bamboo shoot, heating it over a small fire near the river. Ultimately, the freer you are with the format, the better the video will be.
3. Mistakes Happen
Cooking shows and recipe videos depict perfect dishes and flawless execution. Unfortunately, that's not how it always goes in the kitchen, at least for most average home cooks. Don't be afraid to show your burned dishes and fallen cakes. Your viewers can relate to your kitchen woes in a positive way. Just make sure to smile and keep going!
3 Content Marketing Lessons from Tasty Videos
1. Simplicity Rules
Tasty videos couldn't be simpler. A single camera, positioned from above, opens on a pair of hands preparing the dish. Closed captioning provides the needed context—no talking required! The straightforward stagecraft is part of what makes these videos so compelling. It's clean, simple and thoroughly awesome. And since the camera angle mimics the real-life perspective of someone working in a kitchen, the viewer feels like they are in on the action.
2. Find a Formula that Works
Remember New Coke? There's a reason formulas work—whether it's for a sugary cola, episodic television (Law & Order, CSI, NCIS, etc.) or a video series. People inherently gravitate to what they know. That's what makes Tasty so ingenious.
3. A Positive Message Sells
Tasty videos are good, uncomplicated fun and that's a precious commodity in a difficult world. Granted, not every subject lends itself to a feel-good campaign. But it's worth considering. Most of us are yearning for some small bit of positive news. Why do you think cat videos are so popular?
Social media offers endless options. A veritable feast. Before you decide on a platform, you need to figure out what you want to achieve. Are you trying to drum up business for your newly opened farm-to-table restaurant? Then perhaps a Tasty-style video is right for you. If you're a new snack brand that appeals to the age 24 and younger set, you might want to use your product as part of a recipe with unusual ingredient combinations. Start from the end goal and work backwards. And then, get cooking!
Could your social media strategy use a refresh? Read our Time to Get Social ebook to learn how to build and engage your following on the most popular social platforms.