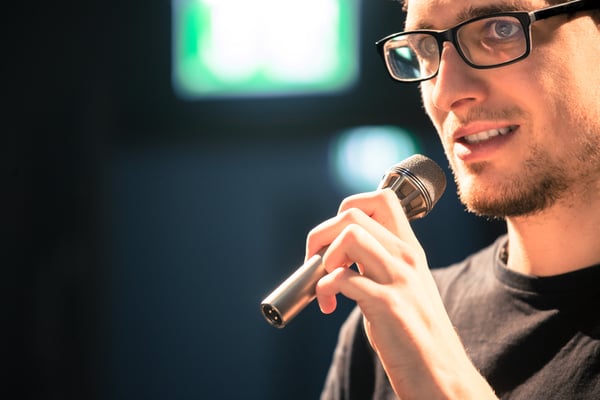 Microsoft has Bill Gates. Dell has Michael Dell. Facebook has Mark Zuckerberg. Apple remains closely identified with the late Steve Jobs.
Technology company founders, like all entrepreneurs, are the strongest spokespeople for their businesses. After all, it's their visions and drive that brought their companies to life. They are the ones who came up with original ideas for meeting the needs of customers. Who is better positioned to effectively communicate a company's story, and value, than the leader and innovator behind it?
This is especially true for tech startups whose brands and products aren't well-known in the marketplace. Journalists who have never heard of a company are going to want to meet and/or interview the person who launched it before writing an article. Customers—individual consumers as well as private and public companies—who have never heard of a service provider are going to search for background on its founder as part of their due diligence.
What Makes a Compelling Story?
Media interviews, videos produced in-house, and TV and YouTube commercials give tech company founders the opportunity to establish a connection with potential customers and other key audiences. Entrepreneurs can communicate the value of their company brands and/or products by sharing personal stories that can resonate with other people. For example, if a mistake or chronic frustration at a prior job led them to establish a tech company that helps other professionals avoid the same pitfalls or enjoy a simplified, more efficient workflow, then prospective customers should hear that story.
Similarly, a humorous anecdote explaining the inspiration for a tech company's founding, or demonstrating why a new software program or platform is necessary, can also make a positive impression—and the founder/CEO, by way of having experienced it firsthand, can tell it more authentically and believably than other spokespeople.
In the universe of fintech, and technology in general, startups may have difficulty establishing their brands because they play in crowded fields. A compelling story, told by a likable and trustworthy personality, is important for cutting through the competition and communicating the potential for disruption—especially if your firm remains in an early stage of growth and your innovation not only hasn't yet "caught fire," but could, at first glance, appear similar to other products in the marketplace.
Media Training can Help
Whether tech entrepreneurs like it or not, they must take the lead as brand ambassadors and spokespeople if they want their companies to succeed. If CEOs are uncomfortable appearing on camera, they can work with integrated communications agencies to train them to become effective on-camera advocates and storytellers.
Technology, and fintech especially, can be complex subjects—and if company founders can effectively break them down for consumers, they can become trusted experts whose products might be worth trying in the minds of potential customers.
A good relationship with the media is key to becoming a go-to expert. Download our free ebook to get tips for how to ensure a successful media interview.