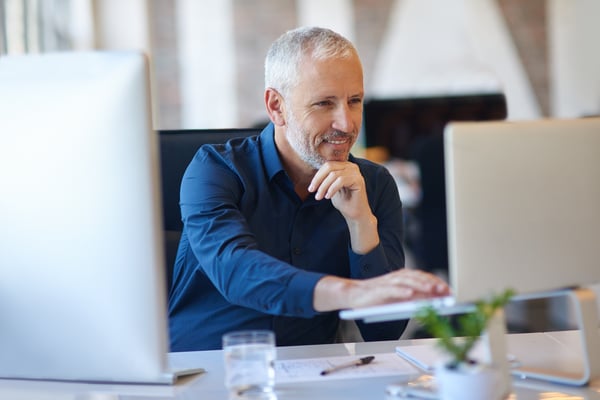 If you want to be effective on social media, the same bland message won't sell.

Anyone who's ever applied for a job knows the pain of selling to a stranger. How to make yourself sound memorable but not too memorable, eloquent but not long-winded, passionate but not desperate? It's a tall order—and why most people end up pressing send on the same canned emails.
Today, this type of selling goes way beyond the job search. In the age of social media, there are thousands of reasons to reach out to someone you might not necessarily know—whether it's a prospect, influencer, referral or target consumer.
The good news is that technology makes reaching people easier than ever. The bad news is that competition for resources is fierce. Read on and learn how to make your targets take notice and turn cold calls into wins.
1. Listen Before You Speak
Would you ever walk up to a stranger on the street and immediately rattle off a request? Probably not. Why, then, do people think it's OK to connect online and move right into sales mode? Never lose sight of proper etiquette, both online and off. In an ideal world, you will connect with your target well before making the "ask." Engage in active social listening. Follow their posts, like, retweet and comment on their content. Mention them in a tweet. Ask a question. Once you've set the stage and warmed up the relationship, then you can begin to think about your pitch.
2.

Six Degrees of Kevin Bacon

Thanks to LinkedIn and other social networks, we are never more than one or two degrees removed from many potential connections. And joining LinkedIn groups will help you expand your network even further. Leverage these connections to the hilt. Start by figuring out who you know in common. If the mutual connection is someone who can legitimately vouch for you, ask for an introduction. It always helps to have a third-party validator warm up the waters before moving in.
3.

Customize Your Pitch

The surest way to get someone to ignore your request is to send that person a formulaic message that shows zero creativity and zero understanding of who they are or what they do. At this point in the selling process, you should have a pretty good feel for your target's interests and personality. Start by thanking them for their advice. Let them know if you've been able to put their advice to use in the real world. Speak in language they can understand. Context is important. Are you approaching an influencer in the beauty space or a financial prospect? There's nothing worse than playing cutesy with serious issues like financial services or healthcare. Think about incorporating other creative strategies. Is there an opportunity, say, for video? Jones Lang LaSalle, a real estate investment and management firm, created short YouTube videos that synthesized dry information into attention-grabbing sound bites that brought important issues to life. If you want to cut through the clutter, you have to get creative.

Whether you're on the job hunt or targeting a potential new business prospect, successful selling is about knowing what your audience wants and delivering tangible value. Thankfully, businesses and individuals are no longer at the mercy of their Rolodexes. They have the power to write the script and deliver the message in countless ways.