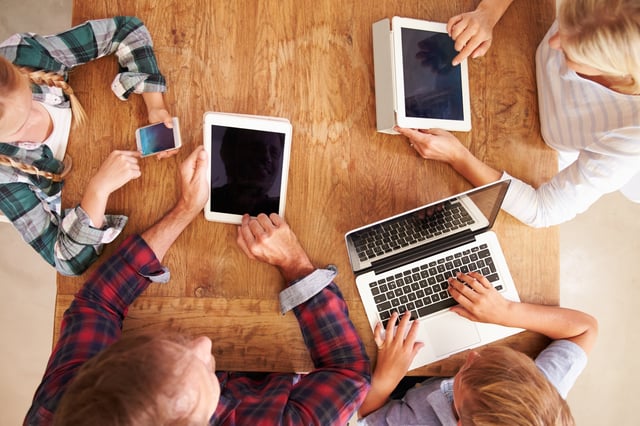 Ready for video? Figure out what video format is right for your brand and business.
Binge-watch is now a common part of our vernacular. But it's worth remembering, it wasn't that long ago that we all watched the same thing at the same time. Remember "Must-See TV" Thursday?
Today, every day is must-see TV. From cooking to sports, comedy, true crime, and DIY, "television" is whatever you want it to be, any time of the day or night. Of course, audiences aren't just tuning into cable and streaming services. They are watching YouTube—and a lot of it—a billion hours per day in aggregate, or roughly 8.4 minutes per day, per human.
Where audiences go, brands follow.
The shift in viewing habits has created an explosion in video advertising, with 87% of online businesses now using video as part of their digital marketing strategy. But cutting through the online clutter isn't easy. Businesses must deliver a clear, compelling message in a format that's right for both brand and mission.
Looking for a little inspiration? Read up on popular types of videos and learn why each one might be right for you.
Educational Videos.
Does your brand or product solve for a complex problem? Are you in an industry sometimes that gets a bad rap in the press? Educational videos are great for introducing a brand or product in a less salesy way. Imagine a pharmaceutical brand touting advances it's making in cancer research or an oil/gas company working on clean energy solutions.
Take a look at this hilarious video from Deutsche Bank, which uses guerilla-style tactics to shine a light on exorbitant fees that banks charge their customers.
Explainer or How-To Videos.
We live in a world of soundbites. But not all products or services can be reduced to a simple 30 or 45 seconds. With explainer or how-to videos, brands can provide an in-depth look at what their products/services do and why they do it. Consider using animation, which is a great way to make a dry topic engaging, bringing clarity and even humor to complex matters.
A great example is this one from Mint, which simplifies a topic that many people find overwhelming or frustrating: personal finance.
Brand / Product Videos.
These short videos—think a trailer for your business—should take your audience on an emotional journey. Don't be afraid to flex your creative storytelling muscles. Is there a metaphor that best explains your business? Do you have technical chops or are you working with a professional production team who can incorporate interesting visuals and sound elements? The goal is to showcase not just what you do, but what your brand stands for: your mission, vision and values.
This Volvo Truck ad is like a mini action movie starring Jean-Claude Van Damme. Not only is this beautiful and epic to watch (filmed in one take), but it perfectly exemplifies Volvo's brand values of safety, stability and precision.
Thought Leadership.
People are judged by the company they keep. So are brands. Thought leadership videos give audiences an inside look into the mindset of the people who lead a business. Focus on great storytelling. Identify leaders with the best stories and ask the right questions to bring out a well-rounded narrative.
Testimonials.
Ultimately, it doesn't really matter how funny or impressive your videos are. What matters is whether or not they get people to buy. With testimonials, the people who matter most—your customers—can give your business a thumbs up. Who wouldn't want a satisfied customer to sing your praises to the rest of the world?
This poignant video from Artifact Uprising is a moving testimonial to the power of its product as a timeless gift to future generations.
Figuring out how to frame your video is just as important as the message itself. Need more help? Contact us today to find out more about our video capabilities and learn how we can help you achieve your goals.