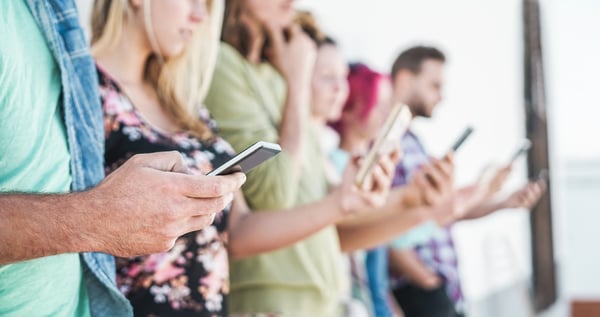 The world is watching. Literally.
Video is quickly outpacing all other forms of media as the preferred way to consume information. Consider a few of these statistics from Wyzowl's State of Video Marketing 2018:
The average person watches 1.5 hours of video every day

85% of people say they'd like to see more video from brands
72% of people would rather use video to learn about a product or service
When it comes to video marketing, the question isn't if, it's what kind? To answer that, consider this: All content—whether written or visual—should match where your customer is in the marketing funnel. After all, who wants to learn about all the bells and whistles of a specific model of mattress if you're not even sure you need one?
The takeaway: One video isn't enough. You need several. Here are some examples of the types of videos you can use to target customers at each phase of the marketing funnel:
1. Top of the Funnel
At the top of the funnel, also called the awareness stage, customers are just beginning to see what's out there. They think they might need help, but they're not ready to buy. They may not even realize they have a need or problem. It's best to keep this type of content focused on information, not promotion. Creativity is also important. Use emotion and great storytelling to get prospects to move deeper into the funnel. Try these:
Explainers
Typically 30-to-90 seconds in length, these informative videos are great for synthesizing complex subject matter. Think financial services, software technology and pharmaceuticals. Explainers often feature high-tech production elements like animation, whiteboard animation and motion graphics.
Thought Leadership
Do you have a dynamic CEO or a rising superstar employee? Thought leadership videos help showcase the strength of your company and, by extension, your brand—without going in for the hard sell. These can take many formats, including a one-on-one Q&A, a montage of several key executives answering questions or even repurposed footage from an event.
2. Middle of the Funnel
Once customers have moved into the middle of the funnel, or the consideration stage, they know there's a problem, and have started to weigh their options. With middle-of-the-funnel videos, it's best to keep the message topline since they're still vetting brands and not focusing on the nitty gritty of any one product. Here are some videos to try:
Product Demos
Seeing is believing. Showing your customers what your product can do—whether it's a blender, a car or a wealth management platform—is an effective way to differentiate yourself from your competitors and make your brand shine.
Testimonials
In any business, a satisfied customer is always the best spokesperson for your brand. There are several ways to shoot these. Either focus on one compelling customer story or choose a few people who speak to various buyer personas. Unlike some of other types of videos, testimonials should focus on what matters: the customer, meaning you can stick to simple and straightforward camera work and production values.
3. Bottom of the Funnel
You've successfully lured your customers to the final stage in the funnel—the decision stage. But you're not done yet. Now you have to reel them in. Whereas the top and middle of the funnel are about general information, the bottom is where you should arm your viewers with as much information as possible. To give them that final push, try these:
FAQ Videos
Who wants to read a boring list of company/product facts? With FAQ videos, you can give your prospects all the information they need in a more interesting way. By showing your customers that you care and are responsive to their questions, you are helping to build trust, which is essential to getting them to convert.
Instructional Videos
Before they buy, customers want to know that they can rely on you for answers. With instructional videos, you show your viewers how they can make the most of their product. This is great both at the pre-sale point—to give that much-needed bit of reassurance—and also post-sale, helping you nurture the lead so they'll come back and continue to convert.
Whether you make them yourself or hire an outside partner, videos are essential to capturing your customers' attention and moving them through the marketing funnel.