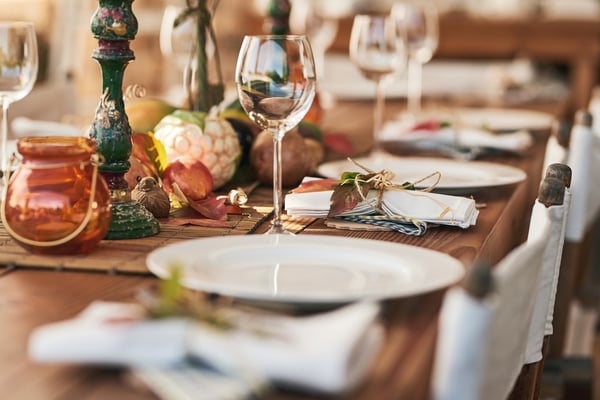 Picture it: A room set for a festive holiday gathering. The empty room contains long industrial-style tables adorned with beautiful place settings and colorful fall-themed centerpieces. For the first eight minutes, we see only this static image, offset by ambient noise from people talking off-camera. A stream of hipsters then starts to slowly file into the room and take their seats. This goes on for another eight minutes—a full 16 minutes—before biscuits begin to hit the table.
Is this a scene setter for a new Richard Linklater film? A modern-day adaptation of "My Dinner with Andre?"
In fact, it's the first 16 minutes of a 1 hour+ Facebook Live Video for Taco Bell's fourth annual "Friendsgiving," which features bland speeches with poor A/V, elevator music (which drowns out the aforementioned speakers), and play-by-play commentary from a "guest" who sits next to an empty chair meant to represent "you," the viewer. In a nutshell, it offers all the worst parts of a corporate gathering without any of the upsides—the food and drink—although, in this case, with the main item on the menu a Quesalupa (deep fried taco shell filled with turkey, Doritos® Locos stuffing and cranberry), it's probably a good thing Facebook hasn't invented a food-tasting feature.
As a live event, "Friendsgiving" left a lot to be desired, generating negative comments like: "taco bell has how many followers and only 350 people are watching this…" Had Taco Bell simply gone with a few short videos it would have been a different story.
5 Tips to Get You Started on Live Video
If you're considering live video—and you should——follow these tips to make sure you're doing it right!
1. Consider the Event
Facebook users watch live video three times longer than on-demand video, and live video generates 10 times the number of comments. But not every format is right for live. You wouldn't want to shoot a 90-minute live video of a person painting a bedroom, even though that would certainly work as a 3-to-5 minute how-to available on demand.
What works best as a live video? Action and suspense—any type of sport or contest. It's also great for providing a behind-the-scenes look at events or bonus features like interviews. For conferences, live video is effective so long as the subject matter and stagecraft are interesting enough. Shoot each speech individually so you're not leaving your audience looking at dead air.
2. Technical Elements Matter
Want to know the surest way to get people to tune out? Shoot a video with bad lighting and poor sound quality.
Technical elements are important for all videos, but especially so when it's live, since you're expecting your audience to tune in for longer than a minute or two. Consider using a selfie-stick or a tripod to reduce shakiness. If you're conducting interviews at an event, you might want to invest in a microphone to improve sound quality. Pay attention to lighting. If you're indoors, make sure there isn't a glare in front of your subject. When shooting outdoors, don't stand in front of the sun or cross back and forth between sun and shade.
3. Be Descriptive
Write a detailed and compelling description to accompany your video. This lets your audience know what the video is about or why they should keep watching, so you'll want to make it as descriptive as possible. Once you've finished the live broadcast, you can update it to include key points made during the shoot.
4. Stagecraft is Important
Are you shooting a one-off that's part of a larger event? To create anticipation, start filming shortly before, placing a title card in front of the camera. Throughout the broadcast, make sure to welcome new audience members who've joined and provide a brief recap. You can also answer live questions as they come in. If a mistake happens, keep going. It's how well you recover that counts!
5. Promote and Optimize
Use your social media channels to promote your broadcast, before, during and after. In advance, let your audience know what they can expect if they tune in. During the shoot, post links to your live broadcasts on your other channels. After, make your post searchable, adding thumbnails and updating descriptions to reflect keywords. And keep the promotion going through social channels and off-line activities like email campaigns.
Live video adds excitement to an otherwise polished medium. Make sure your concept serves up a TV-worthy dose of suspense before going live.
To learn other techniques for attracting visitors into your marketing funnel, download our latest ebook: