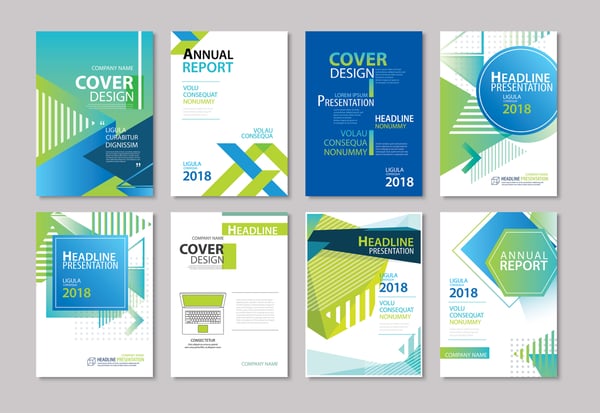 Brand identity dictates how your brand is being presented to the public. It's central to creating an image that's recognizable, legitimate and has staying power. Consider these logos. We don't have to label them to know which brands they represent.

While these examples belong to consumer giants, smaller brands can also create an identity that is streamlined, represents the business and adds industry credibility, without spending the millions that these companies did.
Your visual identity is everything about the brand that you can see. This includes the company logo, website design and structure, the look and feel of marketing and business collateral and the types of imagery and other graphic elements used.
For all the pieces to make sense, they must be cohesive and match the overall tone of the business and its goals. In other words, don't choose brand colors based on your personal likes and dislikes. Use your visual identity as a tool to attract the right audience to your business.
There is a method to this madness, and we can help! Following is a step-by-step guide to help get you in the right mindset for developing a powerful brand identity.
Step 1: Understand the Big Picture
Whether your brand is making its debut, or you've determined it's time for a rebrand, get clear on what you want to accomplish.
Start by digging deep into the brand's essence. This means getting reacquainted with or establishing core values, tone of voice, brand narrative and corporate messaging as well as what sets your brand apart from others in the industry.
Assess Your Existing Brand
Research is needed to understand how your brand is currently being perceived by all stakeholders. Doing so sets the foundation for taking the next steps to either improve it or create it from scratch. After all, you want to base decisions on real data rather than guessing what will resonate with your audience.
To help in the assessment, ask yourself these questions:
How would we briefly describe the company?
What words best embody the company's personality?
What does the company offer and what problems do those offerings solve?
How do we plan to market our products and services?
Who is our audience and what motivates them?
What are our internal and external stakeholders' perception of the brand currently?
How are our competitors visually communicating to the public?
Step 2: Organize the Process
Once you have a strategy for brand messaging and positioning established, you can begin to think about how all the visual assets will work together.
A tactical plan will help you identify all the concrete steps necessary to move the brand exercise along—and assign a responsible party and timeline to each one. Don't try to accomplish everything at once. It's always a good move to allow extra time for bumps in the road.
Start by identifying all the visual elements that need attention.
Visual elements may include:
Logo
Color Palette
Font/Typography
Imagery
Illustration
Photography
Next, pinpoint all the items that those visuals are applied to.
Business assets may include:
Website
Signage
Social media profiles
Business cards
Letterhead
Templates
Brochures/Sales Presentations
Ads
Promotional Items
Step 3: Create a Brand Style Guide
Every brand should have a set of guidelines that define how the visual elements work together across all business materials. All departments should follow the rules to ensure consistency and continue building a strong identity.
A brand style guide organizes the do's and don'ts of how each element should be used. Click the link below to see how brands like Animal Planet and Barnes & Noble have approached their brand standards.
5 Style guides to Help You Define Your Brand
Creating a brand identity is a big undertaking. While we briefly described the high-level steps to create one, the process requires a lot of planning, research and thought at each stage by a team that is made up of both creative professionals and non-designers.
Click below to download our free ebook for tips on how to work together and make collaboration a cinch.