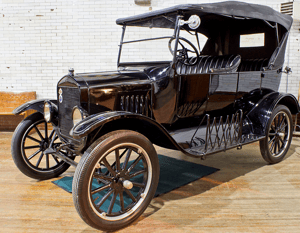 Corporate Social Responsibility is a Must-Have in Today's Business Environment"A business that makes nothing but money is a poor business."
A little over a century ago, Henry Ford raised worker pay to $5 a day—more than double the going rate. The auto magnate believed that that higher pay would ultimately translate into lower turnover, increased productivity and a new pool of potential customers who could afford to buy Model Ts.
Ford was right. By year's end, his company sold more Model Ts than all other cars combined.
CSR is a win-win for companies
Today, a similar theory drives corporate social responsibility (CSR). Be kind to the earth, treat employees fairly, give back to the communities where you do business—and the profits will follow.
Take Starbucks. In 2008, CEO Howard Schultz launched "Transformation Agenda"—a sweeping program that offered generous pay and benefits, ethical sourcing, community investment and sustainability.
After years of lackluster growth, Starbucks' revenue grew by more than $2 billion over a five-year period and stock prices soared.
CSR: a modern business imperative
According to Nielsen's 2014 Global Survey on Corporate Social Responsibility, "55 percent of global online consumers across 60 countries are willing to pay more for products and services from companies that are committed to positive social and environmental impact."
The good news is that the CSR universe is now virtually limitless, allowing businesses to invest in an approach that aligns with their core mission and values.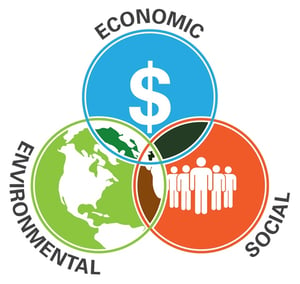 Illustration by Alberto Galindo and courtesy of sustainability.autodesk.com. Many companies are measuring their impact according to the triple bottom line approach—equal parts financial, social and environmental.
4 Common Traits of Socially Responsible Brands
1. Marry CSR with Financial Success

When Indra K. Nooyi became CEO of PepsiCo, she unveiled Performance with Purpose, a company mission statement and business blueprint. Under the new program, PepsiCo measures its success not solely on how much product it sells, but on its overall imprint and impact on society.

"Sustainability is not something to support with the profits we make, but rather a path to delivering profitability," Nooyi said.

Businesses that have built brands synonymous with "giving back" understand that it's more than supporting a worthwhile cause, it's about linking CSR to a company's broader business platform and articulating a clear mission, with concrete and measurable goals.

2. Intellectual Property

Thanks to the phenomenon of greenwashing—every company purports to be eco-friendly, a generous employer or a good steward to the community. Savvy consumers can easily spot companies engaged in greenwashing and that are green in name only.

Today's CSR leaders understand that they have to demonstrate authority and heft. Establishing thought leadership requires due diligence—submitting white papers, conducting research and sharing with employees, customers and stakeholders through the communications landscape.

Through its Smarter Planet initiative, IBM has revolutionized intelligence and data sharing, helping cities to become more efficient, and hospitals to improve patient outcomes. The depth and breadth of the program stands in stark contrast to CSR efforts that are short on details yet long on glitzy marketing.

3. Partnerships

Partnering with an established nonprofit is one of the best ways to build a successful CSR program.

A longtime leader, Starbucks has continually partnered with nonprofits on a whole host of initiatives. From its College Achievement Plan with Arizona State University, to its customer-service excellence training with YouthBuild USA—Starbucks recognizes that partnerships lend credibility and institutional expertise that are essential to a winning effort.
4. Laser Focus
One of the surest ways to tank a CSR initiative is to take on too much.
With nearly $140 billion in revenue, CVS Health is the largest pharmacy chain in the United States, ranking No. 10 on Fortune 500's list of the largest companies by revenue. CVS focuses on improving patient access to health care through foundation giving, corporate giving and local community support. For CVS, good health is more than window dressing. In 2014, CVS announced that its stores would no longer sell tobacco products—a move that cost the company roughly $2 billion a year in sales, but established the brand as a true industry leader.
Giving back is yet another way businesses are breaking new ground. With the right mindset, companies can support the causes they care about while strengthening their own bottom lines. What could be better than that!
Find out how United Shore is putting an innovative stamp on CSR—empowering employees to give back to charitable causes through a points-based reward system. Click the link below to read the interview with Laura Lawson, Chief People Officer at United Shore Financial Services.