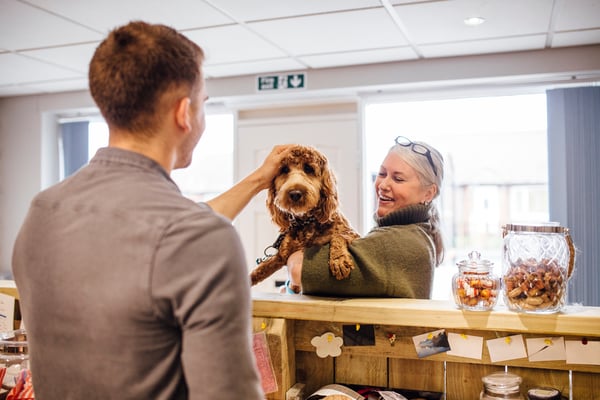 It's almost always easier to be negative than positive—to say no rather than yes. A firm "No" ends the discussion and exempts you from having to do anything at all. But making no your go-to response can also keep you, and your business, stuck in the same place. Or worse, heading in the wrong direction. Answer negatively to your customers once too often, and they'll likely take their business elsewhere.
Successful businesses with sustained and consistent growth year after year appear to share an underlying philosophy based on creating the best possible customer experience, one that's based on saying yes as much as possible.
If your team operates from that positive orientation—saying, "Yes, I can help you with that," or "Yes, we can give you a refund on that item," or just a sympathetic, "Yes, I agree that was a frustrating experience. Let me try and make it right for you."—your business will be well on the way to building a loyal and satisfied customer base. And without that, no matter how innovative or disruptive your product or service, you'll likely soon be out of business.
Saying yes to the customer almost always pays long-term dividends. Set a high bar. Nordstrom, which doesn't sell car parts, famously took back a set a tires from a customer. (it was smart move considering that this supposedly happened in the 1970s and we're still talking about it.) A less obsessive, but still highly positive attitude is what sets customer-centric businesses from Costco to Ritz-Carlton apart from the competition.
It's really very simple, people respond better to the positive than the negative. They expect to be treated with respect and courtesy. Those are just the table stakes.
Empowered to Say "Yes"
How does Ritz-Carlton win its customers' loyalty? It starts with what the company refers to as the Gold Standards, as embodied in its credo: "We pledge to provide the finest personal service and facilities for our guests who will always enjoy a warm, relaxed, yet refined ambience."
Service standards include giving each guest a warm and sincere greeting, by name, anticipating and fulfilling their needs, even those unexpressed, and bidding a fond farewell to the guest, once again, by name.
Each staff member knows that they are "empowered to create unique, memorable and personal experiences" for guests. And that they are empowered to take ownership and to immediately resolve guest problems.
Or to put it more simply, to say "Yes," to the guest.
Then again, for what one pays to sleep for a single night at most Ritz-Carltons, service should be impeccable. Perhaps the question isn't why customer service is so good at Ritz-Carlton, but why it isn't that good everywhere?
Good Service Doesn't Have to Be Expensive
While Ritz-Carlton has set the bar pretty high, you don't have to charge top-dollar in order to deliver top-quality service. Take Costco, a warehouse operation which continually scores high because they always try to say "yes." Most returns are no problem, regardless of when or where the purchase was made. Even electronics can be returned within 90 days, with no restocking fees. Costco has even been known to reach out directly to customers who've purchased merchandise subject to a manufacturer's recall.
And the company treats its employees well, with good hourly wages and other benefits. Costco, the second-largest retailer in the U.S. is using some of its gains from the new tax law to raise wages. It recently announced it will begin boosting the starting hourly wage by a dollar, bringing it from $14 to $14.50, higher than Walmart's starting wage of $11. After about four years, a worker can expect to hit the top hourly rate of $23/hour. No wonder employee turnover is so much lower than at its retail competitors.
It doesn't matter what business you are in, whether you are the business owner, a mid-level manager or an entry-level employee, saying yes can pay outstanding benefits.
The wall in our kitchen/break area at JConnelly features one phrase from our firm's values: Come from "yes." When you start with passion, purpose and a positive mindset, anything and everything is possible. That's true in business and in life. Try it and see.
A positive attitude may help win a new customer over and help retain your existing ones. Find out what else it takes to attract leads in our free lead generation guide: