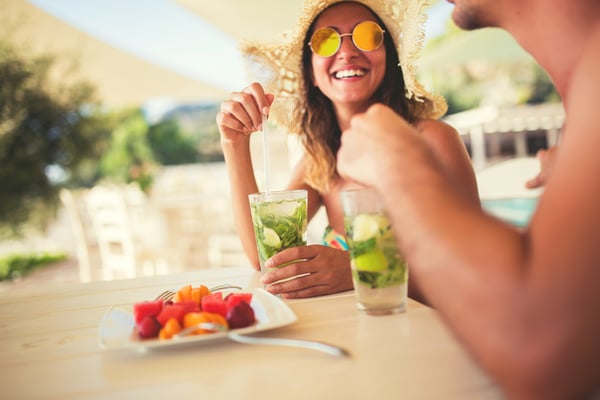 The fast-food brand that invented the Taco-Emoji Engine and the Doritos Cheesy Gordita Crunch is at it again. From August 8 to 12, Taco Bell will open the doors to its most unusual combo yet—The Bell: A Taco Bell Hotel and Resort.
Long known for its creative advertising and marketing campaigns, Taco Bell is angling to branch out into the ever-lucrative lifestyle market. In addition to serving requisite Taco Bell food—both new and classic menu items—the pop-up, limited-time hotel will also feature taco-themed nail art, Taco "Bell" hops and more.
When the fast-food giant opened its reservation lines, all 70 rooms sold out in just 2 minutes flat!
"We're already in the hospitality business, "Taco Bell Chief Brand Officer Marisa Thalberg told Travel + Leisure. "This is more of an immersive form of hospitality where people can really soak up the experience of a brand destination."
Hospitality might be a bit of a stretch for a brand long associated with a talking Chihuahua. Of course, Taco Bell certainly isn't alone in its quest to remake itself into a full-fledged lifestyle brand (see Burger King's Flame-Grilled Beef Scented Cologne and Pizza Hut Nail Polish). If you're thinking about pulling off a marketing stunt as part of a broader shift into the lifestyle domain, here are three things to think about.
1. Know Your Audience
Wondering where to go to check into the Taco Bell Hotel and Resort? If I were to guess, I'd say San Diego, a border city with lots of college students (Taco Bell's core customer base) and a booming tourism scene. But…I would be wrong. Taco Bell is opening its hotel about three hours from the border in beautiful Palm Springs, Calif., a popular destination for well-to do retirees who seem entirely unlikely to scarf down a couple of Cool Ranch Doritos Locos Tacos. So much for "make a run for the border." When it comes to stunts and lifestyle marketing, it's important to speak to your core audience. You also have to go with your gut. Taco Bell's fan base is obviously big enough and fired up enough to make the unusual trek.
2. Create Suspense
Taco Bell didn't just open its lines for reservations. Rather, it used the announcement as a teaser. On The Bell website, visitors were asked to leave their information and "be the first to know when reservations go live." Not only is Taco Bell keeping the marketing campaign alive beyond a single day or week, it's using the stunt as an opportunity to collect email addresses, which is key to further engaging with potential customers and bringing them into a larger lifestyle ecosystem.
3. Determine Your End Goal
Before you come up with a creative concept, you need to think about your end goal. Is it to increase awareness among a specific audience? Break into a new market? Expand into a new vertical? Media buzz by itself is not enough. Brands that have solid data to support their efforts often do best. In 2018, just ahead of Halloween, Hershey's unveiled a candy converter, which allowed people to exchange their candy for Reese's Peanut Butter Cups. The concept came out of a Hershey's survey, which found that 90% of people have traded or wish they could have traded their Halloween candy. And the No. 1 candy—Reese's Peanut Butter Cups, of course. The candy converter earned tremendous coverage on all media, and even got a shout-out by Jimmy Fallon in his "Tonight Show" monologue.
Brands like Taco Bell have been in our collective consciousness for as long as most of us can remember. That makes it a bit tougher to become something more than a product. Personally, I love tacos. I love eating tacos while lounging by the pool. I don't, however, feel the need to stay at a taco-themed hotel. But I'm obviously not Taco Bell's core audience, and the brand has certainly racked up an impressive number of PR/marketing wins over the years.
Could your business use a dose of creativity? Read our Creativity in Business Guide to learn how to infuse more creativity into your next PR and marketing campaign.