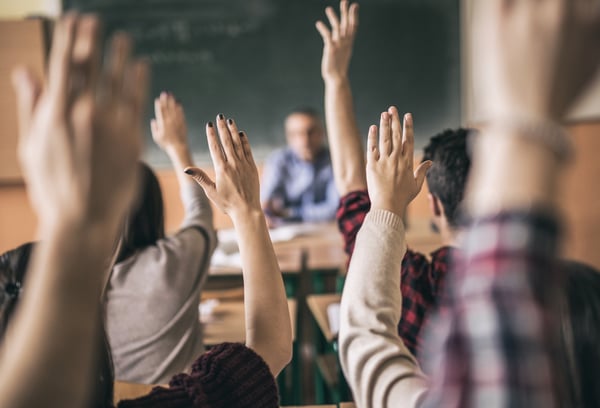 A confident, can-do attitude is what's defined the American persona since even before the United States existed. It gets things done. Build a transcontinental railroad? No problem. Put a man on the moon within 10 years? A piece of cake. One of the personality traits that Americans admire most is self-confidence.
But there's a fine line between self-confidence and overconfidence, and crossing it can sometimes get people into trouble. This is particularly true when it comes to financial matters where ignorance and hubris can end up being pretty expensive. And, unfortunately, America is largely a nation of financial illiterates.
We Don't Even Know That We Don't Know
Far too many Americans aren't even aware of how much they don't know about money. The "Financial Literacy: Prosperity Begins with Knowledge" study that Raddon released last month found that almost half of respondents (44%) described themselves as either extremely or very financially literate. When the same group was asked to take a basic financial knowledge quiz, only 6% got the equivalent of an A on the test. The study also noted that as people age and income increases, so does their level of confidence, but not necessarily the depth of their knowledge.
Another study, this one from the FINRA Foundation, estimated that close to two-thirds of Americans would be unable to pass a basic financial literacy test. Other studies have found similar results.
This level of financial ignorance should not be surprising since only 16% of Americans have participated in any kind of financial literacy program and, for the most part, our schools don't teach kids about money. Currently, only Alabama, Missouri, Tennessee, Utah and Virginia require passing some kind of personal finance curriculum in order to earn a high school diploma and no state has added such a requirement since 2016.
This led the Council for Economic Education's (CEE) 2018 Survey of the States: Economic and Personal Finance Education in Our Nation's Schools, to conclude that financial independence may be out of reach for many because K-12 students are not receiving adequate tools and training to make informed financial decisions.
"Increasing evidence indicates that key elements of a person's financial habits begin forming much earlier than high school, and in fact may be well-developed by the age of 7. In order to be as effective as possible, then, financial literacy education should ideally start in grade school and continue on throughout students' young adult lives," wrote Dale Brown, CEO and President of the Financial Services Institute in Investment News.
Financial Literacy Should be Elementary
But, since at this point, 45 states are choosing to ignore the need to develop personal finance skills early, FSI is providing tools to its independent financial advisor members so they can help educate clients and their children. The group is partnering with DNA Creative on a financial edutainment program, The Centsables, which features superhero characters who explain the basics of money management through short lessons and other activities delivered in comic books or an animated TV series. The program has already reached tens of thousands of school-age children through independent banks and credit unions.
Another program aimed at giving kids a painless financial education is the CreditStacker app, which turns acquiring financial knowledge into a game similar to the ever-popular Candy Crush. This application is the brainchild of Angel Rich (no relation to Richie) who first achieved notoriety when she won the Goldman Sachs Portfolio Challenge during her senior year in college.
"The reason it is in a game is I was watching youth slip away into video games, and so many careers were being wasted by kids playing video games, I wanted to find a way to still allow the engagement of a game," Rich told an interviewer. "Parents were pushing for video games because neighborhoods were more violent outside, but we have kids lowering their grades, being less social and less financially adept."
When it comes to money, too many Americans are overconfident and unaware of just how much they don't know. In the Federal Reserve Board's 2017 "Report on the Economic Well-Being of U.S. Households," 70% of American households said they are "living well" or that they are currently "doing OK" financially. Compare that with Bankrate.com's recent Financial Security Index, showing only 39% of Americans could afford to pay an unanticipated $1,000 expense, based on their current financial state.
Create Teachable Moments
Raising America's level of financial literacy is going to take time and effort, the consequences of continuing to ignore this deficiency could be devastating. Edutainment platforms like The Centsables and CreditStacker can help get kids started on the road to financial literacy, but those programs should be a supplement to formal education, not a replacement for it.
In the meantime, firms that work in financial services can make communicating about financial education part of their marketing strategy. The campaign that Prudential has been running for the last few years to get people thinking about retirement is a great example. My favorite is the billboard saying, "We spend more time clicking 'Like' than planning for retirement." Your message doesn't have to be heavy-handed. It just has to be clear and get your current and potential clients thinking.
You can't solve a problem if you don't know there is one.
Make sure your content speaks to your target audience. Download our free ebook to learn how you can generate leads with the right content flow: