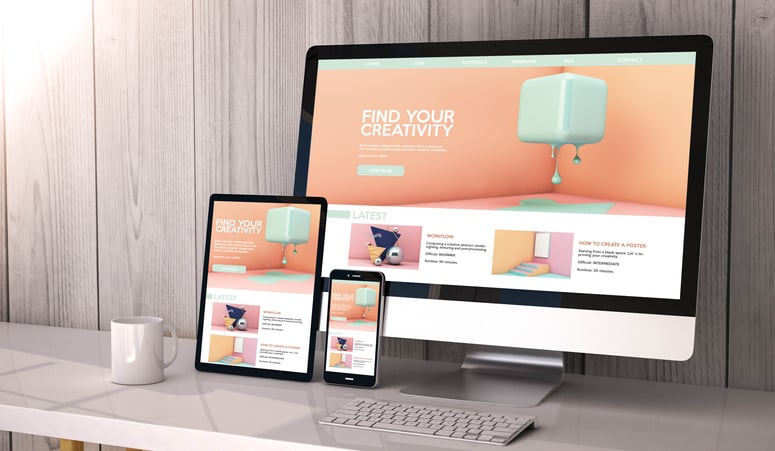 A company website is a goldmine of information for existing and potential customers. If your website isn't appearing in search results, you may be missing out on opportunities to reach new clients. That's where great content and a solid SEO strategy come into play.
Keep Tabs on Your Domain Authority
It's time to dust off your website and ask yourself, "is it serving our intended audience and is it a good platform for our content?" Resources like HubSpot's Website Grader can show what your website's domain authority score is and the factors that contribute to it.
Domain authority defines how well your website ranks in search engines like Google. The domain authority score is based on things like page speed, overall SEO performance, quality content, backlinks and more. On a scale of one to 100, the higher your score the better you're ranking and more likely to see organic traffic coming to your website.
Pro tip: plug in competitors' website URLs to see how they compare to you.
3 Tips for Improving Website SEO
Even if you're not an SEO expert or know your way around HTML code, there are steps you can take to start making improvements.
1. Publish Quality Content
Content that's updated regularly is a must for search engine rankings. Consider hosting a company blog. If you don't have anyone internally to dedicate time for writing, teaming up with a content partner may be a good investment.
Optimize your content.
Quality content with topics geared towards your audience's needs is a good step towards increasing web traffic. "How to Budget for Travel in Retirement" or "How to Launch a 401K Plan" could make great blogs for a firm that offers retirement planning services. Use searchable keyword phrases, organize content with headers and link to related content and third-party sources. Here are more tips for optimizing your content.
Avoid "thin" content.
All content should have purpose and meaning. Thin content is just filler and holds little to no value for the user. Google must have a clear understanding of what a page is about to consider it a valued resource. Content that is informative, purposeful and user friendly will help Google decipher that.
2. Improve Overall Website Usability
The goal is to keep users on your website for as long as possible. Make it easy to find important assets like contact information, material that dives deeper into service offerings and clear call-to-actions.
Here are a few more ways you can increase website effectiveness and keep people engaged:
Give clear names on your main navigation menu.
You may have clever titles for common pages on your website, which is a great way to demonstrate your unique tone of voice. However, everyone who comes to the site should be able to understand what those titles stand for without having to click on the page first. Confusion is frustrating. Don't frustrate your website visitors.
Don't hide important pages.
Give your website a nice flow and make important content easy to find. Your main navigation menu is a great place to feature pages you want visitors to land on as well as those with information most people search for on a company website. Perhaps you have web pages that showcase a blog, investment information or locations that offer different types of services. Whatever it is, enable users to locate it quickly.
Offer more than just text on your website.
Break up blocks of text with different types of multimedia to enhance user engagement. It keeps visitors on your site longer, which results in better search ranking.
Add photos and images, infographics to explain complicated data and videos that describe processes and provide glimpses into the firm's culture. Here are five ways to wow your audience with videos.
The length and size of your videos matter. Talk to your web developer about ideal sizing so that a great video doesn't end up hurting your SEO due to slowing down your page load times.
3. Use Alt Tags on Images
Not only does a well-chosen image add context to your content, it adds context for search engines as well. "Alt tags" are descriptive text on an image. When you download a stock image, for example, the file name typically contains a string of numbers. When that image is uploaded to your website, there should be a space where you can include a brief description. If you leave it blank, it will grab the generic file name instead.
Great content is critical for website SEO and for attracting new leads. Download our free lead generation guide for more ways you can attract leads with the right content flow.