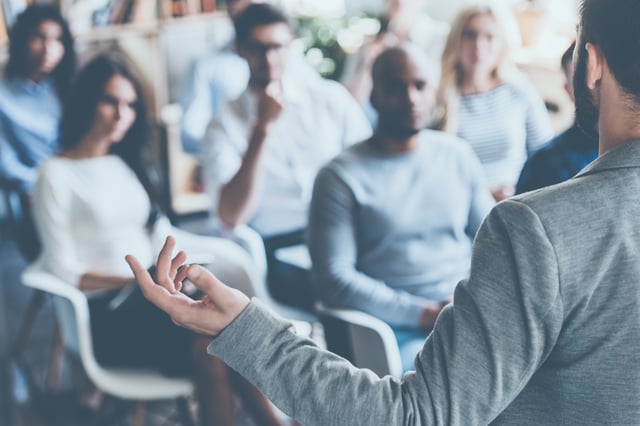 Thought leadership should be a primary component of your brand's marketing strategy. It helps establish a rapport with your audience, which you need before promoting your services. You can gain trust by sharing relevant information and offering advice without asking for business in return. However, speaking with authority on a particular subject is only half the battle. Building credibility largely depends on the ways the information is being disseminated, and how you say it has a lot to do with which platform you're saying it on.
From Twitter to CNBC to the company blog, each channel offers a different opportunity to nurture your thought leadership skills. The way you speak and the type of information you share will vary. It's best to create a strategy for how you're going to approach each one.
Show Your Personality on Social Media
Authenticity should be among the most important qualities you exemplify as a leader. Engage and network with your followers to show that you're human and not an automated content generator. This is the place to show the world your passions and interests while also learning about your connections.
There are so many ways to share information on social media from blog posts and infographics to videos and podcasts. Get creative and keep it interesting so people are inclined to follow.
Embrace social media, but treat it with respect. It only takes one post "gone wrong" to catch like wildfire, causing damage to your reputation and the business you represent. It's especially important when you're the face of a company or an esteemed subject matter expert. The line between personal and professional is often blurred, which is all the more reason why "think before speaking" is one mantra to live by. Remember, what you say online will live on forever.
Prepare For Media Interviews
Prepare yourself for when the media calls on you for an interview. This kind of exposure is a fantastic opportunity to reach clients and prospects. Practice with colleagues, review talking points and remember to be yourself.
Click here for more media interview tips.
Prove your credibility on live broadcast interviews, but only if it makes sense. Watch this CNBC interview from 2008 with Cadbury's North American President Brad Irwin.
This was an unfortunate situation where the person being interviewed had no business being there. He was lacking pertinent information that the segment required and came off as uninformed and unprepared. CNBC may sound impressive, but if you can't participate in the conversation, it's best to find one that's more suitable.
Speak at Conferences to Raise Your Expert Status
Build your reputation as a respected industry leader by securing speaking roles at conferences. They are great places to network and showcase your expertise and they give your brand more publicity as well. Mingling with attendees means you're able to get a better sense of what your target audience is seeking and cater to it. Not to mention the immediate feedback given during and after your presentation will help sharpen your speaking skills and improve the presentation for the next conference.
Keep in mind that not every conference is going to be the right platform for your goals. A conference like TED sounds like the ultimate speaking engagement, but striving for a smaller, more targeted industry event may prove to be more impactful.
Whether you're sharing your thoughts in an interview, on social media or at a conference, the goal as a thought leader is for your audience to be receptive to your insights and correlate the information back to the brand. Different platforms offer new ways to reach your customers, so be mindful of how you approach each one.